I AM not your typical sports fan.
As much I enjoy watching sports as I do engaging in them, I have a tendency to evaluate teams and make my mind up on which team to root for on a season-to-season basis. In short, I have no team loyalty. I would probably fit right into the Philippine political system where it is famously believed that 'there are no permanent enemies, just permanent interests.' But since I am not prepared to put on a happy face every time I have to face constituents and contemporaries, even if I would rather be out training or watching a good/bad movie, I guess the blogosphere will have to put up with me a little bit longer.
I don't remember when this behavioral peculiarity started, though I recall the last time ever being loyal to any sports franchise was when music was pressed onto vinyl and sold as albums, bottled soda was sipped through wax paper straws, and grocery shelves were stocked with uniquely named products like Veto (underarm deodorant), Gee Your Hair Smells Terrific (shampoo and conditioner), and Wheat Crunch (salty snack chips that had the crunch, but contained absolutely no wheat whatsoever).
It was a time when the Philippine Basketball Association, or the PBA, was known as the first pay-for-play league in Asia, dominated for almost a decade by two talent-laden and wildly popular ball clubs representing a textile/garment company (Crispa) and a Japanese car manufacturer (Toyota). I gravitated toward the classier, cooler, and the seemingly more glamorous Toyota Comets (later known as the Silver Tamaraws, Super Diesels, Super Corollas, and Silver Coronas — the monikers clearly adjusting to the vehicle make/model that was being promoted at the time), whose team image and playing style contrasted sharply with the streetwise, blue-collar crew of the Crispa Redmanizers ('Redmanized' being a term/brand coined by the company's owners for a textile softening process using a branded piece of equipment named Redman). My favorite player, whose style I even tried to emulate, was the diminutive but gutsy shooting guard, Francis "Mr. Clutch" Arnaiz, whose high-looping shots were nearly impossible to block (even by the tallest opponents) and made for breathtaking, show-stopping hard court spectacles.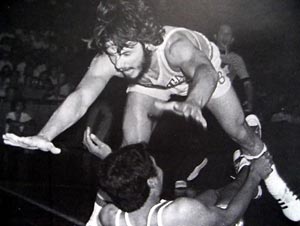 Continue reading below ↓
Recommended Videos
But just as Toyota's local franchise fell on hard times in the early eighties, forcing the team to withdraw from the PBA, so did my interest wane in staying committed to just one sports team. I still followed the PBA after that, although now with a diminished level of passion and diligence.
Basketball has always been the country's unofficial national sport, and it has always brought out the best and the worst in everyone: from players, coaches, managers and league officials to actors, politicians, and ordinary spectators. Everyone from the vegetable vendor at the market and ambulant street vendor to the bank teller and gasoline pump attendant has a basketball opinion to share, especially during championship season. In some extreme cases, basketball allegiances can prove to be the flashpoint of whether a marriage will push through or will fall apart. I even dare say that families (particularly where in-laws are involved) are wont to go to war, all because of the team either side has chosen to favor.
With the recent developments that have seen more evenly matched teams in the professional league, and the renewed interest in the University Athletics Association of the Philippines (UAAP) and National College Athletic Association (NCAA), basketball is going through a renaissance of sorts, pushing more players into the spotlight and more men and women on the street to stay tuned to the sport's latest stories and scandals.
I'm going to be an armchair quarterback (though armchair point guard is probably more appropriate) and weigh in on one of the season's most awaited and talked about championship series. I'll leave the more profound analysis to the sports pundits, who seem to have all the answers in hindsight – much like the rest of us.
The ongoing UAAP men's basketball finals between the Ateneo de Manila (ADMU) Blue Eagles and the University of Santo Tomas (UST) Growling Tigers, is a rematch that took six short years in the making, the first dispute won by UST in 2006, when Norman Black and Pido Jarencio first started in their head-coaching assignments for Ateneo and UST, respectively.
Personal Trivia: I remember wagering my two diehard Ateneo fan-cousins during the first ADMU-UST wars, even upping the ante to a 'double-or-nothing' when UST lost the first game of the best-of-three series format. UST went on to win the next two games and the UAAP crown, leaving a delighted and gloating me to send the following mocking text message to my crestfallen cousins: Bukas pipila ang Blue Eagles sa manunuli, dahil supot silang lahat! My apologies to my non-Tagalog readers: Somehow the impact of such a message is lost when translated to English, so I'll leave the onus of translation to your Tagalog-speaking friends.
First off, let me say that it was wise of UST to change their moniker from the ambiguous and feminine-sounding Glowing Goldies 10 years ago to a more intimidating Growling Tigers, following an embarrassing incident during the parade of mascots the year previous. Now I've heard of the Cleveland Browns and the Cincinnati Reds, but who wants to be called a Goldie? Now that leaves only the University of the Philippines (UP) Fighting Maroons to figure out a name change. Sorry, but the first and only image that comes to mind when that word 'Maroon' is mentioned, is a wise-cracking Bugs Bunny looking at the audience and, referring to the hapless and helpless butt-of-most-of-Bugs'-jokes Elmer Fudd, uttering "What a maroon!" My research says that the Maroons used to be known as the UP Parrots, but dropped the mascot to revive the way teams of old were called (Blue and White for ADMU, Green and White for De La Salle, and so on). Now which would you rather be called: a parrot or a maroon? But I digress.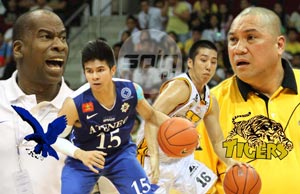 Let me go on record just hours before the tip-off of Game Two to say that Ateneo will see its Drive For Five to its destination today. The Boys In Blue have a number of good reasons to sew up this series posthaste. First is the matter of having to put to rest any doubts about Game One's outcome, what with the protests of UST regarding spotty and biased officiating. It's a pity that that first game ended with some histrionics and harsh words, so it's best that we see a game that's settled within the 40 minutes of hardcourt action. Second is the desire to paint over the indelible smear on Ateneo coach Black's pristine wall that was the 2006 championship series loss to the Tigers. Call it revenge or retribution, the Eagles just want to even the score. Third, going the full three games could prove unwieldy for Ateneo, as UST appears to be the only team in the league that can run the Katipunan crew ragged with its fast-paced sets, explosive spurts and quick-reacting transition game. Lastly, it would be a fitting farewell gift to Coach Black and outgoing seniors Nico Salva, Tonino Gonzaga, Oping Sumalinog, Justin Chua, and Greg Slaughter, capping each school year they have been there with a fifth consecutive men's crown. In summary, the Men Of Black will not allow this series to go the distance and will put it to bed early.
And that's my fearless forecast.
Now excuse me while I dust off the old blue T-shirt and Google the words to "A Song For Mary." It's winning time.
-----------------------------0------------------------------
And now for some mindless fun…
Remember your nursery art class where you discovered new colors by mixing the primary colors of red, blue and yellow? Based on the clash of colors in this year's championship where Ateneo Blue mixes it up with UST Gold/Yellow, the resulting color is green. Expect a return to the throne in 2013 by either the De La Salle University Green Archers or the Far Eastern University Tamaraws.