EVERYBODY calls Ateneo a powerhouse team.
But talk to coach Tab Baldwin when he first took the job four years ago and he will be frank to admit that he didn't envision this team to be the special kind that it is today, not just winning a three-peat but dominating UAAP Season 82 in a run of perfection.
And he'll also be upfront on crediting his seniors for making this feat possible.
"They don't remember, but I remember them four years ago. I remember looking at them and thinking these guys are going to lead this team into the future because in these four years, we've only lost like four players from graduation. It was really these guys that I was looking at, saying these guys have to carry this team," he said.
Even after the massive exodus that saw seven bluechip recruits leave Katipunan due to academic issues in 2016, it was the veteran holdovers who Baldwin credited for keeping the boat stable.
"If you remember in the beginning, there was a whole bunch of other guys there -- CJ Perez, Koko (Pingoy), and Hubert Cani. There were these guys in the beginning and of course we had that exodus," he said of those exits, which also included Arvin Tolentino, John Apacible, Clint Doliguez, and Kemark Carino.
Continue reading below ↓
Recommended Videos
"I was left with these guys."
Fast forward to now, and Baldwin could take all day raining praises on his quintet of Thirdy Ravena, Isaac Go, Adrian Wong, and brothers Matt and Mike Nieto, proving his early notions wrong and turning themselves to be the stars they are right now, all for the glory of Ateneo.
"What they are now, I didn't see it. I'll be honest, I didn't see it," he admitted.
"I knew they were good, young men. I didn't doubt that they could be champions, but it wasn't evident even though some of these guys had championship pedigrees from high school. But there's not a person in the Philippines now that follows basketball that they can say they're looking at five champions."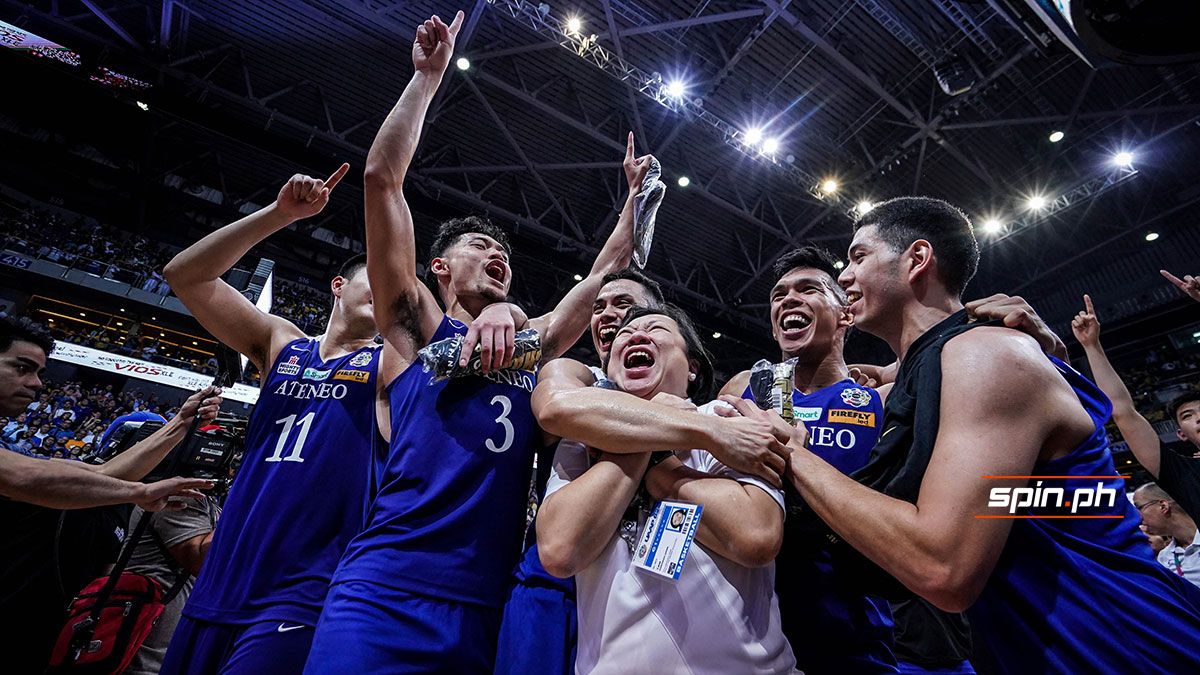 Baldwin added that the championship attitude of these five isn't limited on the court, but also outside of it, showing impeccable leadership that allowed the Blue Eagles achieve this run of success.
"They have grown as leaders," he said.
That brilliance has certainly rubbed off on him too, with Baldwin proudly expressing his gratitude for the work the five gave.
"I'm telling you that it's not just on the court, and it's not just in the UAAP. I truly mean it when I say when I came here four years ago as a coach, as a human being, there were a lot more holes in me than there are today. And I can't say anything better because these five guys filled a lot of those holes," he said.
Tough as it is for Baldwin to lose his veterans, he'll always take solace knowing that he's made friends for life from those five.
"They're special, special. That word doesn't cut it. They're incredible guys. They've brought something incredibly special to this team and you will be a gigantic hole to fill. Of course, we will work hard in filling it. And they know they better come back and see us and even train with us and we'll get them in shape," he said.
"And so for that, I thank them, I honor them, and I love them. There will always be a place at my dinner table for them under any circumstances. These guys are my friends for life. And I thank the Lord for that and I thank Ateneo for that, too."