[Editors' note: With this piece, SPIN.ph bares the seventh member of our Top 10 Sports Heroes of 2017 leading up to the announcement of our 2017 Sportsman of the Year]
DESPITE 13 straight victories to open the season, doubts still shrouded Ateneo's bid to overthrow powerhouse La Salle and regain supremacy in the UAAP.
Will the Blue Eagles be tough enough to withstand the pressure in the playoffs? Are they talented enough to hold their ground against La Salle's Ben Mbala, Ricci Rivero and Aljun Melecio? Are they deep enough to withstand Aldin Ayo's 'mayhem' defense?
It wasn't until Isaac Go - one of the many heroes for the Blue Eagles this season - drained the clutch three-pointer with only seconds left in Game 3 did the doubts finally disappear.
"Somewhere along the way, this team just became special," said Ateneo coach Tab Baldwin.
What made this team stand out is neither talent nor depth. The Blue Eagles didn't have a runaway MVP winner like Mbala to take over games when needed. Nor did they have a deep reserve of blue-chip recruits to shuffle from the first minute to the last.
What Ateneo had, however, was a group of fine, young men who knew exactly what needed to be done, worked hard for it, and did it together.
Continue reading below ↓
Recommended Videos
"There's no individual that made this team special," Baldwin said. "It just dedicated itself to hard work. I couldn't give these guys enough to do and I think that's a revelation for me."
If there's one thing this team proved, it's that talent and depth are only but pieces of the bigger picture - and that hard work, mental toughness and togetherness carry as much weight in the evolution of a champion team.
That's not to discredit the Green Archers, who were definitely as tough and as hard working as they were talented. But in this case, the Blue Eagles pretty much proved that they're willing to work so much harder and be a whole lot tougher.
"I put these guys through a lot of things, worst things you can imagine and that is just to build this team," Baldwin continued. "This championship was just the product of hard work and commitment. A product of their commitment to each other, and to their goals and dreams."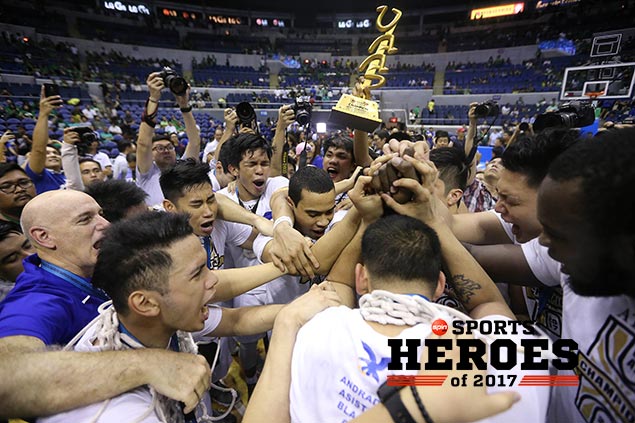 Adversity molded each and every player in this team.
Before Go metamorphosed into a hero in the plauoffs, he missed a gimme shot in a game against the Archers. A win there would'be given the Blue Eagles a sweep of the elimination round and an outright place in the finals.
Matt Nieto and Thirdy Ravena became better leaders during the semifinals, where the top-seeded Blue Eagles needed two games and an overtime to put away the Far Eastern University Tamaraws.
Their final test as a unit came when they blew a 21-point lead in Game Two of the Finals.
So when La Salle went on a tear in winner-take-all Game 3 with that all-too-familiar fightback, Ateneo stood its ground, took the Archers' best punches and remained up on its feet until.the final buzzer.
"We just went through a lot together and that made us better," said Ravena who eventually clinched the Finals MVP award. "We have been working together since Day One and that's what makes this team and journey special."
Perhaps the biggest praise for this champion team came from Baldwin, who has toured the world coaching various club and national teams for the good part of the last two, three decades.
"I've had a bunch of them and this one is probably the best I've had," Baldwin said.