[EDITORS' NOTE: With this piece, we roll out the 10th batch of SPIN.ph yearend awardees, from the Sports Heroes of the Year to our 2022 Sportsman of the Year]
TURNING destiny into dynasty is no easy feat.
Goldwin Monteverde knows that.
From his days in the high school ranks with his alma mater St. Stephen's High School, to stints at Chiang Kai Shek, Adamson, and National University, Monteverde kept raising the bar, always finding another game to win, another championship to conquer, another season to dominate.
It's no different in his first foray into collegiate coaching.
Tasked to get a long-suffering University of the Philippines program over the hump, the son of Regal Films matriarch Lily Monteverde was never satisfied even after dominant wins and nail-biting thrillers. It was always about consistent growth.
"We have to improve every game, not just individually but playing together. Yun naman yung susi para sa amin, yung patuloy naming pag-angat na sama-sama," he said.
ADVERTISEMENT - CONTINUE READING BELOW ↓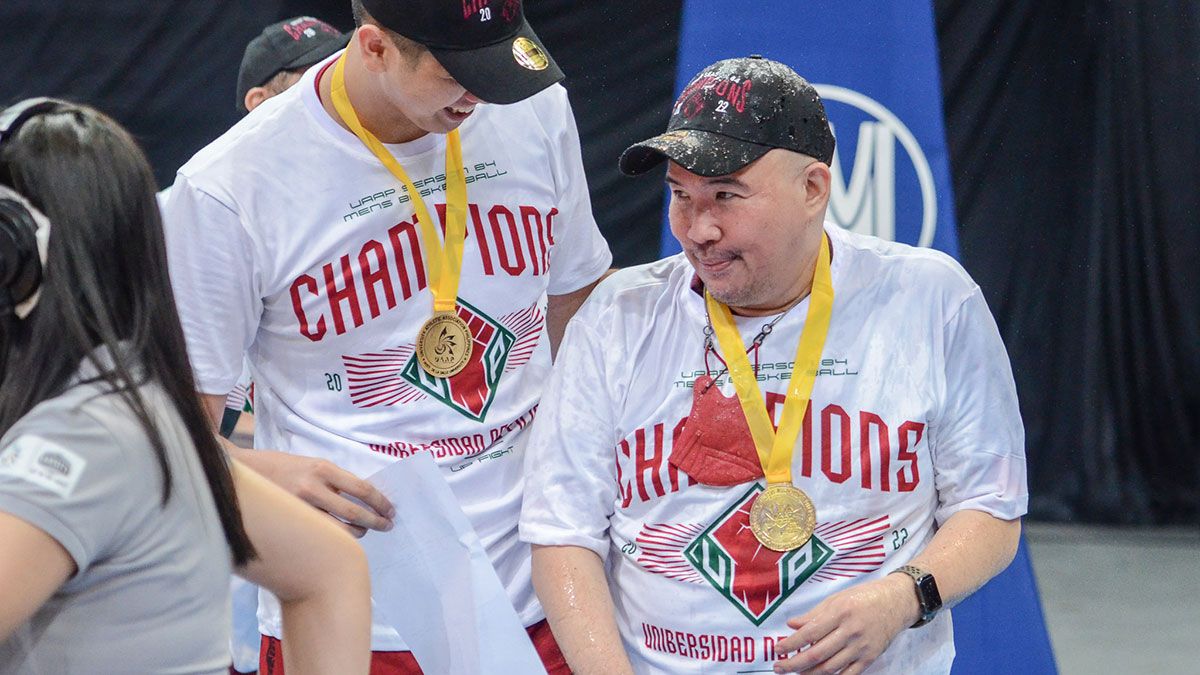 It helped that Monteverde got a bumper crop of blue-chip recruits like Carl Tamayo and JD Cagulangan and five-star Fil-foreign talents like Zavier Lucero and James Spencer, not to mention his foreign student-athlete Malick Diouf.
But like all star-studded squads in the past have come to know, individual skills can only get you so far. To win a championship, one must play together as a team.
The Fighting Maroons did just that.
One dramatic Cagulangan winner in overtime later, UP was back at the top after 36 long years, claiming the UAAP Season 84 crown much to the joy of everyone in Diliman.
Yet Monteverde was the first to acknowledge that nothing lasts forever.
"We always talk about nothing is permanent and if may nakuha ka ngayon, hindi siya forever sa iyo," he said.
It's the reason why he continues to pursue consistency, never losing that drive as he aspires to keep the UP program among the league's heavyweights while in the process, also bringing out the best out of his wards.
UP did, barging to the Finals for the second straight season, yet falling just a tad short to Ateneo in their rematch a season after.
It wasn't the kind of finish that the Fighting Maroons envisioned, but one must admit, the program has endured worse fate.
ADVERTISEMENT - CONTINUE READING BELOW ↓
Gone were the days that UP were the league's perennial whipping boys. Now, the Fighting Maroons have earned the league's respect.
As somber as the Fighting Maroons' mood was after the runner-up finish in UAAP Season 85, the soft-spoken mentor was there to remind his players that this is still not the end.
"Life goes on and you gotta keep on working. Hindi naman tayo matatapos sa isang achievement eh," he said. "Masakit man tignan, masakit mang panoorin ulit, pero you gotta see and you gotta figure out kung ano ba dapat gawin and definitely, we'll work on that next season."
Again, there's another game to be won, another championship to seize, and another season to conquer.
WATCH full video here.
Get more of the latest sports news & updates on SPIN.ph