Each time he sees the three most celebrated players in amateur basketball today, Norman Black can't help but be amazed at how time really flies.
It seemed not too long ago when the affable American coach stood as one of the ninongs in Alvin Teng's wedding, and not long after was asked to be the godfather in the christening of Kiefer Ravena and Ray-Ray Parks.
Now Black spends most of his waking hours trying to turn the phenomenal Ravena into an even better player, and endures sleepless nights plotting ways to stop both Parks and Teng as the next UAAP season nears.
"I've been around, man," said Black, not bothering to do the math. "Remember, I've been here a long time and I've been coaching since I was 27."
Parks and Teng's son Jeron may be on rival camps now, but Black still feels a sense of pride to see three sons of former PBA players not only living up to their illustrious names but also taking Philippine basketball by storm.
According to PBA statistics group chief Fidel Mangonon, there have been 12 second-generation players to suit up in Asia's first play-for-pay basketball league – the doors swung open, fittingly enough, by the son of the league's biggest star, Robert Jaworski, in 1996.
Players like Jason Webb, Renren Ritualo, Paolo Hubalde, Richard Yee, Billy Mamaril, Japeth Aguilar and, most recently, Marc Agustin have since followed the trail Dudut Jaworski had blazed. Many more, including Rome dela Rosa, Arthur dela Cruz, Gab Banal, Igee King, Andre Paras, Gwynne Capacio, Anton Altamirano and Black's own son Aaron are waiting in the wings.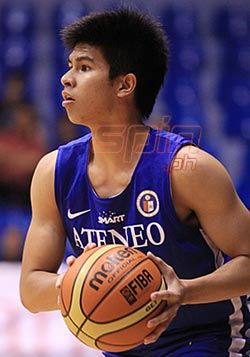 But until Parks, Ravena and Teng came along, Philippine basketball has not seen a batch of players from prominent bloodlines with this much talent and potential.
"The sky's the limit with these guys," Black gushed.
The three are also of almost the same age (Parks and Ravena are 19, Teng is 18) and exploded into the scene at around the same time (Ravena and Parks are sophomores in the UAAP, Teng an incoming rookie) that their careers are bound to be inevitably intertwined in the years to come.
It's too early at this point to say how good Ravena, Parks and Teng will ever be, but the three have made quite a head start in their careers.
Ravena has a Southeast Asian Games gold medal, four UAAP titles (three in the juniors division and one in the men's, all with Ateneo), a Rookie of the Year award and a mythical team selection to his name.
The 6-4 Parks was good enough to get a scholarship offer from US NCAA Division I power Georgia Tech – he signed a letter of intent but eventually decided against it – then won MVP honors after a spectacular rookie season that turned National University from a perennial also-ran into a legit title contender.
Teng has yet to play a single game in the league, but he became the subject of an intense recruitment war among the elite college teams after a historic performance where he scored 104 points for Xavier in a high school game.
And if his first La Salle-Ateneo can be an accurate gauge, then Teng is bound to be the Archers' biggest star in the next few years.
"I may be biased when it comes to Kiefer, but he's one of the most talented players I've seen in college," said Black. "He can score in a lot of ways – he can pull up, he can drive, he can post up – so he's hard to stop. But he's also very unselfish so he makes the people around him better.
"Ray-Ray, he has all the skills. He can attack the basket, he's a great shooter, he handles the ball well and, more importantly, he can defend. And one thing he has in common with Kiefer is that they're both unselfish players.
"I haven't seen Jeron play as much so I can't make a fair assessment, but you can readily see that he has that scorer's mentality."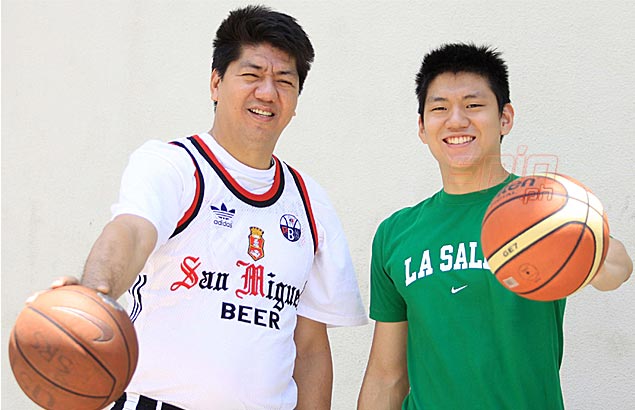 Aside from the tremendous potential, Parks and Ravena also have admirable work ethic. A typical day for the six-foot Ravena in the preseason had him doing shooting practice at eight in the morning, back at the gym by 2 p.m. for weight training and joining the Eagles' practice at 4:30 p.m.
"It's for the better. Kasi kapag matanda ka na, the more you rest, the better. So parang namumuhunan na lang ako ngayon habang i don't feel any pain pa. In the end, ako rin naman ang magbe-benefit," Ravena said.
Black said: "They have that rare combination of talent and right attitude. If you're talented and at the same time you're willing to put in the hard work, you're certainly going places."
Teng, captain of the Philippine Youth Olympics team, may be more gifted athletically than his dad, but one thing he can pick up from his old man is his blue-collar work ethic – something that was not lost on both of them.
"Lagi niyang sinasabi, even if you don't have that much talent pero masipag ka, nahahabol ng sipag 'yun," said Jeron. "And feeling ko naman, namana ko yung sipag ng dad ko."
Jeron also has his father to thank for having developed into a better-rounded player. "During his time, medyo maliit pa yung mga players. At 6-4, you can play center. Pero ngayon, lahat tumatangkad na. So when we were still in grade school, he told us to play as a guard na, yung marunong mag-dribble, kasi may advantage daw yung malaki na mas versatile," he said.
Like Jeron, Kiefer and Ray-Ray feel blessed to be able to turn to their fathers for sound advice. "Dad is definitely a mentor to me. He puts me in a mindset like, 'This is what you got to do and this is what it takes.' He knows what it takes and I just want to live up to those standards," Ray-Ray said.
Bobby Sr. had the foresight to train Ray-Ray as a combo guard at an early age. "He has his own identity. I mean, we have the same name and his game is patterned after mine, but different – it's new and improved," he said.
Bobby Sr. also had preached patience when Ray-Ray tried too hard, and in the process tried to do too much, during his rookie year. 
"He has to learn how to use what he has. And that will come as he grows older. Like this year, he knows more how to patiently get his shot. Last year, he was always in a hurry. Now he's more mature. He knows when to go fast, go slow, how to use his medium-range shot," Bobby Sr. said.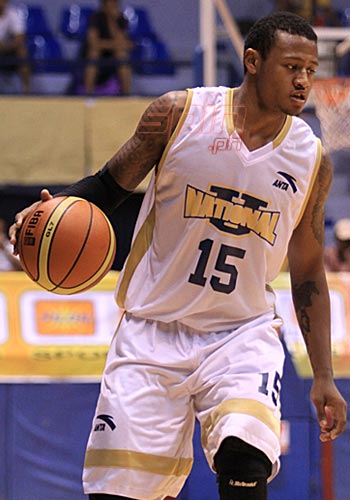 But these young turks are aware that before their careers are judged vis-a-vis those of the greatest Filipino players to ever grace the hardwood, they will inevitably be measured by the yardsticks set by their famous fathers.
Both Alvin and Bong Ravena have no doubt on who's better at this point in their sons' careers.
"Mas magaling siya, I must admit," Bong said of Kiefer. "Marami siyang alam, especially dribbling. Ako, hindi naman ako ganoon dati. Ang focus ko kasi more on defense. I'm proud to say na mas magaling siya sa akin."
Ray-Ray may have a bigger mountain to climb. Bobby Sr had a stellar college career at Memphis State, was picked in the third round of the 1984 NBA draft by the Atlanta Hawks and once averaged a mind-boggling 52.6 points in a conference during his long career as an import in the PBA.
Ray-Ray, however, has a chance to do something his dad never achieved – play in the NBA. To this end father and son plan to go to the United States after the UAAP season to have Ray-Ray try out in NBA training camps.
"They could tell him whether he's good enough or not," Bobby Sr. said. "Either way it's a plus because even if they say he's not good enough then they'll tell him what he needs to work on. And he's just turned 19. So he still has plenty of time."
But more than anyone else, Black should be the best judge of the father vs son debate.
Black fought numerous epic battles with Bobby Sr., coached him at San Miguel, coached against him as well. He played alongside the elder Teng at SMB; coached him, too. And Black was the one who drafted a gangling rookie named Bong Ravena for San Miguel back in 1992.
"Look, Bong played in the PBA for something like 15 years and he was a former Rookie of Year. Alvin was one of the best defenders to play in the league. And Bobby? He is a seven-time best import and his record speaks for itself," said Black.
"But these guys, they're just starting out, so comparisons at this time are premature. Let's give them time to catch up."