THERE was no bonfire last Thursday night, but that did not keep the 'No.1 Fan' of the Fighting Maroons from fanning the flames for the hottest team the University of the Philippines has had in a decade.
In lieu of a bonfire, Robina Gokongwei Pe, president and COO of Robinson's Retail Holdings, treated the team to a steak and buffet dinner at the Seven Corners restaurant at the Crown Plaza in Ortigas Center on a rainy evening as a show of appreciation.
"What a feeling! What a feeling! Exhilarating!" she told SPIN.ph during the dinner.
After beating De La Salle for the first time since 2009 to open the season at 2-0 (win-loss), the Maroons are off to their best start since 2005, bringing joy to supporters especially backers like Gokongwei-Pe who had stood behind the team during the tough years.
A nearly two-hour wait for the players to arrive (due to heavy traffic caused by torrential rains) failed to dampen the spirits of Gokongwei-Pe, a major supporter of UP's men's basketball team for the past five years.
"For four years we supported the team through thin and thin and we're so glad that you're now thick! Keep up the good work. We're so proud of you. Let's aim for Final Four," she told the assembled players and coaching staff.
Continue reading below ↓
Recommended Videos
[See How good is UP Maroons' start to UAAP season? Let us count the ways]
She also took the time to talk to the student-athletes, asking what time their classes were ("How can you be awake by 7 a.m.?").
"Magkuwento kayo! Bakit tayo 2-0?" she asked players Jett Manuel and Andrew Harris when they arrived.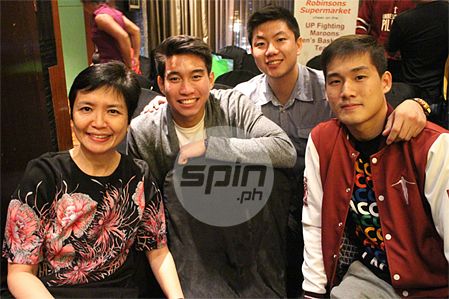 The business magnate was in an expectant mood, saying "I hope they reach the Final Four. I will be really very happy. These two wins were totally unexpected. I am overjoyed and I am so proud of the team."
For the past five years, the low-key business executive said she has patiently "waited for this moment."
In another 'Thank you' gesture, each member of the team also received gift packs from Robinson's Supermarket and Handyman.
When asked what the biggest differences she has seen from the Maroons this season, Gokongwei-Pe offered two observations.
"Number One, they don't panic. It's like they do a lot of calculated moves. Number two, they really work as a team, not like before when they would depend on one or two players na talagang magagaling."
Gokongwei-Pe noted that UP alumni are "very happy" with the turn of events, reigniting campus interest in the Maroons.
"Now, they are asking each other, 'O, when are we gonna watch?' It's not like before when we were watching we were (just) one row in the coliseum. Now it's like a lot of people are watching already."
The Iskolars ng Bayan have a unique sense of humor and Gokongwei-Pe is no exception.
"Bonfire? (laughs) Somebody told me 'Forest fire' na raw! Hindi lang bonfire."
Not letting their guard down, the Maroons reserved the Mall of Asia Arena on Friday afternoon to prepare themselves for a Sunday game against the University of Santo Tomas, another undefeated squad.
Before joining the team at restaurant's posh dining hall, SPIN.ph asked the affable head of the Robinson's chain as to the duration of her support for her alma mater.
"We've supported them the first four years- three wins out of 56 games we're still supporting them. So why not?"