FORMER NBA star Richard Hamilton said he was 'amazed' with what he saw from Kobe Paras from video compilations he stumbled on online and believes the Filipino player has what it takes to make it to the NBA.
"I think that the gifts that he has now, you know, definitely, sky is the limit for him," said Hamilton, the former star of the Detroit Pistons' 2004 champion team who is in the country to lead the NBA Cares and Globe Tattoo activity for the victims of typhoon Yolanda in Ormoc City.
"Getting to the NBA is a definitely a tough test, but the tools that he has now, I feel though that if he keeps working at it, you know everything is possible," added the sweet-shooting guard.
Hamilton said he has seen the exploits of Paras via the video sharing website Youtube.
"I've been a fan of the game, sometimes you go to the internet just looking at high school players coming in," he said. "I saw Kobe play, I was amazed. And then heard that he's now with UCLA. That's great for basketball, wathing him play. I told myself: 'this kid is good for the game.' I didn't even know at first that he is a Filipino."
Continue reading below ↓
Recommended Videos
The former teammate of legendary NBA superstar Michael Jordan at Washington Wizards also highlighted the upsides he saw in Paras' game.
"He is big. Being at 6-6, 6-7 at the guard position, that is like a perfect height for the next level," said the 36-year-old native of Coatesville, Pennsylvania.
When informed that there is a chance that Paras might abort his playing career in the US NCAA to return to the Philippines to play for the Dela Salle Green Archers, Hamilton obviously was stunned.
The 17-year-old son of PBA great Benjie Paras has earlier told Spin.ph that he has committed to playing for La Salle in the UAAP, long before he accepted his scholarship in the US.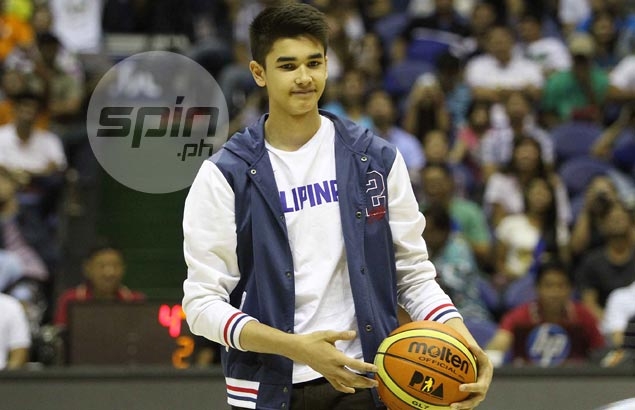 Paras had a short stint with LA based Cathedral High School before he was spotted by scouts of UCLA. He has since committed to play for the Bruins, who are coached by former Indiana star Steve Alford, in college.
Benjie has admitted that Kobe's sojourn to the US had the blessings of La Salle chief backer Danding Cojuangco and he will be leaving all decisions regarding his college career to his son.
[See Kobe Paras' move to the US has blessings of La Salle backer Danding Cojuangco, says dad Benjie]
"That's a personal preference, a kid like that… you have to admire him for saying that, 'Hey, he wants to play back in his home country' because it's a situation where it's like he never forgets where he comes from," he said, shaking his head.
"You have to admire that in the kid."
Hamilton, however, stressed that with how Paras has been turning heads in the US, he has a real opportunity to make it to the big leagues.
"Yes, he has a good chance of making it to the NBA, he's got the opportunity. He's going to UCLA, there's a great program there to better his game," he said. "After that anything is possible."
Hamilton was also surprised to see how Filipinos are crazy about basketball in the country.
"I didn't know it was this big here until I got over here. I was just talking to people from here and they told me that basketball is the number one sport, that tells you how the game has evolved globally," he said.
See video of full interview with Richard Hamlton:
Asked if he believes that a Filipino, a homegrown player at that, will one day step on the NBA floor, Hamilton was optimistic.
"I think so, I really do. I think Filipino invasion to the NBA is coming soon. If you said that 15 years ago, about the European players, now if you look at the San Antonio Spurs, they've got more foreign players than any other team … So I think in the near future there will be Filipino player in the NBA," he said.
And who will that be?
Hamilton simply returned the topic to Kobe Paras: "You got one kid at 6-7 at the guard position, that's great right there."
Meanwhile, NBA has already cancelled the Ormoc trip of Hamilton due to the super typhoon Hagupit's expected land fall in the next few days.
Instead, Hamilton will be spearheading a Globe Tattoo PH x NBA Cares basketball clinic on Thursday morning at Brgy Buayang Bata in Mandaluyong city. He will be joined in the program by Pinoy rock star Bamboo.