RICCI Rivero denied insinuations he had been using drugs even as he cried foul over 'lewd rumors' that circulated after he took a leave of absence from the La Salle Green Archers.
The Archers sophomore guard on Wednesday issued a statement, with an attached drug test result from a private laboratory that showed negative result from cocaine, amphetamie and other drugs, as he shot down rumors of following his exit from the Archers squad.
"I am NEGATIVE to all types of substances contrary to initial report that I was tested positive for drugs," Rivero said.
"For the record, I never took drugs and will never try it," said Rivero.
Rivero also said he felt insulted by rumors about him accepting money from gay benefactors.
"As for the lewd rumor, please do not disrespect the hard work of my parents to provide for me and my siblings. We are all working hard to help each other sustain a big family like ours. Me, simply accepting money is an insult. It is foul," Rivero said.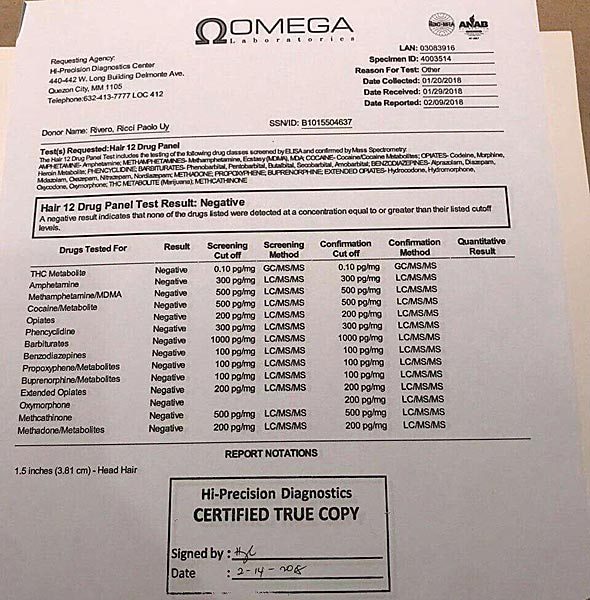 Continue reading below ↓
Recommended Videos
Rivero confirmed he is on leave from the Archers to fulfill his contractual duties with companies he is endorsing. New team rules disallow players from having endorsement deals.
"My leave of absence is not about choosing priorities and greed, but it is about honoring my commitments and respecting the new team rules that was just implemented. I can't just turn my back just like that. It's a value that I have to adhere. I never wanted to choose, but I was let with no choice," said Rivero.
"The past few weeks have been so heavy, being accused of something I never imagined to be dragged into. God knows the truth. I will not do something that I know will convert the cheers to boos. I will not commit to something that will ruin my family name," said Rivero.
Rivero earlier said he has no plan to transfer, although it is unsure when he will be able to see action again.
"To the La Salle management and bosses, to the past and current coaching staff, allow me to thank you all for taking care of me all these years. To the La Salle community and alumni, rest assured that my utmost respect and gratitude will always be here for all of you. I will always have with me that ANIMO Spirit you all taught me," said Rivero.