MUCH of Ateneo's success has been attributed to Tab Baldwin's arrival two years ago to take over as coach after a short yet successful stint at the helm of Gilas Pilipinas.
Baldwin's championship experience from 35 years of coaching has certainly played a huge role in the proud school's resurgence, leading the Blue Eagles to back-to-back finals trips with two wins away from claiming their first title since 2012.
But here's the catch: Baldwin may have won countless silverwares in the past, yet he hasn't been too eager to count it, opting to just measure the run of the team as a whole.
 "Well, I haven't won any championships. The teams I'm part of, some of them have been successful, some of them have been very successful. I don't have a win-loss record," the Ateneo coach said.  
"The players I have coached and worked with through the years, we've either been successful together or we have failed together and this team will be no different," he added.
For Baldwin, he is just but a small part in a much bigger picture.
"This game, UAAP and this championship is far, far, far from about me. I'm just a bit player in a big play. I'm privileged to be here, I'm blessed to work with these players and I pray for their success and I think they deserve it. But they have to earn it," he said
The 59-year-old coach also shot down the notion of Ateneo needing a high-profile mentor like him to turn things around for the proud community.
He shared that everything that these young Eagles have accomplished this season is because they've worked hard for it, not because he came in and automatically changed the culture.
"I don't want anything given to them. I don't believe that's in the spirit of the game and I love this game of basketball. So the notion that somebody would come from the outside and give players something that they don't earn is repugnant to me," he continued.
"I would never ask for that and I would never want that from my players. I want them to earn this championship if they're going to. If they do, then all the spotlight should be on them. They would have done something outstanding and I will be enjoying watching from a far because it's theirs and should be theirs and I'll be excited for them," he added.
A championship here would definitely feel like redemption for Baldwin, especially after being abruptly taken out of the Gilas post before getting the job in Ateneo.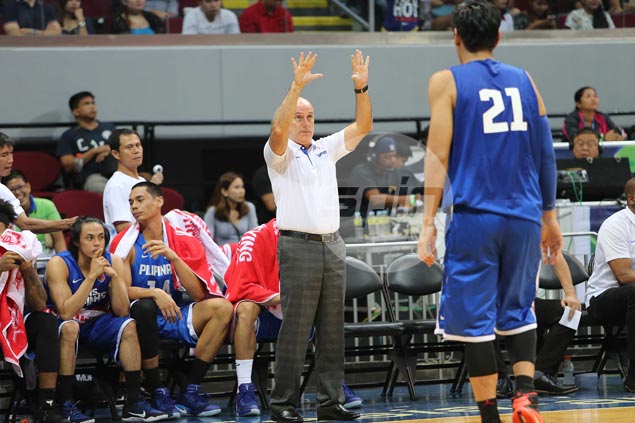 Ever the consummate professional, Baldwin doesn't look at this opportunity as redemption – instead, it's just another tour of duty for him.
"I am not asking for redemption. I am a professional basketball coach. I work for my employers, I do the job that I'm supposed to do and when that time is finished, either from what my employers need from me or what I need from my employers, then I try to be very thankful for the opportunities that I've had and relish the relationships I've been able to build during the time I'm working," said Baldwin.
He also paid tribute to his hardworking coaching staff, led by longtime Ateneo deputy Sandy Arespacochaga. The team may have been overshadowed by Baldwin's presence on the bench, but the outspoken mentor believes that they wouldn't be here in this point had it not for the sacrifices and hardwork that his coaching staff has put up.
"What I enjoyed so much is my coaching staff here in Ateneo. This tremendous group of men that has dedicated many, many years to this university as players and coaches and I've been blessed to be around them. I've never had a coaching staff like these guys," Baldwin said in amazement.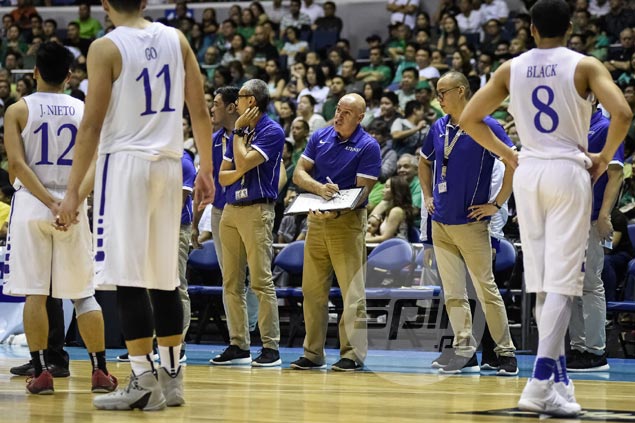 "I think they bring honor to our team and to the sport with the work that they do. They humble me with their dedication to this university. It's been a joy to be a part of it but it's the hardest for me in 35 years for sure because we dedicate so much time and energy to teaching and it requires a lot of patience."
He doesn't know how long he'll be staying with Ateneo, but of all his tours of duty with different teams and different countries all over the world, his stay with Ateneo will definitely be one of the most memorable.
"Certainly, the relationship with these players and coaches is one of the treasures of my 35-year career. However long I have left, I certainly won't forget this."