NASH Racela is being eyed to replace Bert Flores as Far Eastern University coach in a looming coaching switch that could signal a deeper involvement of Manny V. Pangilinan's people, or perhaps the tycoon himself, in the Morayta-based school's basketball program.
Racela, a longtime assistant coach who called the shots in Talk 'N Text's first PBA game this season while Norman Black wrapped up his commitment with Ateneo, will be appointed head coach once Flores formally announces his decision to step down from the FEU job, sources said.
A source close to Racela, brother of Petron coach Olsen, confirmed that the coach had met with Anton Montinola, FEU's representative to the UAAP board, to discuss the FEU coaching job.
Sought for comment after the Texters' victory over Air21 on Wednesday night, Racela declined to make any confirmation but said the Tamaraws have the material to contend for a championship next season.
Multiple sources in the team, who refused to be named as they are not officially authorized to speak on behalf of the school, confirmed the planned resignation of Flores on the heels of FEU's failure to reach the Final Four this season following two straight trips to the Finals.
Continue reading below ↓
Recommended Videos
Another source revealed to Spin.ph that Flores' departure would be the start of a major revamp not only of the roster but of the basketball front office as well following the Tamaraws' unceremonious exit from the UAAP's 75th season.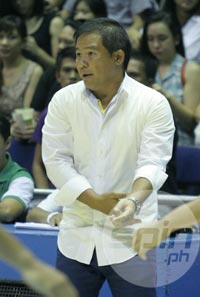 Another major move in the offing, sources said, is the entry of current national coach Chot Reyes as the school's program head for basketball. Sources said Reyes has ties with FEU athletic director Mark Molina.
The entry of Reyes, executive director of the MVP Sports Foundation and one of Pangillinan's trusted people in sports, is seen as a strong sign that the businessman may opt to provide support to the alma mater of his father, the late banker Dominador Reyes Pangilinan.
If it happens, it will not be the first time that Pangilinan would be backing the school. In 2010, he created an endowment fund named after his father that provided financial aid to underprivileged seniors in FEU's Accountancy and Business and Finance departments.
According to sources, former PBA MVP and FEU legend Johnny Abarrientos, who was previously rumored to be one of the candidates for the FEU coaching job, will instead be tasked to handle the school's juniors squad.
Sources also said there are plans to move the office of MVP's foundation from the Moro Lorenzo Sports Center inside the Ateneo campus to FEU in the wake of Pangilinan's falling-out with his alma mater.