PRINCE Rivero was there to console Ricci Rivero when his younger brother was left in tears after getting his fourth personal foul of the game in the second quarter.
The words of encouragement from the elder Rivero clearly paid off as Ricci went on a scoring rampage in leading La Salle to an epic comeback win that dragged the UAAP Season 80 finals series with Ateneo to sudden death.
After committing his fourth foul with La Salle behind 49-28 early, the Green Archers sophomore got fired up after the break, scoring 12 of his 18 points in the second half to beat Ateneo, 92-83, on Wednesday.
When asked what he told to the 19-year-old Ricci, Prince shared that he only gave his younger brother a constant reminder from their father Paolo each time the going gets tough.
"Sabi ko sa kanya, katulad ng sinasabi ng dad ko sa amin, 'Parang river lang ang buhay. Pag kinalaban mo 'yung flow, talo ka. Malulunod ka,'" said Prince.
"Pero once na gamitin mo 'yung flow ng river to your advantage, mas makakapunta ka sa safety at mas maganda 'yung kalalagyan niya," he added.
The burly La Salle forward also told his high-flying brother to keep a positive mindset despite La Salle falling behind by 21 points, and to keep the faith.
"Isipin mo lang 'yung positive. Wag mo i-set aside 'yung negative. Kailangan niya i-overcome 'yun kasi 'yun ang magbu-boost sa kanya at magbibigay ng energy para ma-overcome 'yung struggle na meron sa harap niya," said the elder Rivero.
"Wag din niya kalimutan magdasal sa Diyos kasi siya lang 'yung makakatulong sa kanya sa loob," he added.
And how would he describe his brother's play in Game Two?
"Fabulous," said the 22-year-old Prince.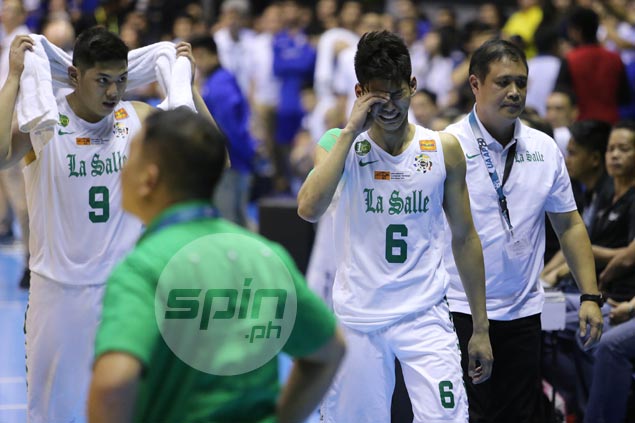 The high-flying Rivero admitted that the gentle reminder from his brother Prince indeed calmed him down and eventually set the stage for his big second half.
"Alam mo yung will mo to win tapos wala kang matulong sas teammates mo? Yun yun. Pero sabi nga ni kuya, take it as a positive thing," said Rivero after the match.
"Kung di ka makakatulong sa court, try to cheer our teammates up. Maging positive ka na lang sa bench para ma-pump lahat," he added.
Finally settled down, Rivero was finally back to his old self and even got back his swagger with some acrobatic lay-ups, jaw-dropping handles and dazzling footwork to wow the crowd.
"Kailangan maglaro lang ako ng loose, yung relaxed, hindi yung may gigil. Nung second half, I just played my game. The whole time na nasa bench ako, I was praying," Rivero added.
"I just left it all to God. Whatever happens in the second half, whether positive or negative, positive lang lahat sakin because I left it all out kay God."
The La Salle sophomore guard also admitted to being too eager in the first half, hence the foul trouble and missed shots. Thankfully for him, he got over his inexperience in the championship stage and the jitters that came with it to put on a show in the second half.
"Yung gigil, sobrang minsan lang ako naka-finals, even nung high school wala akong experience. Willingness to win, hype ng Ateneo – La Salle, Finals Game Two, andun talaga yung gigil ko. Parang hindi ka pa used sa ganitong situation," Rivero admitted.
Still, Rivero kept his celebration brief with La Salle needing one more win to hurdle before they can finally celebrate for good.  
"Siyempre happy, pero like what coach said, don't celebrate unless it's finished na. Siguro, hindi kami magsstop magwork for next game, we're offering everything to God." Additional report by Christian Jacinto