THE state-of-the-art Mall of Asia Arena has not been spared by the howling winds of typhoon 'Glenda,' which battered the metropolis on Wednesday.
It was in fact dealt a 'black eye' by the nasty storm.
The arena, which was supposed to host a UAAP double-header on Wednesday, suffered noticeable damage to its famous eye-shaped facade as 'Glenda' wrecked havoc with winds of 120 kilometers per hour.
Spin.ph also noticed damage to the big screen on one side of the facade when we checked it out in the afternoon, by which time security personnel were already putting up barricades to prevent passers-by from being hit by falling debris.
The UAAP cancelled the Wednesday games schedueld to play at the MOA Arena on Tuesday evening.
According to MOA Arena's website, the eye-shaped "facade symbolizes the arena's promise to deliver top-notch entertainment to its audience."
The arena has become one of the top sports venues since it was completed last year, hosting UAAP and PBA games as well as the historic NBA preseason match between the Houston Rockets and Indiana Pacers.
It has also become a favorite venue for concerts.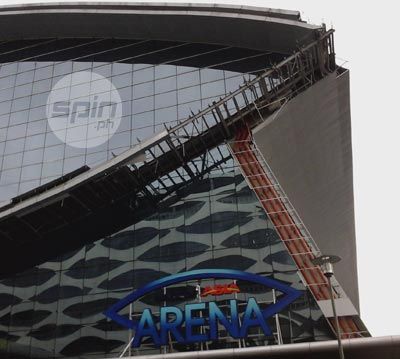 Recommended Videos