WITHOUT a doubt, Marissa Altamirano is a hands-on mother, even to her extended family in the UAAP, her husband Eric's team, the National University Bulldogs.
She's a fixture at courtside in NU games, showing her support to her husband in a more active manner, as Marissa is constantly handing out the towels to players when they sit down to the bench, and later folding those same towels one-by-one when they return to the court.
Most of the time, she would give the players water bottles during breaks, and would even show her displeasure to referees during timeouts when the team believes they made a bad call on a previous possession.
Those aren't the only things she does for the team, though.
"Unofficial liaison officer, mother, maid, laundry woman, nurse, doctor, lahat. You name it, lahat," said Altamirano, a former member of the University of the Philippines volleyball team during the 1980s.
To be clear, the better half of the NU coach has no qualms about doing the job usually done by utility guys in the team.
But Altamirano isn't doing it without a purpose, saying that her many roles in the team is also her way of teaching the boys on being a good leader.
"That is what we always teach the boys, to become a good leader. You need to serve. How can you become a good leader when you don't know how to serve?," she said.
"Parang si Jesus Christ diba? Nag-wash siya ng paa ng mga Apostles. It also teaches the boys humility. It doesn't mean that because you are a player, senyorito ka. You have to teach them a heart of a servant," added Altamirano.
ADVERTISEMENT - CONTINUE READING BELOW ↓
Altamirano said her service to the team is also borne out of love not just to his husband Eric, but to the team, especially since most of the players are not with their families.
"A lot of them are away from their families. There should always be an essence of family, kasi kung wala silang family, maliligaw sila," said Altamirano.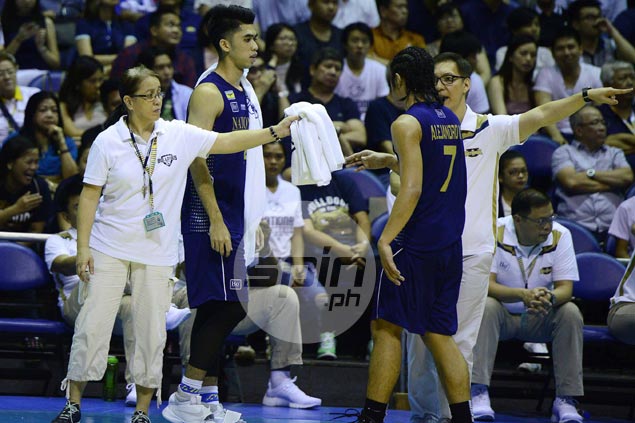 The Altamirano family has long had a caring history with their players, not just from NU but also from others that came from their basketball camps, which even came to a point when some of them were housed in their home in Pasig soon as they arrived in Manila from the provinces.
"I have about six, seven, at one point," said Altamirano, mentioning the names of now PBA players LA Revilla and Baser Amer, who were once part of their home in the past. "A lot of them, parang in passing lang kasi we had the NBTC and Nike Elite, most of them came from that camp."
Friends of the Altamirano family said that there also came a time when they hosted the entire Bulldogs squad as the surrounding area of the NU campus in Bustillos, Manila got flooded.
"If they are away from home and they meet somebody, they are guided. Mahirap 'yung blind leading the blind. Kukuha sila sa advice from a blind. At least Eric, I, and our family is their pillar for support for all of them," said Altamirano.
Altamirano hopes that her role will make an impact to the players as they move on with their personal and professional lives.
"It is an honor to serve. That is always what we tell them, do not be ashamed to serve," said Altamirano.