THE lure of free and quality college education in a hospitable and English-conversant society has attracted a steady stream of African players, mostly Cameroonians and Nigerians, to the country's top collegiate leagues.
Among them is Karim Abdul, a gentle 6-foot-6 giant from Cameroon who has been posting MVP-like averages of 16 points, 13 rebounds and two blocks per game for a University of Santo Tomas team that has roared to five successive wins with Abdul a force inside the paint.
Not bad for a 20-year-old orphan who walked into the UST campus two years ago knowing more about football than basketball. He had come to the country on his own and went to UST's Espana campus armed only with a referral of a common friend with UST coach Alfredo Jarencio.
 "Of course, when he arrived, he was really big. But football was his sport. He had some knowledge about basketball but in the deeper aspects about basketball, he wasn't really that learned about it," Jarencio told Spin.ph.
But what really struck Jarencio was how Abdul dedicated himself to the game if only to keep his athletic scholarship.
 "The fact that he is taking up engineering is an indication that this is not all about basketball for him," said Jarencio of his ward, who finished secondary education at the Sta. Clara school in Cameroon. "He often tells me that he wants to bring his education back to his country."
Add to that the free board and lodging and some allowance for his daily upkeep, Karim has indeed found a second home at UST, said Jarencio.
Starting off-guard Jeric Teng has also done his share to make Karim feel at home by frequently bringing him home to family dinners for chats with his father, former PBA star Alvin, mother Susan and his sibling, La Salle rookie Jeron.
"The alumni have also been supporting Karim like Timmy Chong, Marlon See and Rudy Yu," Jarencio said.
Abdul is just one of several successes among African players, whose stories are no different from the millions of Filipino workers around the world. These players take out huge loans back home to buy tickets to the Philippines, where they hope to get a shot at a better life.
Only, instead of work they come looking for quality education.
Their growing number has fuelled silent dissent among coaches and players, who feel – and rightfully so – that these foreigners are taking away choice spots in varsity rosters from Filipino players.
But at a time when most Filipino players at the college level see the UAAP and the NCAA only as a springboard to the pro ranks, these African players embody the essence of college ball which in the old days meant nothing more than an athletic scholarship.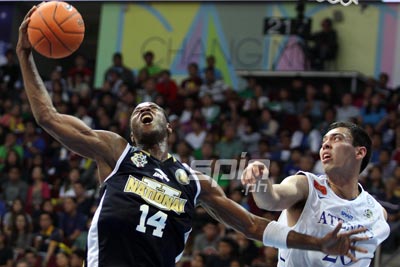 Take another Cameroonian in Emmanuel Mbe, for example. 
National University coach Eric Altamirano narrated how Mbe personally e-mailed him a few years back, asking if he could play for him. But since he wasn't handling any team at that time but was merely conducting regular basketball camps, the former PBA coach couldn't make any commitment to the then 16-year-old Cameroonian.
Then one day, he got a call from a taxi driver.
 "(The taxi driver) told me he was at the airport and that he had an African passenger asking that he be taken to my address. And it turned out to be Mbe," Altamirano recalled.
The Altamirano family did take Mbe in while Eric looked for schools willing to tap the giant Cameroonian. The NU Bulldogs said yes and the 6-foot-7 recruit from Yaounde was eventually reunited with Altamirano when the coach was hired years later by NU's new owners, the Sy family.
"He sort of came under my wings," Altamirano said of Mbe.
Mbe's story was no different from Abdul.  "From what I've gathered, it is all about the education they would get here. They save for the trip to the Philippines. Some of their parents even draw loans for the tickets to the Philippines. And that really costs so much," Altamirano said.
To date, there are seven foreign players in the UAAP, five of them Africans, while there are four African players from the six foreign players in NCAA rosters. The trend has even reached the basketball hotbed of Cebu, where Cesafi heavyweights like University of Visayas have now signed their own African 'imports.'
NU has another African recruit in rookie Henri Betayene, a 6-foot-10 center from Duola who cast his fortune on a blind trip to the Philippines just to be able to find a school that would take him in on an athletic scholarship.
He had gotten his break with STI, the computer school competing in one of the minor collegiate leagues whose coach would later become Altamirano's assistant at NU.
That was how Betayene came to the Bulldogs' lair.
Far Eastern University has another Cameroonian in Christian Sentcheu, a 6-foot-10 center in only his second year. Like Betayene, he is from Duola, Cameroon. NCAA school Emilio Aguinaldo College has under its wings another Cameroonian in Noubi Cedric Happi.
There, too, is the crop of Nigerians in the collegiate ranks led by San Beda's Olaide Adeogun, the 6-foot-8 slotman who is hoping to follow in the footsteps of fellow Nigerians Sam Ekwe and American Sudan Daniel.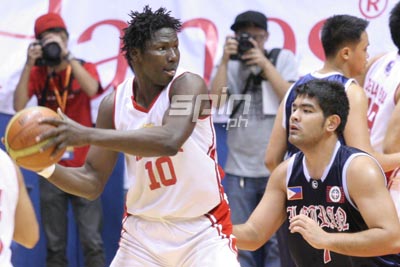 It was actually Ekwe who blazed the trail for the African players when he joined the Red Lions under the auspices of the Benedictine Abbey monks, hoping to become a priest.
The Nigerian has since parlayed a successful stint with the Red Lions into a professional basketball career in Taiwan and the US but not after completing his degree in BS Marketing and Corporate Communications at San Beda.
University of the Philippines has 6-foot-9 Ifenayi Mbah from Lagos, Nigeria, while NCAA squad the University of Perpetual Help has enlisted a pair of Nigerians in 6-foot-6 Femi Babayemi and 6-foot-4 Nick Omorogbe.
Arellano University, meanwhile, has turned to the Canadian contacts of new coach Koy Banal in a bid to boost its stock with James Forrester and Serge Adam Jacob, though both are not of the stratospheric heights required of collegiate imports.
Altamirano noted that the great demand for these African players is understandable, saying competition in the collegiate ranks has become so steep in recent years that schools in need of tall players have no choice but to turn their sights overseas.
Among Filipinos, players standing 6-foot-6 and above are a rarity. And Filipinos standing taller than that, say a Greg Slaughter at seven feet, come only once in a generation.
"Competition has gone beyond the supply," he said.
Jarencio, on the other hand, said African players have become the "great equalizers" among the haves and have-nots in college basketball. With most of the top schools cornering the bulk of the talent from the high school ranks, the lesser teams' signing of African recruits has balanced out the competition.
"The promising high school players go to the premier teams with immense school and alumni support. So who could blame us when these (foreign) kids come to us offering to play and sacrifice body and spirit for a chance to get free education?" he said.