THE long wait was worth it for Kobe Paras as he finally made his debut for the University of the Philippines on Sunday in its 83-82 overtime thriller over Adamson.
"I'm really happy," said Paras, who missed UP's first two games owing to an ankle injury. "It was really tough, but I just thought about it as adversity. My whole life, I've been facing adversities so I'm just really glad that I'm back on the court."
In his first UAAP game in maroon-and-white, the second-generation star logged 41 minutes and delivered 20 points, six rebounds, and two blocks, together with an assist and a steal, showing that he's worth all the hype given to him.
Though Paras' plans didn't really pan out the way he envisioned it in uneventful stops at UCLA, Creighton, and Cal State Northridge in the US NCAA, he vows to make the most of this "third chance, not just in basketball but in life. "
"I'm really happy. As everyone knows here, this is my fourth college so I'm just thankful to coach Bo (Perasol) and the whole UP community," he said. "I'm trying to be passionate about the game because when I was in the States, I didn't really get to play in college and it really hurts.
Continue reading below ↓
Recommended Videos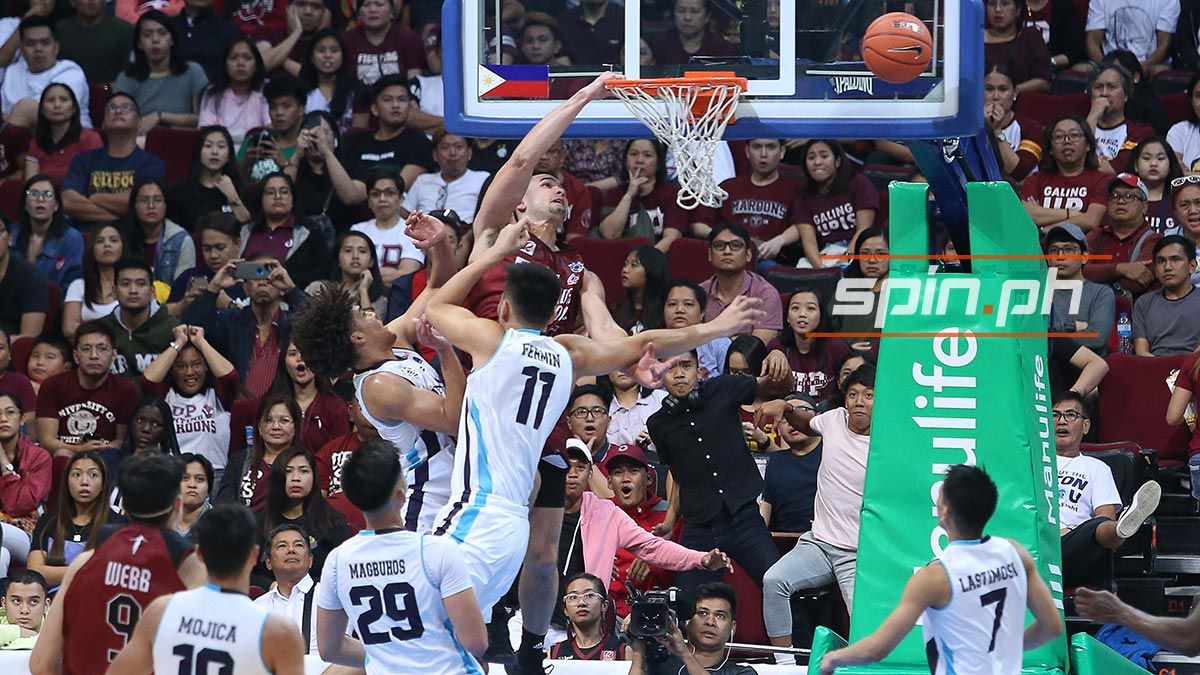 "A lot of people think it's easy being alone in the States and I had to go through a lot of mental issues, and I think that's one thing that people really need to understand, that as athletes, we're human beings as well. I had to face adversity every single day alone but I'm just grateful for the opportunity that UP's given to me."
The former teen prodigy had no doubt choosing to play for the alma mater of dad Benjie was the right decision, saying he wanted to be a part of the rise of this once-cellar-dwelling basketball program while at the same time aspiring to be a better person.
"Of course those high-caliber schools were also in the mix, but I just wanted to start fresh in a school that really has nothing," said the 21-year-old forward, sharing the changes that he underwent before getting to this position.
"One thing I had to change last year was my mindset. As you guys know before, I was going through a lot and I was kind of a hot head. I couldn't hold my temper and stuff, but that's one thing I'm trying to fix now, being a better player, being a better person, and that's what's basketball is about."
Paras is grateful for shot at a career reboot.
"I'm just really blessed I'm given a third chance in college basketball and that's rare. For a lot of these student-athletes, they know how it feels. Some of them know how it feels to try and try and try and not get the chance, but I'm just blessed.
"Even though this is just my Plan B, this Plan B is everyone's dream. So I'm still grateful for everything," he said.
Paras believes this win will be huge as he and the new-look Maroons look to build chemistry.
"This just helps us to build our chemistry. You guys know that this is a new team. A lot of people think it's easy to just have a group of players come in and produce, but it's hard," he said.
"We're not like Ateneo that their players have been with each other ever since, so that's their advantage in this league - the chemistry. I'm just glad we have games like this because it brings us together."