JETT Manuel is having a ball in his final season with University of the Philippines, not just because of the Fighting Maroons' unlikely run at a Final Four spot but for an academic achievement that he hopes can secure his life after basketball.
Last semester, the 24-year-old Maroons leader was able to earn a degree in Civil Engineering, an accomplishment that he is rare for student-athlete.
"I'm not an honor student but graduating with a civil engineering course is a big personal achievement," Manuel said.
Instead of taking the easy route, Manuel took up civil engineering after entering the state-run university as a varsity recruit from Xavier School.
"In a way, the norm is ang sinasabi nila it's a tough course. I took it as a personal challenge. Student-athletes are not given their due for the work they put on especially in academics," said the Maroons forward.
"I want to show that athletes, even though we are excelling in sports, we are also excelling in academics."
[See Excitement among UP players, fans builds as Maroons take unlikely shot at Final Four]
Manuel said his interest in the construction industry also influenced him to enroll in a civil engineering course, notwithstanding the burden it would have on his schedule.
"I felt that it was the course that will help me in the future. Life after basketball, it's something that match me the most so why not take that course which is very prominent in the university," said Manuel.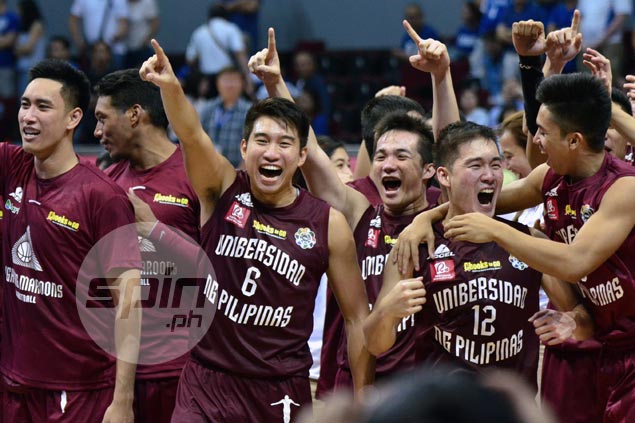 Finishing the course, however, wasn't easy especially for a varsity player like Manuel.
"It was really hard and tough. There were days that I won't go to practice or go to practice without sleep. But finishing it last semester, parang it's like winning in a game," said Manuel.
Manuel isn't done studying. He plans to take up the licensure exams after the UAAP season.
"I sacrificed taking the boards with my batchmates in order to play in the UAAP. I will take it next year, after this season in May, and get my license," Manuel said.
[See UAAP Final Four scenarios]
Manuel still plans to pursue a dream to play professionally once his collegiate career with the Maroons is done, but he's secure in the thought that he has a degree to bank on no matter what happens.
"I'm planning to pursue basketball, get my license, and see how far I go with basketball. I love playing basketball. It's my passion," said Manuel.
"But after basketball, I know where I'm going now. At least, I have something to look forward to."