HAVING a child good enough to make it to the country's premier collegiate basketball league is a proud moment for any parent; having two of them is double the joy.
That is, until they square off on the court.
For basketball couple Alvin and Susan Teng, that presented quite a dilemma that they decided to split the family and sit on opposite ends of the Mall of Asia Arena when La Salle and University of Santo Tomas played each other in the UAAP on Saturday afternoon.
"Sobrang pressure!" said Mommy Susan, a loud, can't-miss fixture at ringside during games from the time Alvin was playing for San Miguel Beer in the PBA.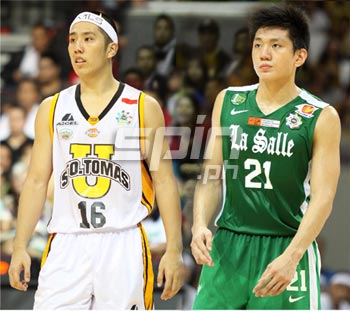 This time, she could only cover her face and laugh at her own nervousness. "Malakas ako mag-cheer pero ngayon di ako maka-cheer," she said.
Eldest son Jeric's Tigers taking on the Archers of rookie phenom Jeron also meant the Tengs' two daughters had to go their separate ways.
The eldest, Allysa, sat with dad on the La Salle side of the arena while Almira, who also happens to be studying at UST, joined her mom on the other side.
Alvin has played in and seen thousands of games in his lifetime, but he swore nothing compares to games where you witness your sons trying to beat each other.
"Ang hirap kasi makita na matatalo 'yung isa, eh anak ko pareho yun," said Daddy Alvin, who earned the moniker 'Robocop' for his toughness inside the paint and during his playing years with the Beermen.
It didn't help that Saturday's match was as thrilling as they come, the two sides battling through a nip-and-tuck regulation and two overtimes before Jeric's Tigers pulled off an 84-82 victory.
"Pag naglalaro sila excited ako pero ngayon magkalaban, grabe ang pressure," Mommy Susan said. "Ang hirap, ninenerbiyos ako. Parang puputok ang dibdib ko at ang sakit na ng ulo ko."
Adding to the tension, Jeric and Jeron, 19, play more or less the same positions and ended up guarding each other during the game.
Jeron scored 17 points, eight more than his brother, but Jeric got the win.
The good news is, the rivalry between the 'Robokids' do not extend to the household. Except for the day before the game when Jeric said that Jeron was no longer talking to him – "I guess he already has his game face on," Jeric tweeted – things returned to normal at the Teng home after the game.
The winner only gets bragging rights in the household. "Nagkakantiyawan lang ang dalawa na 'yan," said Daddy Alvin.
That is, until the next UST-La Salle match.