THE transformation of Isaac Go from a "big fat kid" to one of the key players of the Ateneo squad that is now bound for the UAAP Season 79 finals never fails to amaze head coach Tab Baldwin to this day.
The 6-foot-6 big man's heroics in the Blue Eagles' gripping 69-68 overtime win over Far Eastern University in the Final Four was just the latest proof on how far Go has gone in his development since Baldwin took over the team prior to the campaign.
No one takes as much pride in that as Baldwin, who recalled that he didn't even hear Go's name mentioned when he asked the holdover coaching staff about the Blue Eagles' frontline, shortly upon his arrival.
"When I joined the organization, I looked around and I said, 'What do we have for a big man?' recalled the former Gilas Pilipinas coach, "and everybody pointed at GBoy (Babilonia) and (Chibueze) Ikeh, and nobody said anything about Isaac."
"I said, 'How about that big fat kid over there?' And they said, 'Well, you know he can do something but he really doesn't have the experience and didn't play much last year,'" Baldwin added with a chuckle.
[See For a change, academics the priority for Ateneo recruit Isaac Go]
At that time, Go, a recruit from Xavier School, was coming off a shoulder injury and was a non-factor in his first playing year in 2015.
But as the season progressed, the American-New Zealander said he started seeing something special in the overweight, inexperienced kid who nonetheless has high basketball IQ (the kid is taking up Applied Chemisty afterall) and a quiet confidence.
ADVERTISEMENT - CONTINUE READING BELOW ↓
"I said this kid is something," said Go.
As soon as he saw the potential, Baldwin said they immediately looked to improve the gentle giant's body so it can keep up with his mind.
"I told Isaac," said Baldwin, recalling his early conversations with Go, 'You are not going to eat rice anymore. And Isaac said, 'My mom would get upset with me if I don't eat rice.' And I said, 'I'm already upset with you that you are telling me that.'"
"(So) we started to work on his body because of his skill set, the intelligence, and the confidence were already there," said Baldwin.
[See Gian Go is seeing brother Isaac live his dream - and it has been just as gratifying]
All the hardwork started to really bear fruit beginning in the second round of the eliminations, when the Blue Eagles went on a run of six successive victories to clinch the second seed in the playoffs, with Go holding his own against the league's best big men.
Against La Salle, Go held his own in a match-up against league MVP Ben Mbala. Although the La Salle center had 17 points and 15 rebounds, Go made it tough for the Cameroonian center by fronting him all game long and forcing him to a 5-of-13 clip on the way to an Ateneo victory.
Go also had a big outing in a win against FEU in the second round where he fired 14 points and seven rebounds while battling the likes of Prince Orizu and Raymar Jose.
On Wednesday afternoon, Go showed he has a big, figting heart to go with the basketball IQ and court skills.
An inadvertent elbow to the face knocked the 20-year-old to the floor midway through the overtime period against FEU, forcing him to sit out while blood flowed freely from his nose.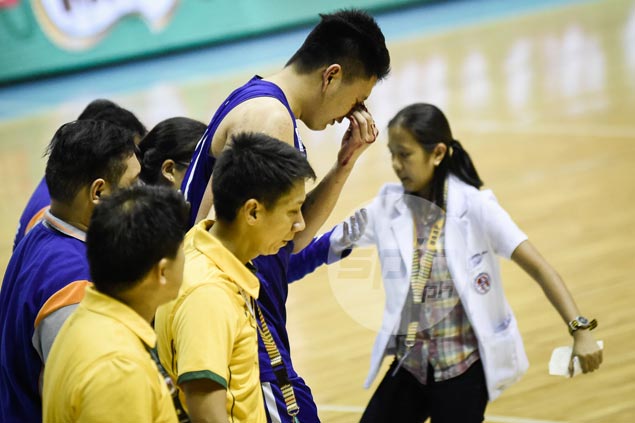 Go didn't stay on the bench for long, returning to hit the putback basket that proved to be Ateneo's only field goal in overtime - a basket that put his team ahead for good.
Moments later, Go made his presence felt on the defensive end, chasing down FEU guard Ron Dennison on a fastbreak and distracting him just enough to delay a shot. Dennison's basket missed beating the final buzzer by a split second.
[See Bloodied Go says quitting never entered his mind]
Baldwin, however, is quick to temper expectations on Go, saying the sophomore big man is still very much a work in progress, much like the team he led to the finals against top seed La Salle.
ADVERTISEMENT - CONTINUE READING BELOW ↓
"Like this team, he is an evolving commodity," Baldwin said of his gentle giant.
Baldwin rarely showers players with high praise, but he was willing to make an exception in Go. The kid is intelligent, he has intensity, and now he has shown he has a fighting heart, the coach raved.
"I think we are going to see pretty special things from this kid in the next few years. Let's not get ahead of ourselves. He is going to be in a war in the next week (against La Salle), but I see a lot of him that I like in a basketball player. Intelligent, heart, intensity, and now he has showed pretty good toughness.
"This is what great players are made off. With a lot of hardwork, staying on the path that he is on, he is an incredibly humble kid. We'll see. But I see a lot of upside in him."