FROM a seldom-used rookie, Isaac Go never imagined himself accomplishing three straight championships with Ateneo to end his UAAP career.
"I knew Ateneo had a winning culture, but I could only imagine from my wildest dreams to win these last three championships," he said after the Blue Eagles completed a 16-game sweep last Wednesday.
The 6-foot-8 center, who was a benchwarmer and used to get called "big, fat kid" in his first year, didn't expect himself to be this successful at the end of his collegiate run.
Even coach Tab Baldwin didn't see much from the former Batang Gilas player.
"George is a guy that I didn't expect a lot from in the beginning. I knew he was intelligent," Baldwin said.
But the American-Kiwi coach made everything possible for the former Xavier standout, who persevered to fit in Ateneo's new system and have a fitter body to re-establish the school's dynasty in UAAP.
"What he has in terms of the context of our team, he has respect from everybody, including all the coaches," Baldwin said. "For a person who gives everything he has to give, we always want more from him. We want more athleticism, we want more speed, we want more quickness. And he tries, he gives everything he's got."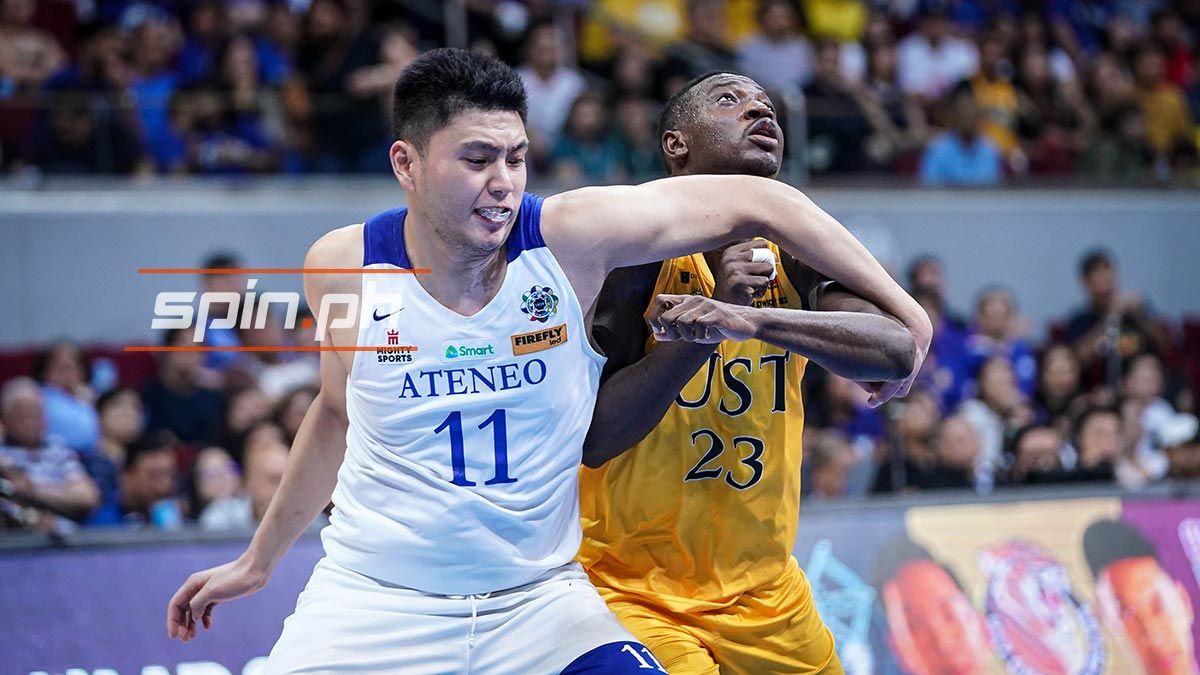 In Baldwin's first year as Ateneo coach in 2016, Go didn't only lose weight, the new system also made him instrumental in helping the Blue Eagles prevent the Ben Mbala and Jeron Teng-led La Salle from achieving a perfect season, dethroning defending champion Far Eastern University in the Final Four, before settling for silver against the Green Archers in the UAAP Season 79 Finals.
The following season, Go immortalized himself as Ateneo's hero as he hit the clutch shots that buried FEU in the Final Four and exacted sweet revenge on the Mbala-led La Salle in Game 3 of the UAAP Season 80 Finals to bring back the glory to Katipunan.
With his name established, he took a backseat as new big men like Ange Kouame, Will Navarro, and Matthew Daves, as well as rookies Pat Maagdenberg and Geo Chiu started to get their footing with the Blue Eagles for the past two seasons.
Although Ateneo didn't need Go's big shots in crunch time in its last two dominant title runs, nothing could be sweeter for him being part of the team's ups and downs in his five-year UAAP career.
"It's an incredible feeling. Not everybody gets a chance to play in the finals, not even come four straight finals," said Go, who is considred a Top Three selection in this upcoming 2019 PBA Rookie Draft.
"I guess we're blessed in that sense that we have the opportunity to play the game that we love in one of the biggest stages in the country."
It wasn't a walk in a park, but everything was worth it.
"It's not a result of luck or anything else. It's a result of everybody's hard work, blood, sweat, and tears," he said. "Coming in every day and working, we all did that, some more than others in terms of years. But it's been a hell of a ride. It's sweet and next year's team is gonna have a big challenge up for them."
Go may not be as athletic or as dominant as other bigs, but Baldwin stressed that it's hard to replace the basketball IQ and composure that his graduating center shared with the Blue Eagles for five years as they will part ways.
"The one thing he gives that we all depend on a bit is that intellect, that basketball IQ. And that calm under pressure. And he's been for us for forever," Baldwin said.
Recommended Videos