WILL we see a match-up between Bright Akhuetie and Ben Mbala in UAAP Season 81? Or next, next year, perhaps?
That depends, really, on how the UAAP board - made up of a representative each from the eight member schools - interprets the league rules on eligibility and residency which, as we've found out over the years, oftentimes varies depending on who's the season host.
In fact, news that Akhuetie has committed to play for the University of the Philippines after two seasons with University of Perpetual Help in the NCAA has sparked confusion on how soon the Nigerian double-double machine can suit up in the UAAP.
An official statement released by UP said the Maroons are looking forward to having Akhuetie in their lineup in Season 81 - or in the 2018-2019 season - after undergoing a one-year residency.
However, a few UAAP board members who SPIN.ph talked to but requested not be named, insist foreign transferees like Akhuetie need to undergo a two-year residency, meaning he will only be eligible to play for the Maroons in Season 82 or in 2019.
To back up their claim, these board members cited the case of Mbala, who spent two years of residency at La Salle after his transfer from Cebu school Southwestern University and had to sit out another year after being found guilty of violating league rules on playing in unsanctioned leagues.
Continue reading below ↓
Recommended Videos
"Before, there was a rule that stated that a residency of two years in the country (for foreign players). Nung si Mbala na, iniba na to two years in the school. The Mbala rule, nilagay nila 'yun, so what would make it different now," said the board member.
[See Akhuetie commits to play for UP Maroons, says Perasol]
Another UAAP official had a differing opinion, saying Akhuetie is exempt from the two-year country residency under the old rule - and therefore required to undergo only the usual one-year residency - because he's been in the country for a long time.
"One year na lang siya mag-reresidency dahil matagal na siya sa Pilipinas," said the UAAP official.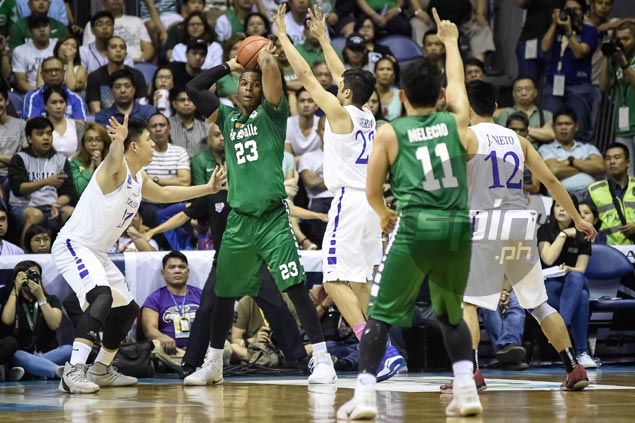 Even Mbala's situation is not uncomplicated.
According to some quarters at La Salle, Mbala, fresh from leading the Green Archers to the Season 79 championship, has two more seasons left in the UAAP, or until Season 81.
They cited as reason the league board's decision to suspend the seven-year window rule, which allows a player to see action in the UAAP for as much as five seasons over a seven-year span starting from his graduation from high school.
However, some insiders bared there was an agreement among the UAAP board members to bring back the seven-year window rule by Season 81, which could deny Mbala from suiting up beyond 2018.
According to SPIN.ph's Cebu-based writer Jonas Panerio, Mbala, 22, arrived in Cebu in 2011 and suited up for SWU for one season in the Cesafi before he was recruited by La Salle.
Assuming he arrived in Cebu as a high school graduate in 2011, then Mbala should be over the seven-year window by 2019.
[See Jett Manuel sees UP finally turning the corner with Akhuetie arrival]
On the other hand, a high-ranking UP official who refused to be identified insisted Akhuetie is only mandated to take up a residency of one year based on UAAP rules.
His explanation? Under the current rules, a foreign athlete who transfered from one UAAP to another must take up two years of residency while a foreign transferee from another league needs only to undergo a one-year residency.
"Ang nakalagay doon, kapag ang foreign player nanggaling sa UAAP at pumunta sa isang UAAP team, two years plus that two years will count as playing year. Kapag hindi UAAP, one year 'yung residency and then not counted 'yung residency as a playing year," said the UP official.
The UP official also said they are sure about the residency requirement of Akhuetie, adding they won't make an effort to recruit the former Perpetual Help center if they didn't check the rules.
"We clarified that because we had a foreign player na maglalaro dapat ngayon. Wala masyadong nakakaalam niyan [one-year residency] dahil nagkagulo gulo lang 'yan dahil sa issues related to Mbala," said the UP official.
Still, judging from past eligibility issues, questions surrounding the residency of Akhuetie as well as the remaining eligible years of Mbala will not be settled with finality until a few weeks before the start of Season 81 when the eligibility committee convene to screen the lineups of the eight member schools.
Then, and only then, can we know if an Akhuetie-Mbala showdown in the UAAP is in the horizon.