TO this day, Alfred Aroga's name stands out in UAAP lore as he remains as the lone foreigner to win the Finals MVP.
Yet looking back, it almost didn't happen.
The Cameroonian center told The Prospects Pod of the tediuous path he had to take six years ago just to be able to take part in National University's dream run in UAAP Season 77.
"That was a crazy, crazy experience," he said.
Back in 2014, Aroga, who was set to take the place of Emmanuel Mbe in the Bulldogs camp, found himself in a bind as he had to go home and furnish papers relevant to his eligibility months before the season started.
"So I got told that I can't play because I needed a red ribbon. They had to wait for a couple of months before the UAAP to tell us that, to at least sir Manny (Sy) and he had to get a ticket," he said. "It wasn't easy. I think I had to take like five or seven different flights for me to get to Nigeria (to get to Cameroon) and I also lacked sleep."
Adding to his misery is some personal pains as that process also coincided with his father's death.
Continue reading below ↓
Recommended Videos
Torn was Aroga on what he had to do, if he'll stay at home and condole with his family or come back to the Philippines and finish what he set forth.
"It was painful because I remember that same period, my dad passed away. So I just had to pass through the airport and say hi to my mom and my siblings," the 6-foot-7 banger recounted.
"I had a choice at that time to actually stay like a week with my family and try to go see my dad's grave, or to bring my ass straight to the Philippines and try to practice with the teams. So it was like a big deal."
Tough was the decision was, Aroga chose the latter.
"I did like a day, like 24 hours. I had to talk to my mom and she was pissed. She was like, 'Hey, we did a couple of years without seeing you and your dad passed away and you were not here. And you decide to just stand up and say you'll go to practice?'" he looked back.
"I don't know. For some reason, I had to put my family aside and rush and go and meet the team to start practice. It was a painful experience."
It's the sacrifice that Aroga chose to make, and lucky for him, that gamble paid dividends as NU captured the UAAP crown that season, with Aroga figuring heavily in the triumph.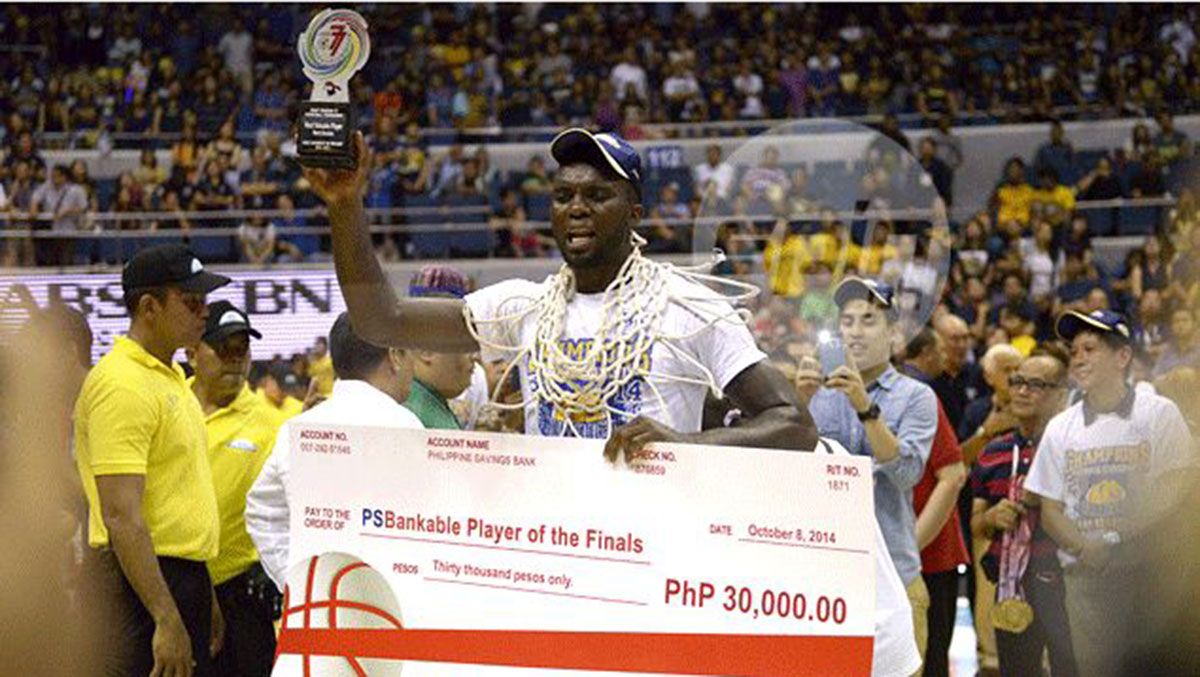 "Malaking bagay talaga si Alfred noon and of course, collective talaga eh. Parang he fits right into the puzzle nung team kasi complementary lahat sila," said coach Eric Altamirano.
Aroga averaged 16.0 points and 13.0 rebounds in that tough championship series against Far Eastern University as the Bulldogs ended a 60-year title drought.
To him though, every shot, rebound, and block he took was all in honor of his late father.
Now a motivational speaker in the United States, Aroga could only sight and reflect.
"It paid off, man."