NATIONAL University owner Hans Sy said the Bulldogs' rise from minnows to UAAP champions wasn't simply about money, quashing perception that financial perks were used in recruiting top players for its program.
Holding court before sportswriters after the Bulldogs ended a 60-year title drought by beating the Far Eastern University Tamaraws in the Season 77 finals, Sy said the family's financial muscle was instead used to improve the school's sports facilities and training in order to lure top prospects.
"A lot of people would think that I spent a lot of money and things like that. Ang ginastos lang namin is really the facilities and equipment. Hindi namin dinadaan sa pera," said Sy, who is chairman of NU and also the president of SM Holdings.
[See 'Hard-sell' approach works for NU's aggressive recruitment program]
The son of Henry Sy, who is listed by Forbes magazine as the Philippines' richest man, admitted it was hard to compete with more established basketball programs in recruiting top athletes from Manila.
So what he did was focus NU's recruitment campaign on athletes from the provinces using the reach of the family-owned chain of malls and groceries.
"Honestly, I had a hard time recruiting from within Metro Manila. So we want all out in the provinces. The most I did kasi which other schools cannot do is since the families were in the provinces, meron akong mga tindahan diyan eh. So I promised them some work, jobs, or whatever.
Continue reading below ↓
Recommended Videos
"I try to take advantage of what other people don't have," said Sy.
Sy considers himself hands-on in the affairs of the school teams including recruitment but admitted he also gets help from their business partners and friends.
"I get myself involved a bit. Pinag-uusapan namin what to do and what we don't do. Actually, our team manager in men's basketball is Manny Sy. He is the one that is really always on the lookout everday, then we communicate," said Sy.
[See NU-on at ngayon: How Sys' backing turned Bulldogs from minnows to champions]
The aggressive recruitment program has worked wonders for the Sampaloc-based school, which, since the Sys bought the school from the Paguia/Jhocson family in 2006, has seen its teams win championships in women's basketball, baseball, badminton, tennis, men's volleyball and now men's basketball, and become a major force in women's volleyball.
Sy said it was actually his father who gave the orders to strengthen the school's sports programs to make students proud of their school.
"We really have to be active in our recruitment because nobody goes to our school eh. 'Yan ang ginawa namin. We recruit. Those kinds of hands-on that we went through. Tapos little by little, they are starting to know us, the enrollment also grew," said Sy.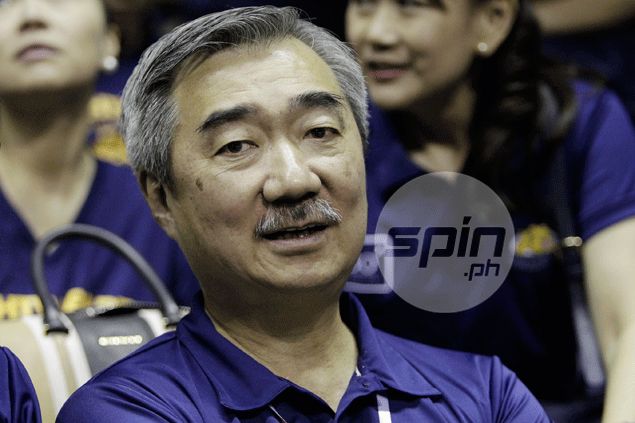 Hand in hand with the push to make the varsity teams stronger, Sy said, was an effort to convince student-athletes not to take academics for granted, considering the unstable nature of sports careers.
"We created tutorial classes purely for them. One of my emphasis is, studies is more important. As they grow old, ang sports nila, may limit eh. Pero 'yung education, nasa kanila lang 'yan," said Sy.
"This is actually the direction of my father kaya niya binili ang NU. Ang outlook kasi niya for the future is that we will be able to give good education, yet affordable," said Sy.
"As of now, we are the cheapest. Cheapest than UP (University of the Philippines) pa nga," Sy said.
Despite the aggressive recruitment program, Sy said the Bulldogs would not have gone nowhere had the coaches led by Eric Altamirano not succeeded in convincing the players to work together.
"That is why I salute coach Eric na nakuha niya 'yung disiplina ng mga bata. Kitang kita mo na they trust each other," said Sy.
[See Grateful owner Hans Sy on Eric Altamirano's next contract: 'As long as he wants']