A GREAT number of La Salle and Ateneo fans refused to heed the call from officials of both school to wear black for Sunday's UAAP match between the archrivals at the Mall of Asia Arena.
Several fans showed up for the marquee match wearing black shirts, in response to the call made by school officials as a show of solidarity with human rights victims as well as a protest against extrajudicial killings and the planned Marcos burial at the Libingan ng mga Bayani.
However, a bigger number of fans chose to wear their respective school colors — green for La Salle and blue for Ateneo -in the first meeting of the two rivals this season.
A few fans interviewed by SPIN.ph expressed mixed emotions about the call.
"Wala namang extrajudicial killings. It depends really on how you see it," a La Salle fan, who chose to wear green, said on the condition that he not be named.
[See Ateneo, La Salle fans urged to wear black for UAAP showdown]
Conservative estimates put fans who wore black at 25 percent of the more than 16,000 who showed up at the MOA Arena.
An Ateneo fan who wore a black shirt said he supported their school's stand on the issues besetting the early days of the adminisration of President Duterte.
Continue reading below ↓
Recommended Videos
"We don't mind wearing it. We support the call of the school," said a fan from Ateneo.
One La Salle fan also decided not to wear black for the match, believing that sports and politics should not mix.
"I'd rather show my support to my team," said the La Salle fan.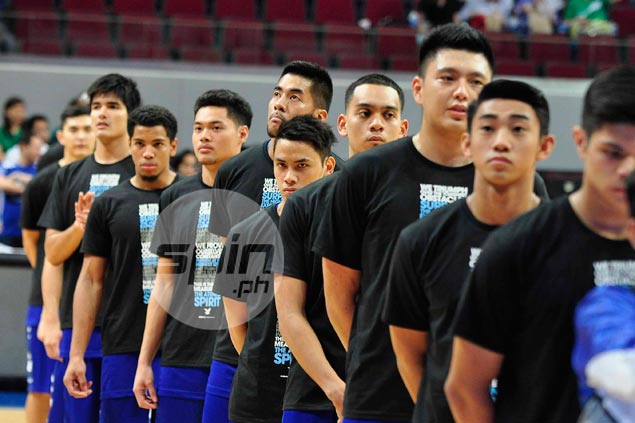 Meanwhile, some supporters chose to bring with them black items like a cap or jacket but still wore their school colors.
"Yes, I'm against the Marcos burial but so that we can be identified, I also wore green," said one La Salle fan.
Surprisingly, there were some fans interviewed by SPIN.ph who said they weren't aware of the call from Ateneo and La Salle officials to wear black. Others even said it was only coincidence that they wore black.