ADAMSON coach Franz Pumaren was left flabbergasted after he was called for a technical foul for merely picking up the ball in the homestretch of their Final Four match against La Salle on Wednesday.
Pumaren was slapped with the technical foul with 3:40 left in the game and the Falcons trailing the top-seeded Green Archers by only four points after he crossed the hash mark infront of the officials' table.
But the Adamson coach explained that the only reason he went over the line was to pick up the ball near midcourt, insisting he wasn't even complaining about anything.
"I've been in basketball for the longest time. Picking up the ball, technical?" Pumaren said after the Falcons dropped a 64-69 decision that enabled La Salle to get to the finals.
"I'm not saying that's the reason why we lost. All my life as a coach, I don't complain if my players are so and so, I make the most out of it. But why ruin a beautiful game? Picking up the ball, crucial part, you'll call a technical foul on me?"
"Come on, picking up the ball, calling a technical foul. I've talked to the commissioner, sabi ko, 'You don't hear anything from me, I don't complain. But come on, (it's a) crucial call,'" he added.
Continue reading below ↓
Recommended Videos
[See Aldin Ayo: 'Bakit may mga players ayaw mamasa kakapg may TV na?']
Pumaren's technical awarded La Salle a free throw, which Jeron Teng made for a 65-60 lead to go with an extra possession for the Archers.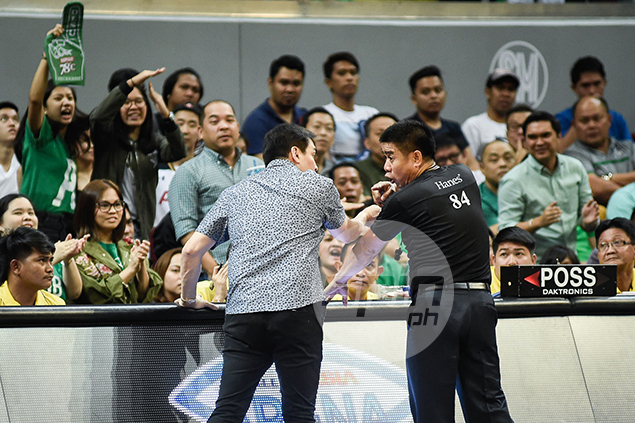 A day after the defeat, Pumaren still can't get over the call.
"It didn't decide the game. It twisted the game, actually. Ni hindi nga ako nagrereklamo, I just picked up the ball, na-technical ako," he said.
"Pambihira naman. I've never experienced this as a player and as a coach," he added.