MAKE no mistake about it: Franz Pumaren is all-in on the presence of foreign student-athletes in the collegiate ranks.
The only thing that he has contention with is their eligibility in the awards.
The outspoken Adamson mentor shared his opinions to Coaches Unfiltered as he advocated for giving a separate individual awards for locals and foreigners.
"Ang ayaw ko lang naman is there was a time sa (NCAA) na masyadong maraming import, pumapayag ng dalawa eh," he said. "Ako, I proposed this already to our board representative, dapat sa UAAP hindi nagiging MVP ang import. They should be classified as best foreign student-athlete. Kaya nga we call them imports eh, they are bigger, stronger, more athletic, so lamang na sila kaagad."
The NCAA instituted this change last season, giving the award to San Beda's Donald Tankoua as fellow Red Lion Calvin Oftana was adjudged as the MVP.
In the case of the UAAP, foreign student-athletes are still eligible for the award, although only one foreigner can be admitted in the Mythical Team.
For the past four seasons, foreigners have taken home the MVP award in the UAAP.
La Salle's Ben Mbala won the plum in 2016 and 2017, Bright Akhuetie of University of the Philippines took home the hardware in 2018, and Soulemane Chabi Yo of University of Santo Tomas got his trophy in 2019.
Continue reading below ↓
Recommended Videos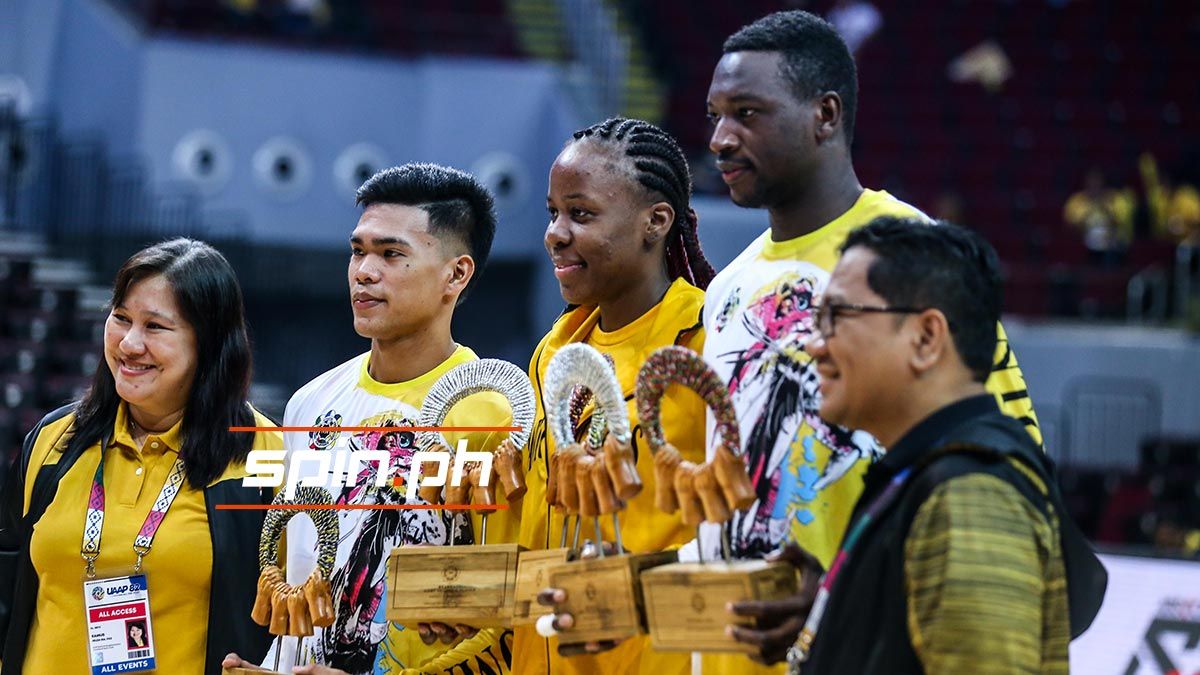 If it was up to Pumaren, he would have given them separate honors and bestow the MVP award to a local.
"How many local players ang hindi nakakuha ng award na they should have been the MVPs?," he said. "Si Jeron Teng should have been the MVP kaya lang they gave it to an import. Last year, dapat si Thirdy (Ravena) ang MVP, they gave it to another import."
Teng, who averaged 17.7 points, 3.4 rebounds, and 2.1 assists in his final year in 2016, was the runner-up to his La Salle teammate Mbala, who netted 20.5 points, 15.6 boards, and 2.4 blocks, back in UAAP Season 79 in 2016.
He did take home the Finals MVP honors that season.
Meanwhile, Ateneo's Ravena was not even part of the Mythical Team this past UAAP Season 82 after averaging 14.2 points, 6.6 rebounds, and 2.6 assists. He lost the MVP plum to UST's Chabi Yo, who collected 17.4 points, 14.3 boards, and 1.4 dimes.
Ravena did come away with his third Finals MVP award in the championship series.
"For me, I think they should remove that, yung MVP sa import. They should be named best foreign student-athletes kasi lugi na eh," he said.
"I think sa NCAA there was one time na yung Mythical Team puro import. Kaya nga sa PBA diba, walang nag-MVP na import dahil import yan eh, so Best Import. At the same time sa UAAP, it should be best foreign student-athlete kasi kawawa yung locals eh. That's my opinion and it's up to the Board of they want to decide on that one."
Still, the five-time UAAP champion coach reiterated that he understands how big these foreigners have helped in the development of the locals in the country.
He can attest to that, with the Soaring Falcons having foreigners like Papi Sarr and Lenda Douanga over the years.
That's why Pumaren was quite surprised when the NCAA laid down its rule to prohibit the foreigners from being a part of any of its varsity teams across all sports.
"I was surprised nga why (the NCAA) removed (foreigners) kasi ako, if I'm a small school compared to the other big schools in the NCAA, only way for me to compete is to get an import eh. At least kahit papaano, you can compete with them because unang una when to comes to recruiting sa local players, ang first option nila is yung so-called big schools. Doon pa lang, mahihirapan ka na agad eh. At least with the imports, you can level the playing field especially for a team who can get a good import," he said.
"It's a good training ground din for the local players. Could you just imagine na yan ang bantay ng local college players, then when you play against the opposing college teams, they play against the import. It improves the quality of the game and it improves the level of competition, at the same time yung local players improves their skills eh. So for me, I'm for it eh."
Read Next: Seven UAAP foreign players who raised level of play in college basketball
___
Spin fans unite at the Spin Viber Community! Join the growing community now and complete the experience by subscribing to the Spin Chatbot.