FAR Eastern University reached the UAAP Season 78 finals after edging out Ateneo in classic fashion when Mac Belo hit a putback at the buzzer to give the Tamaraws a 76-74 victory.
While a lot has already been said about Belo's heroics as well as the sad end to Kiefer Ravena's career with the Ateneo Blue Eagle, Spin.ph cites four more things to take away from that game to remember last Saturday.
Roger Pogoy is the real deal
Easily lost in Belo's heroics was what Pogoy did in the game. He hit a big three-pointer that tied the game at 74 then made a critical defensive stop on Adrian Wong's layup to set the stage for Belo's game-winner. Pogoy actually topscored for the Tamaraws with 16 points, 10 coming in the second half alone - the second successive game the Cebuano forward has played an outstanding game for FEU. That bodes well, both for the Tamaraws' finals appearance and the team's future.
FEU can really go deep
The Tamaraws' depth came in full display in the Final Four win over Ateneo, where coach Nash Racela got major contributions from every player he pulled from the bench - from Monbert Arong to Prince Orizu to Achie Inigo to Ron Dennison. Take the case of the seldom-used Dennison, who despite, averaging just 1.3 points and 1.5 rebounds in just 9.3 minutes of action, was able to contribute six points and four rebounds in 21 minutes while, more importantly, doing a good job defending Kiefer Ravena during his time on the floor.
Adrian Wong the right fit for Blue Eagles
Wong was a spark off the bench for the Blue Eagles in the second round and he proved it again on Saturday, as he had 17 points while firing 3-of-4 from three-point range in a fourth-quarter run that brought Ateneo back in the game. He did miss a late layup that would've given the Blue Eagles the lead, but you can't deny the guts and determination of this kid. He should be a vital piece for the post-Kiefer Blue Eagles next season, alongside Thirdy Ravena and CJ Perez.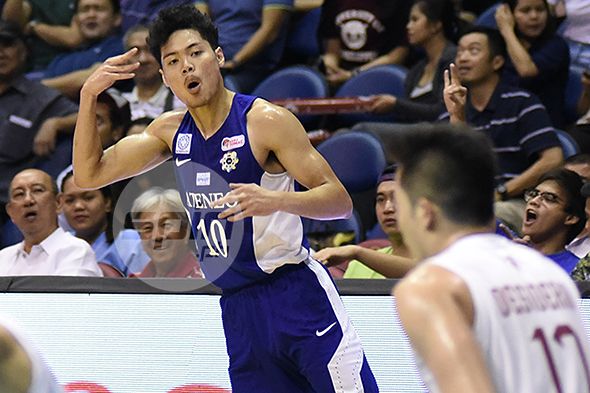 Misery loves company for arch-rivals
Who would have thought that Ateneo would suffer the same fate as archrival La Salle, losing in heartbreaking fashion against the same team (FEU) consecutive game days. It was also ironic that Mac Belo - whose last-gasp three-pointer ended La Salle's title campaign last year, hit the game-winner to break the hearts of the Blue Eagles.
Recommended Videos