A PAIR of bench-clearing brawls broke out during a game between UAAP rivals La Salle and Far Eastern University in a pocket tournament held as part of the celebration of the Kadayawan Festival in Davao on Friday.
The game was halted with 20 seconds left in the third quarter and the Tamaraws comfortably ahead, 73-59, leading to a double forfeiture as both teams were sent back to their respective hotels.
It is not clear at posting time who instigated the melee at the Almendras Gym as social media accounts belonging to supporters of the two schools gave conflicting accounts online.
In a video posted by Animo Davao, La Salle guard Kib Montalbo and FEU's Ken Tuffin were seen exchanging bumps during a fastbreak, sparking the commotion that emptied both benches.
Just moments after order was restored, another brawl which was worse than the first one erupted, prompting organizers to stop the match.
FEU guard Axel Inigo, who looked like he was acting as pacifier, was also seen being taken down by Brent Paraiso before all hell broke loose as punches were thrown by both sides.
Several notable players were seen throwing punches, with FEU's Ron Dennison - who was ejected earlier - returning to the court to punch Montalbo in the face during the fracas.
Continue reading below ↓
Recommended Videos
Here's a photo of Denison about to throw a punch at Montalbo posted by Animo Davao on Twitter: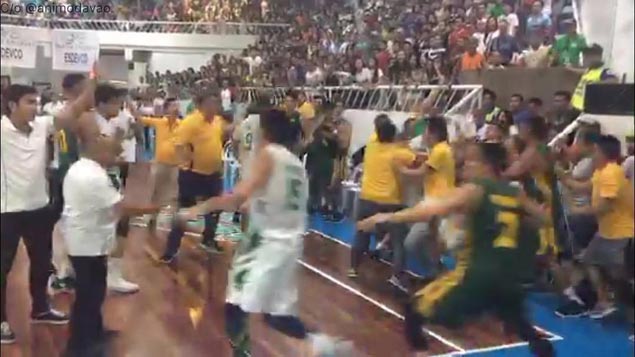 Aljun Melecio was also seen going up against Tuffin, catching the FEU player with a punch.
Several players were ejected before organizers decided to call off the match.
1st Commotion !!!!???????????? pic.twitter.com/V3Stroc7WE

— Animo Davao (@animodavao) August 25, 2017
Commotion cause by Eboña. SMH FEU! pic.twitter.com/BGSOKq9LxW

— Animo Davao (@animodavao) August 25, 2017
The incident was just the latest fight involving the two schools, which also figured in a heated game in the lead-up to last year's UAAP basketball season.
[See FEU-La Salle tuneup halted as tension rises among Ayo, Racela, Gonzales]
Interestingly, the two teams will be facing each other in the UAAP on September 10.