ALDIN Ayo's rise from the moment Letran hired him out of nowhere was nothing short of meteoric.
From an unknown coach that was largely a mystery even after his first game for the Knights, the Sorsogon-born mentor slowly etched his name among the most successful drillmasters in the collegiate league.
But as brilliant as Ayo was in his travails from Letran and La Salle to University of Santo Tomas, somehow controversy dogged him wherever he went.
We should've seen it coming from the get-go, Ayo made one thing clear for his teams.
"Gusto ko magulo," he emphatically said after the Knights bamboozled the St. Benilde Blazers, 82-53, to chalk up his first win at the helm.
That turned out to be a harbinger of what the next half-decade of his career would be.
After an inspiring run to the NCAA Season 91 title in 2015, Ayo stunningly left his alma mater a month after the triumph and made the announcement during Letran's victory party, no less.
"Ang problema is sa akin na personal. Ayoko na mag-elaborate. Ayokong makalkal yung personal ko na buhay. Yun ang pinakadahilan," he said then.
He later on revealed that personal issues, brought upon by his then-separation with his wife led to him wanting a change in environment, and thus his departure for La Salle.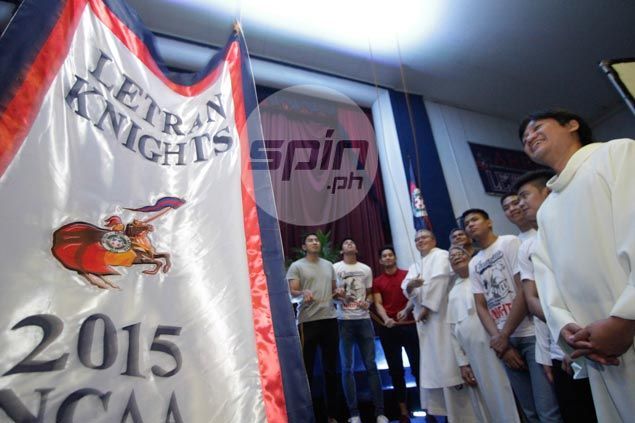 ADVERTISEMENT - CONTINUE READING BELOW ↓
"The very reason na kaya naman tayo nagtatrabaho ay dahil sa pamilya. Yung sa akin, yung trabaho ko, winala nito yung pamilya sa akin. I lost my family because of my job," he said in an interview with SPIN.ph's Reuben Terrado.
"Yung dahilan para magtrabaho, nawala. Nagkaroon ng mga misunderstanding dahil sa pagtatrabaho, hindi nagkaunawaan."
Ayo further cleared the rumors that it was money or politics which pushed him to leave the Knights for the Green Archers, noting: "New environment, fresh start, new opportunity. Kaya kahit hindi ko alam yung figure (ng salary), um-oo na agad ako (sa La Salle). I don't have any intention to talaga. Ayoko na bumalik sa Manila kasi very trying talaga. Sinubukan talaga ako."
His move to La Salle was truly a change in scenery.
From handling underdog teams before, Ayo now had the luxury of steering the ship for a powerhouse Green Archers squad bannered by Jeron Teng and Ben Mbala.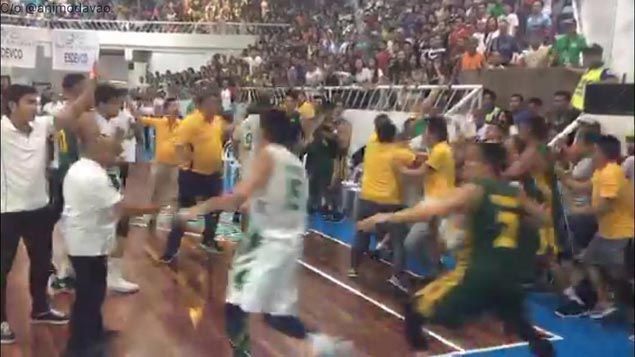 Yet being the hands-down favorites could not stop issues from hounding Ayo, as evidenced by their preseason brushes against Far Eastern University.
First was in 2016 when a tuneup game between the two sides was stopped when, based on eyewitness accounts, La Salle players repeatedly threw the ball in the direction of Tamaraws coach Nash Racela, leading to tension between the two squads.
Officials, spurred by the heightened physicality seen in the first half, decided to call it a game in the middle of the third quarter.
Things, however, didn't end there.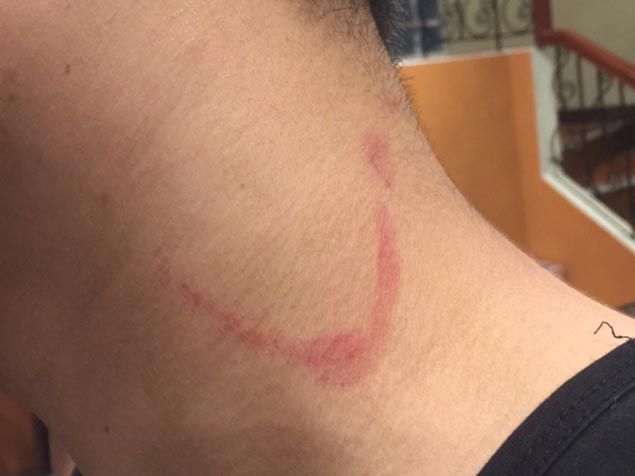 The next year, the two finally went at it in a full-blown brawl at the Almendras Gym in Davao during their game in the Kadayawan Cup.
La Salle's Kib Montalbo and FEU's Ken Tuffin sparked the melee which emptied both benches.
Ayo was also accused of choking Tamaraws forward Arvin Tolentino in the middle of the commotion.
Though the two parties made amends when the UAAP season came, it was obvious that tension is palpable whenever their paths crossed.
ADVERTISEMENT - CONTINUE READING BELOW ↓
As much as La Salle dominated in Ayo's watch, it wasn't without its hiccups, too.
In one of his most memorable explosions, the outspoken mentor tried to mockingly fit a referee with eyeglasses from assistant coach Siot Tanquingcen as he argued an out of bounds play during a game against University of the East.
He was thrown out of that game and was subsequently suspended, coincidentally for the Green Archers' rivalry game against the Ateneo Blue Eagles.
Even as he achieved success at La Salle after bagging the UAAP Season 79 title in 2016, Ayo reportedly still wanted to have a piece of his old Letran home.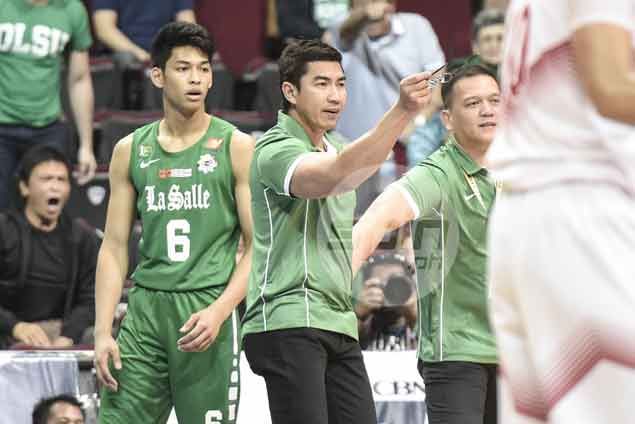 The following season, reports surfaced that veterans Bong Quinto and JP Calvo were being pried away from Muralla, with Taft being the most obvious destination.
Letran athletic director Fr. Vic Calvo admitted that the rumors were indeed true, but the two chose to stay put with the Knights.
"They were heavily-recruited but they chose to stay with Letran and play in the NCAA rather than in the UAAP," he said.
Despite the failed transfer, La Salle remained a juggernaut in the UAAP behind Mbala and Ricci Rivero but lost to Ateneo in a finals rematch in 2017.
But even before that, talks have been swirling about Ayo's planned departure from the Green Archers camp, one that he eventually admitted in late December.
"We have different views in handling the team. I've always done what is necessary," he said through his Twitter account.
At UST, Ayo seemed to be in it for the long haul.
Although he missed his first postseason with the rebuilding Growling Tigers in UAAP Season 81, his side did slowly show their fangs as they finished with an admirable 5-9 win-loss card to wind up at sixth place.
The wheels just kept turning from there, as the following year, UST made an inspirational run to the finals as it banked on Soulemane Chabi Yo, Mark Nonoy, Rhenz Abando, and CJ Cansino.
The Growling Tigers gave the powerhouse Blue Eagles a run for their money, and it was only right that the two met in the UAAP Season 82 Finals.
Though defeated, this UST squad gave fans hope that a crown coming back in Espana was no longer a pipe dream.
Until it wasn't.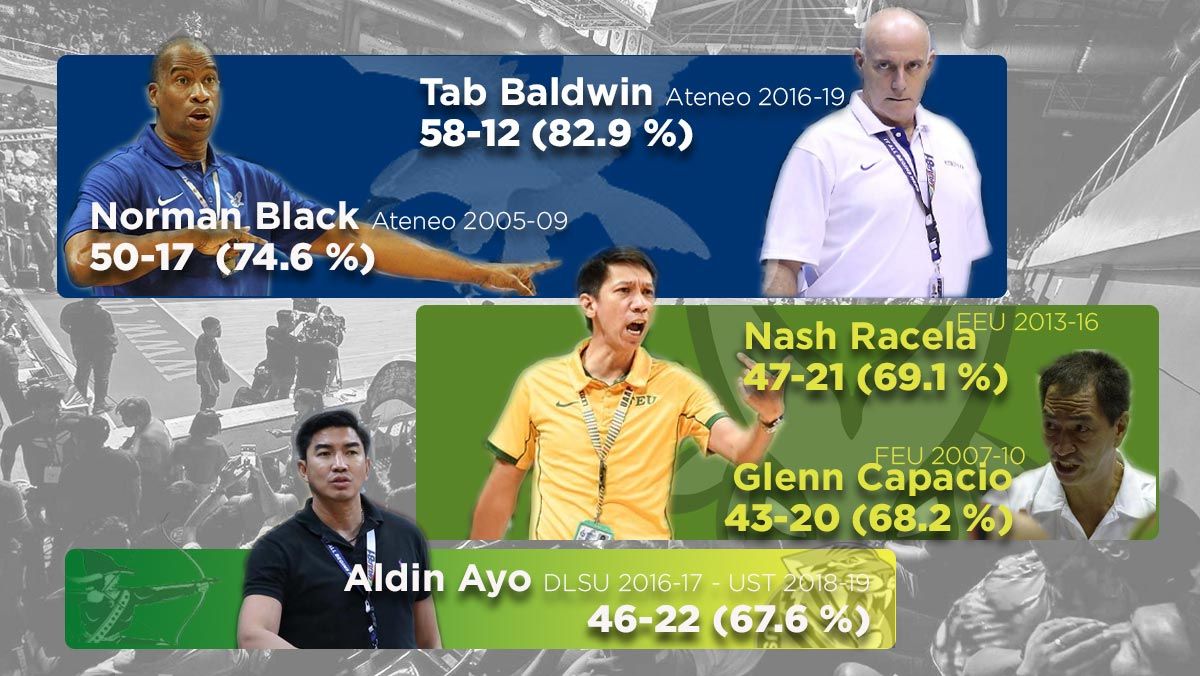 ADVERTISEMENT - CONTINUE READING BELOW ↓
The global COVID-19 pandemic didn't just ruin everyone's plans, but it also wrecked what was a resurgent Growling Tigers down to shreds.
The untimely banishment of Cansino opened the lid on the team's illegal training in Capuy, Sorsogon from mid-June. The fallout left the team in shambles and prompted Ayo's resignation on resignation.
It's an unfortunate end to what should've been UST's slow march back to relevance.
But that's Ayo to you: a coach so good and always out for the next challenge that his pursuit for greatness most of the time leads to his detriment.
'Mayhem,' it turned out, was more than a name for the dreaded defense of Ayo-led teams. It also best describes the beleaguered coach's career so far.
Spin fans unite at the Spin Viber Community! Join the growing community now and complete the experience by subscribing to the Spin Chatbot.