A COMMOTION behind the Ateneo involving former Batangas vice governor Mark Leviste marred Game One of the UAAP Season 79 finals which La Salle won, 67-65, on Saturday afternoon.
Late in the third quarter during a timeout, Leviste, who was wearing a green La Salle jersey on top of a white shirt, walked over to the Ateneo bench and gave a member of the Blue Eagles' staff a dirty finger.
Sought for comment later, Leviste, who identified himself as 'Vice Gov Leviste' to a handful of reporters, said he was provoked by one member of the Ateneo coaching staff who he accused of giving La Salle center the same treatment.
"Ayaw tumigil nun eh, ayun oh, 'yung kupal," said Leviste while pointing to the Ateneo bench.
"He was showing a dirty finger to Ben (Mbala) and I told him to stop eh ayaw niya tumigil kaya hinamon ko na siya," he added.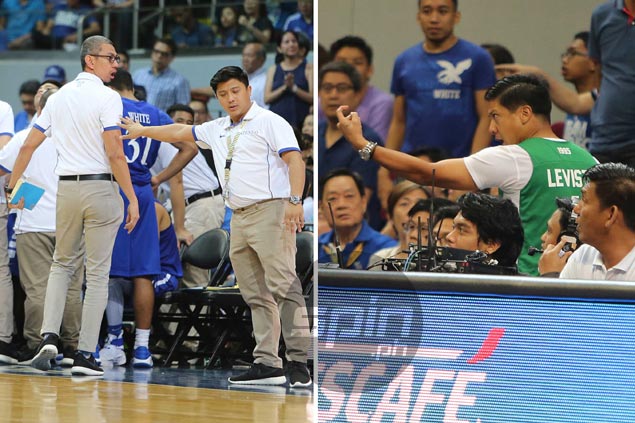 [See Jeron Teng makes big plays late as La Salle escapes with Game One win over Ateneo]
His companions later pacified Leviste and led him back to the La Salle side of the Mall of Asia Arena stands.