CHICAGO - From kindergarten up until my sixth grade graduation in 1980, I studied at the Colegio Del San Nino in my hometown of Cebu City.
It was a mostly unforgettable, sometimes belligerent, and yet beautifully overpriced seven years of Catholic education.
In homage to my once-upon-a-time deep religious roots, I came up with a prayer of affirmation and thanks to what just happened in Season 82 of the UAAP.
Kindly allow me to share this to you:
I believe in the genius of Tab Baldwin almighty. Creator of destructive offensive schemes, purveyor of devious, dangerous defensive traps.
I believe in superstar Ferdinand Ravena III. Son of Bong, Kiefer's brother. Third installment from a talent-rich family tree, but second to none. Back-to-back-back Finals MVP.
I believe in Ateneo. No. 1 in defense throughout season 82 and top of the class with a plus 17 winning differential.
The Blue Eagles went 16-0. I believe in destiny.
ADVERTISEMENT - CONTINUE READING BELOW ↓
The Blue Eagles have won three championships in a row. I believe in dynasty.
But the legend of great champions are enhanced by only the stiff challenges they repel.
And for that, we thank the Growling Tigers for an entertaining title series. Their gallant effort reminds us all of Jude the Apostle, the tireless patron saint of lost causes.
The present may be damp with tears for UST, but tomorrow is bright. The Tigers have a pair of young stars in the very measured Rhenz Abando and the deliciously reckless Mark Nonoy.
Instead of fighting for center stage, as gifted teammates often do, let's pray that Rhenz and Mark will heed Romans 12:10 and "give each other more honor than you want for yourselves. Do not be lazy but work hard."
If he sticks around, head coach Aldin Ayo might just take UST to the Promised Land.
More money and opportunity could lure Ayo elsewhere. Change is good but let's pray for continuity at Espana.
ADVERTISEMENT - CONTINUE READING BELOW ↓
Not only do the Tigers have the horses, the Blue Eagles' tight grip of the title will be easier to pry with the impending departure of Thirdy Ravena and a handful of graduating seniors.
To the hordes of UST fans who had gotten so furious at me for no reason other than I possessing the wisdom to pick Ateneo, may you all have the serenity to accept the truth about those unbeatable, insurmountable Blue Eagles.
It's only sports, boys and girls. Go back to your wonderful learning institution tomorrow. Study hard. Take your vitamins and minerals. And then give each other the solace of a warm hug.
All of these we ask, through Christ our Lord.
Amen.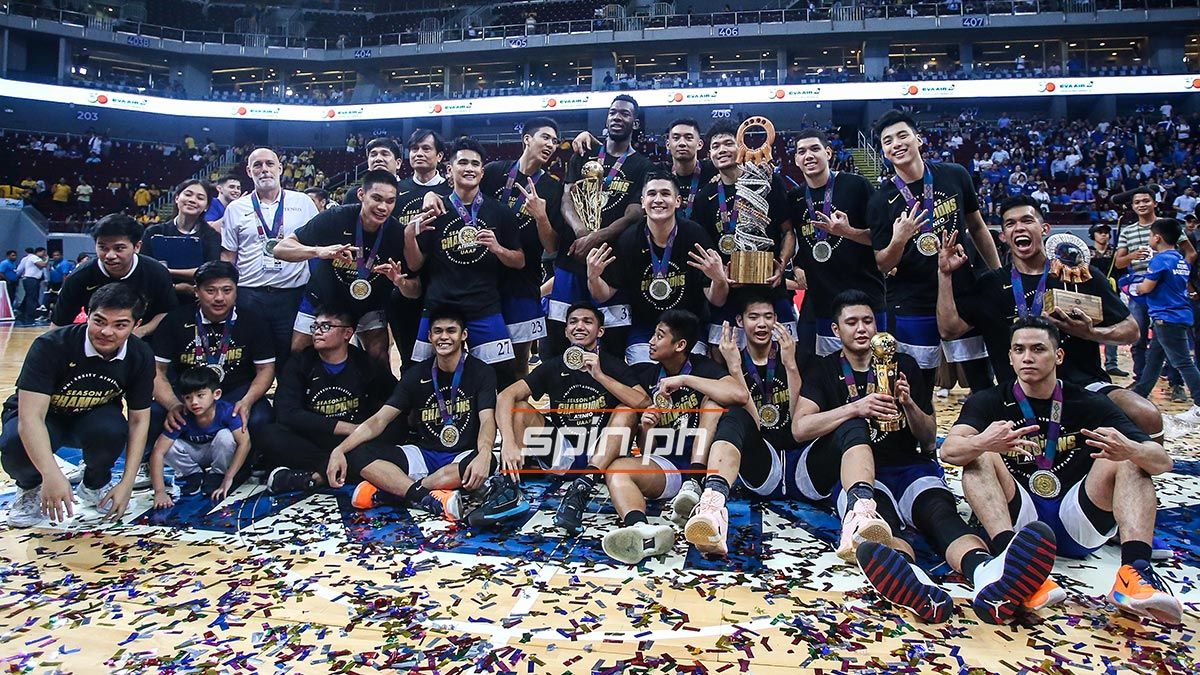 ADVERTISEMENT - CONTINUE READING BELOW ↓
POSTSCRIPT. After trailing by 13 after one quarter and 10 at the half, the Tigers twice threatened to take the lead, the first one at 62-60 late in the third frame and the the last one at 67-66 with 7:49 to go in the fourth.
In a bit of a jam, Ateneo dialed SJ Belangel's number...
Three-ing...Three-ing....
Belangel answered with a 5-for-10 fare from long distance, deflating the Tigers.
In their last grasp for life, UST crawled to within 75-71 with 4:54 remaining. But Thirdy summoned his cape and put off the fire with a personal 4-0 run. One minute 34 seconds later it was 81-71.
Signed. Sealed. Delivered.
I woke up at 2:46 am here in Chicago just to watch a once-in-a-lifetime team stamp its greatness in the history books.
Thanks for the memories, Ateneo.