NORMAN BLACK hit the century mark in coaching victories in the UAAP after Ateneo defeated University of the East, 68-51, on Saturday at the MOA Arena.
The victory propelled the Blue Eagles in solo first place with a 5-1 win-loss record ahead of idle Far Eastern University, which holds a 4-1 card. They will face each other on August 12.
Black joins former La Salle coach Franz Pumaren in the elite list of coaches who won a hundred games in recent years.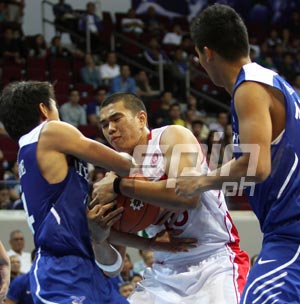 Statistics were not kept during the earlier stages of the league, but it is believed the elite list includes Baby Dalupan, who won seven straight titles with University of the East in the 1960s, and Aric Del Rosario, winner of four straight crowns with University of Santo Tomas in the 1990s.
Black, who is set to leave Ateneo after this season to return to the PBA with Talk 'N Text, did the feat in only eight seasons with the Blue Eagles but he said that he wants more than just the hundredth win.
"The 100th win means that I've been around for a long time probably," Black said. "This is my eighth year coaching so pretty good accomplishment"
"But I'd rather have a championship this year," he said.
The Blue Eagles took control of the game in the third period, outscoring UE, 17-5, after the Red Warriors were able to grab momentary leads in the first half. Ateneo had a precarious 37-34 lead after the second period.
"The game was a little bit frustrating especially in the first half. We didn't play well as a team. But we talked about it at halftime and fortunately, we played with a lot more intensity in the second half," said Black.
Greg Slaughter had 14 points and 10 rebounds, while Kiefer Ravena added 12 points, three rebounds and five assists.
Only six of UE's 16 players scored and the Red Warriors remained winless in four games.
The scores:
ATENEO 68—Slaughter 14, Ravena 12, Gonzaga 9, Tiongson 7, Salva 7, Buenafe 6, Sumalinog 2, Pessumal 2, Golla 2, Erram 2, Elorde 2, Capacio 2, Chua 1, Porter 0, Lim 0, Babilonia 0.
UE 51—Javier 16, Galanza 12, Sumang 10, Hernandez 6, Sumido 5, Belleza 2, Alberto 0, Villarias 0, Valdez 0, Santos 0, Razon 0, Olayon 0, Mena 0, Flores 0, Duran 0, Duncil 0.
Quarterscores: 19-18; 37-34; 54-39; 68-51.