BRIGHT Akhuetie is easily one of the most beloved personalities at the University of the Philippines after producing an MVP season while leading its men's basketball team to its first UAAP Final Four appearance in 21 years.
However, Akhuetie wasn't spared from the hate-fueled, racist tirades allegedly by some members of the Upsilon fraternity in a vitriol-filled group chat whose screen shots were leaked to the public last Wednesday.
Akhuetie was called 'the pet gorilla' of the [UP men's basketball team] after a screenshot of the Maroons star posing with some alleged members of the fraternity was posted in the group chat.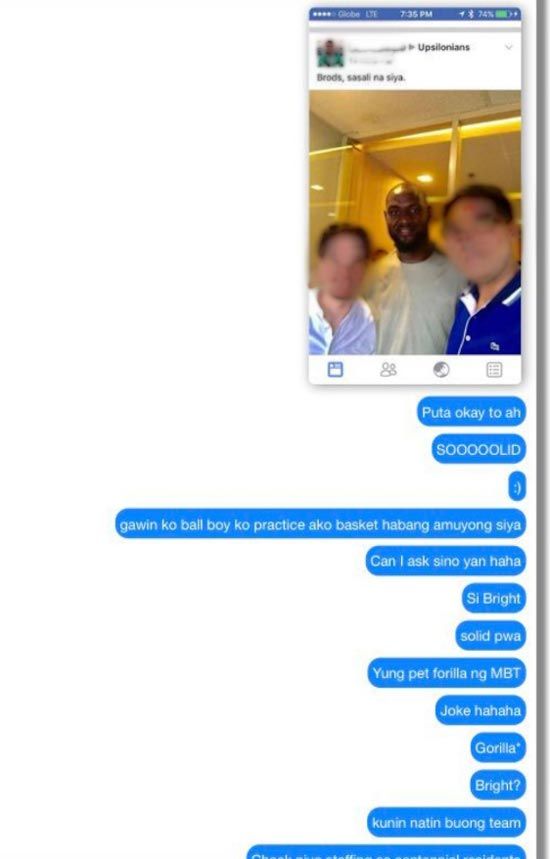 Continue reading below ↓
Recommended Videos
When a member of the group chat asked who the guy in the picture was, one of them responded 'yung pet gorilla ng MBT.'
Akhuetie of course didn't take the racist remark sitting down.
Responding in a Twitter thread that discussed the leaked group chat, Akhuetie said he would love to hear the explanation of that guy face to face, one on one.
"Wow ha!! Pet gorilla?? I would love to see who this is and make him explain to me 1 on 1," Akhuetie said through his Twitter account @bright_bigtinzz.
"I'll show you how this pet gorilla ng MBT works," he added.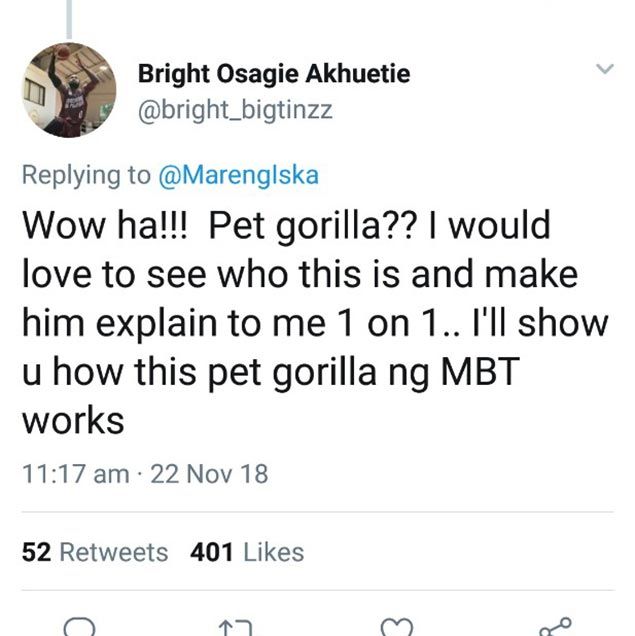 Akhuetie received tons of support from the community, with Bright's followers wondering how a guy behind the keyboard will fare against the hulking, 6-foot-6 UAAP MVP in real-life combat.
But Akhuetie will have a bigger task that he'll have to face as the Fighting Maroons take on Adamson in the semis of UAAP Season 81 on Saturday. The second-seeded Falcons hold twice-to-beat advantage in the match-up.