BRENT Paraiso broke his silence and insisted he's not a drug user despite contrasting results from tests that sparked speculation on the real reason behind his leave of absence from La Salle.
Paraiso issued a statement on his Twitter account on Monday, saying he is not a drug user but admitted he had two drug tests that showed different results.
The 6-foot-2 Paraiso took a leave of absence along with Ricci Rivero and Prince Rivero in order to fulfill endorsement deals as La Salle imposed new team rules barring players from entering into such contracts.
Incidentally, the younger Rivero cleared the air last week, denying that he is a drug user or accepted money from gay benefactors.
Paraiso said he was asked to submit a urine sample for a mandatory random drug testing on January 16 and 18. After the mandatory drug test, Paraiso underwent a drug test with a Department of Health-accredited testing center last January 22. He tested negative in the DOH-accredited testing center, but tested positve for methamphetamine or shabu in the January 18 test.
Despite the different results, the La Salle cager, however, insisted he is not a drug user and posted the result of his drug test from the DOH-accredited testing center on his Twitter account.
Continue reading below ↓
Recommended Videos
"While it appears to have different results from two separate testing centers from samples taken within just two days - I am publishing my personal DOH-accredited result for everyone to verify. I confidently stand by my position that I did not take those drugs," said Paraiso, who was quick to defend himself from what he considered as 'injustice' on his part as he is regularly attending classes and practices with La Salle when the positive drug test surfaced.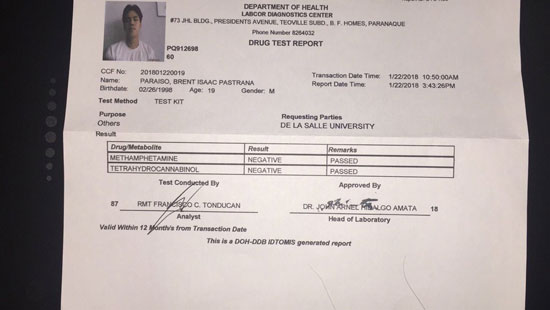 "You can clearly see and tell if someone is addicted to methamphetamine. I attended our rigorous trainings every day and never missed classes. I am out in public every single day where you can all see my physical features. Almost anyone can identify a drug user without any scientific tests - more so if we're talking about an addiction to shabu," he added.
"From here alone, I don't need to rebutt further. There are more details to this story but I do not feel the need to expose the injustice I've received either. I simply want to clear my name and put all rumors to rest."
The young La Salle cager also pointed out that he will not use anything to destroy his reputation as an athlete.
"I am not a star, not a lucrative endorser, not a starter, not a poster boy - definitely not a drug user. I'm just an ordinary player with the purest love for the sport. I've been working hard for years to reach my goals and further my athletic career," said Paraiso.
"I am homegrown and green blooded to the core. I know I have blessed with more than I deserve so I would never do anything to jeopardize everything God has given me. I was taught better than to throw away everything I've worked hard for over illegal substance use," he added.
Paraiso said he chose to remain silent in order to protect all parties until Monday where he felt the need to protect himself.
"How I hoped it could be as easy to turn a blind eye and let the lies run wild, but if there's one thing playing for the green and white for more than 10 years has taught me, it's that you should always defend your team and never accept defeat. So I think it's time I try to defend myself and my family, and let the truth be known," said Paraiso.
Here's his full statement: