ATENEO continued its mastery of Far Eastern University with a decisive 77-64 win in a bruising UAAP men's basketball tournament game on Wednesday at the Mall of Asia Arena.
The Blue Eagles shrugged off the Tamaraws' tough stand to post their seventh consecutive win and their eighth in nine outings after a match that saw three players ejected, including FEU enforcer Arvie Bringas who was caught spitting on Justin Chua in the fourth quarter.
Bringas was later hit with a one-game ban, forcing him to sit out the Tamaraws' match against National University on Sunday.
Here's a grab of the incident posted on Twitter by @camillenaredo: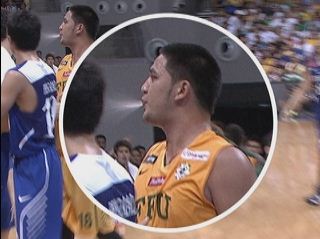 Ateneo has now won eight straight games against the Morayta-based squad, which fell to 7-3  and into a tie with University of Santo Tomas for second place.
Ateneo coach Norman Black, who expressed disappointment over the Eagles' lackluster play in their win over University of the Philippines last week, was a picture of contentment this time around.
"We were playing a very good team and we didn't start off the way we liked but we were able to bounce back and play better basketball in the second half," said Black.
"I'm much happier in this game than I was the last time, that's for sure," Black added.
The Tamaraws played a physical game from the start with Ateneo's Ryan Buenafe and FEU's Mark Belo thrown out in the first period for technical and unsportsmanlike fouls.
"FEU is a physical team. But we have proven over the years that we won't back down on anybody, we just have to deal with it. That's part of the game," Black said.
Juami Tiongson led the Blue Eagles with 16 points on 4-of-6 shooting from beyond the three-point line. He nailed two free throws in a 10-0 run that helped the Eagles pull away for good.
The scores:
ATENEO (77) – Tiongson 16, Salva 15, Ravena 12, Slaughter 10, Erram 8, Chua 8, Pessumal 4, Elorde 4, Sumalinog 0, Gonzaga 0, Golla 0, Capacio 0, Buenafe 0.
FEU (64) – Garcia 14, Romeo 13, Hargrove 10, A. Bringas 7, Mendoza 6, Escoto 5, Cruz 3, Inigo 2, Pogoy 2, M. Bringas 2, Sentcheu 0, Belo 0, Jose 0, Guerrero 0.
Quarterscores: 15-13; 32-34; 49-43; 77-64.