AN official of the management arm of Smart Araneta Coliseum said on Friday they are doing everything they can and tapping the help of police in a bid to curb the perennial problem of ticket scalping.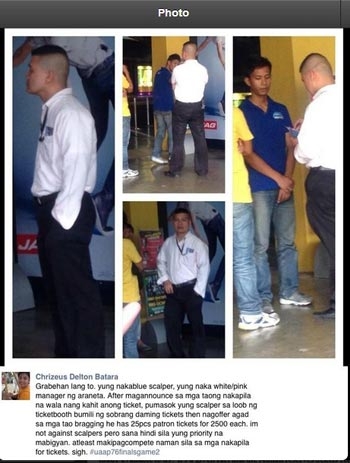 Gines Enriquez, United Promotions Inc.(UNIPROM) sales and marketing manager, acknowledged the need to fight ticket scalpers who have been preying on fans by selling tickets for keenly awaited college basketball and PBA games for several times their original price.
"Right now, we are working and cooperating with the police authorities. They (police authorities) are very supportive of the investigation," Enriquez told Spin.ph on Friday.
"But until such time that there's a result in the investigation, we are not yet going to divulge much detail," he added.
Enriquez also mentioned that the employee placed under preventive suspension on Friday for allegedly transacting and handing tickets to a scalper, has been working as an assistant security manager of the Big Dome.
[For full story, see Students' vigilance leads to suspension of Big Dome official accused of dealing with scalper]
He said it was the first time Big Dome management suspended an employee over accusations of scalping.
Basketball fans from both the UST and La Salle camps voiced their anger in social networking sites for the outrageous prices of tickets for Game Two of the UAAP Finals.
The Growling Tigers, who took the series-opener, 73-72, will go for the UAAP men's basketball title on Saturday at the Big Dome, where a standing-room-only crowd is expected.