YOU know it's a strange week in the UAAP when University of the Philippines starts winning and laptops started disappearing from the Smart Araneta Coliseum press room. But the week is still filled with highs and lows to make us cheer -- and jeer.
HONOR ROLL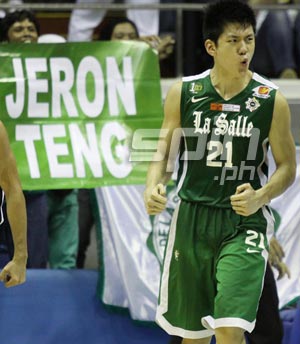 Teng rings bell
The La Salle rookie scored 35 points in the Green Archers' 87-86 double overtime victory over National University -- the highest scoring output in 10 years after NU's Jeff Napa had 43 points in 2002. It was also the biggest output by a rookie, eclipsing the 25 of University of the Philippines' Mike Gamboa.
"I had to step up. It was really a blessing that everything was going my way," said Teng, who was also named Player of the Week by the UAAP Press Corps.
Maroons come to life
The Maroons finally broke a year-long losing skid by defeating University of the East, 63-48, last Sunday. The win was UP's first in 15 games. Rookie Henry Asilum had a breakout game in UP's first win since August of last year, scoring 14 points.
Eagles' unlikely savior
When Ateneo had a cold-shooting game against Far Eastern University, the Blue Eagles relied on Tiongson to turn things around. The pint-sized guard nailed back-to-back triples that put the Blue Eagles right back in the game. Tiongson went on to finish with 12 points while going 3-of-4 from behind the arc.
Cats have nine lives
The Tigers have extended their winning streak to six games to wrap up the first round at the top of the standings with a 6-1 win-loss record. Led by leading MVP candidate Karim Abdul, the Tigers beat UP, 68-58, last Wednesday before overcoming a six-point deficit in the final three minutes against Adamson for a 61-60 win last Sunday. Making the feat more special was that the Tigers did it without their top player Jeric Teng.
HORROR ROLL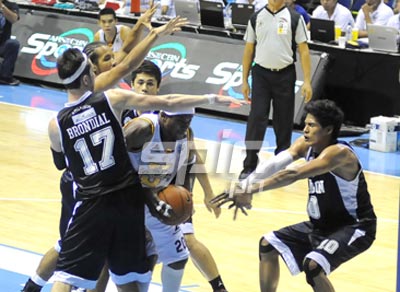 Falcons grounded
Adamson is on a four-game losing skid and opponents keep breaking the Falcons' hearts. University of the East won its first game of the season at their expense, 71-66. Days later, the Falcons were on the brink of breaking their losing slide when they led by nine points with six minutes to play against league-leader UST, only to lose by one last Sunday.
Case of the stolen laptop
Last August 12, an online photographer and a staff member of the UAAP online media bureau became victims of a thief inside the press room of the Araneta Coliseum. The thief stole a laptop and a wallet while the game between UST and UE was going on. The suspect was caught on cam by the Big Dome's CCTV cameras but he remains at large. Worse, it wasn't the first such incident at the press room, swore veterans in the beat.