SEVEN games into his UAAP career and La Salle big man Ben Mbala already has coaches in awe and left to ponder whether he can excel in basketball that is levels higher than the college league.
Mbala's performance in his first La Salle-Ateneo game is to blame for that. The Cameroonian looked in a league of his own as he led the Green Archers to the 97-81 win over the Blue Eagles, finishing with 28 points, 13 rebounds and dunks that have been replayed countless times online.
Alaska assistant coach Louie Alas said Mbala is definitely a cut above the rest in the UAAP this season.
"Parang man among boys eh," Alas, also a former champion coach of Letran in the NCAA, said after watching the Green Archers win in lopsided fashion. "Ibig sabihin, a notch higher siya sa competition. He can compete dahil ang lakas ng katawan niya."
Another Alaska assistant coach, Topex Robinson, said Mbala has become the standard by which all foreign student-athletes will be measured.
ADVERTISEMENT - CONTINUE READING BELOW ↓
"Hands down, he is the barometer of an import," said Robinson, who also coaches Lyceum in the NCAA. "If you are going to have an import, siya agad 'yung titignan mo eh. Is he strong enough, quick enough or smart enough to beat an Mbala? Siya 'yung naging barometer when getting an import."
[See Game full of Mbala highlights as La Salle beats Ateneo black and blue]
But is he good enough to be a PBA import in the future? The opinion among the coaches interviewed by SPIN.ph is mixed.
One PBA assistant coach who had played against Mbala in a tune-up game in the past already compares the hulking Mbala to former San Miguel import Gabe Freeman.
"'Yung energy niya, parang Gabe Freeman," said San Miguel assistant coach Dayong Mendoza, who is also a former assistant coach in the UAAP. "Malikot, magalaw, at agresibo. With his size, skills, and attitude, 'yun ang reason kung bakit favored ang La Salle."
ADVERTISEMENT - CONTINUE READING BELOW ↓
San Miguel assistant coach Boycie Zamar said Mbala is definitely import-material in the PBA, but on whether he can keep his job in the league over a long period is a different story.
"Definitely, he has what it takes to be an import in the PBA. But of course, he has to make adjustments dahil scientific na rin sa PBA when it comes to scouting," said Zamar, who faced Mbala's Southwestern University squad during his time as head coach of University of the East.
Robinson agreed, saying Mbala will have to polish other aspects of his game and aspire to be a well-rounded player if he is to play in the PBA as an import for a long time.
"With the technology and scouting right now, first game mo 50 points, second game, next few games pababa ka na ng pababa (because of the scouting)," Robinson said. "For you to be a good import here, kailangan well-rounded ka. The question is being the focal point of the offense kasi, 'yun ang (magiging) role nila."
ADVERTISEMENT - CONTINUE READING BELOW ↓
At the moment, one weakness in Mbala's game is clearly dribbling and this limits his offensive options, Alas said.
"Ang question ko lang is 'yung dribbling," said the multi-titled coach. "Pero 'yung lakas niya and 'yung offense niya, nandoon. Kung makaka-dribble siya, definitely, he can play (as a PBA import)."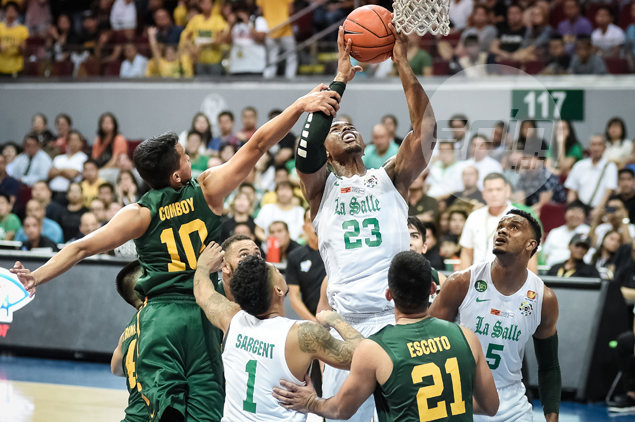 ADVERTISEMENT - CONTINUE READING BELOW ↓
Some of the coaches even agreed that Mbala can be an asset for future Gilas Pilipinas teams as a back-up naturalized player who can be tapped either for low-tier competitions or in the instances that national team mainstay Andray Blatche is not available.
"This kid can play even in Division 1 in the States. Hindi biro 'yung Basketball Without Borders na MVP niya. But SEA Games, there is no need," said Alas.
[See Torres says lob pass far from perfect, but Mbala 'made me look good']
Mendoza said: "'Yung combination ng height, skills, vertical leap, and 'yung aggressiveness niya on offense and defense, malaking bagay kung naturalized siya. Kung La Salle, naging top-notch dahil sa kanya, national team pa?"
"Bagay siya sa international game," Zamar said. "His athleticism will really be a big boost for our national team."
Allan Gregorio, a former member of the coaching staff of Gilas 1.0, also agreed that the 6-7 Mbala can be an asset to the national squad because of his familiarity with the Pinoy style of play.
ADVERTISEMENT - CONTINUE READING BELOW ↓
"Sanay na si Mbala sa Philippine basketball so makaka-adjust na siya agad agad sa mga kasama niya sa national team," Gregorio said.