BEN Mbala has declared that he will forego his final season with La Salle, making it official in a statement through his Twitter account on Friday morning.
"It is with a heavy heart that I announce that the time has come for me to move on from De La Salle University and the Green Archers," Mbala said in a lengthy statement through his Twitter account @benmbala.
"I want to publicly thank boss ECJ, the managers, coach Aldin and the rest of the coaching staff, and all my teammates for the incredulous opportunity that have been givwn during my time there," he added.
December 22, 2017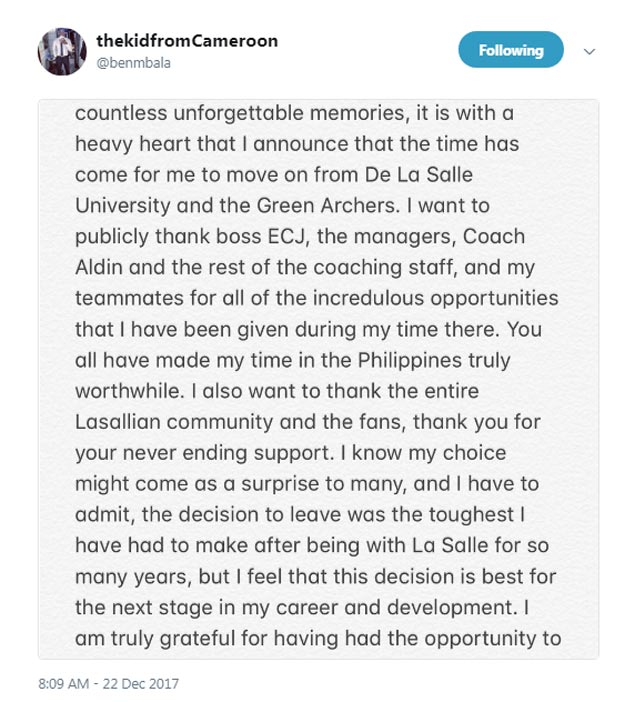 Mbala came in as a transferee in 2012 from Southwestern University and spent three years in residency before finally getting to play.
In Season 79, he led La Salle to the UAAP championship before settling for a runner-up finish in Season 80.
In both those seasons, the foreign recruit was easily the most dominant player in the collegiate ranks, winning back to back MVP awards unchallenged.
Mbala earlier said that he's considering his options on whether he'll be playing his final season or take his chances elsewhere.
A stellar outing with Cameroon in the FIBA AfroBasket last September put Mbala on the radar to many pro-squads all over the world. Now, Mbala may have taken one of the offers to play professionally with Liga Americas squad Fuerza Regia, announcing on its social media accounts that the 6-foot-8 forward will be playing as their foreign reinforcement.
With the club's recent photos in Instagram, Mbala looks like he has already joined the club.
"I feel that this decision is best for the next stage in my career and development," Mbala continued.
"I am truly grateful for having had the opportunity to represent the Green Archers and (I) will always be a La Sallian at heart."
Recommended Videos