THROUGH the years, they've attracted their own share of followers in a male-dominated world. And Season 75 of the UAAP basketball tournament is certainly no exception.
The pretty faces of this year's batch of courtside reporters have no doubt brightened up the league's centerpiece basketball event which got going over the weekend before a crowd of more than 17,000 at the Mall of Asia Arena.
Who knows? From their ranks may yet come the next Pia Arcangel, Dyan Castillejo, Gretchen Fullido, Andi Manzano, Jessica Mendoza, Trish Roque, or Lia Cruz.
Maria Kristina May Marasigan, UST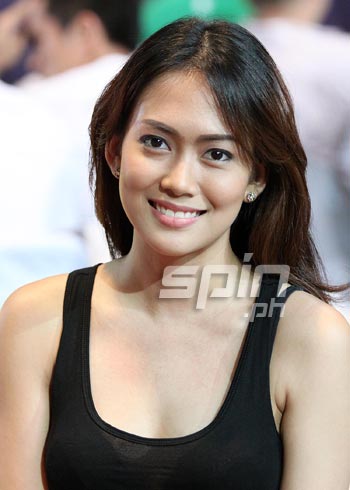 Tina to friends, she's on her second year as courtside reporter for UST and she cherishes this season as a golden opportunity to learn more on her chosen craft.
Continue reading below ↓
Recommended Videos
"I don't see myself being complacent on my work," said the BS Psychology graduate. "For me there is always room for improvement."
Not the sporty type of person, Tina eventually learned to appreciate sports more once she started doing on-court reports for the Tigers.
But she's a self-confessed basketball lover and a fan of the Growling Tigers from the high-flying college days of Cyrus Baguio. She also reports traffic updates and hard news for DZMM Teleradyo and Studio 23 Bilis Balita.
For someone whose ambition to be a reporter someday, the 24-year-old is definitely living her dream.
"I wanted to be a reporter," she admitted. "Kung lalaki ako ang peg ko si kabayan Noli de Castro or si Ted Failon. Now, I'm very fortunate that I get to work with them."
Tina believes being a reporter entails a big responsibility on her part because she has to have command of what she does, and has to be credible with what she says and do.
If comfortable with the people around her and when feeling subordinate, this lovely lady who loves Thai cuisine tends to baby talk. Ted Failon calls her baby because of her mannerism, a habit she wants to do away.
Tina said she still has a long way to go. After her courtside duties, she plans to finish graduate school and hopefully put up her own pre-school someday.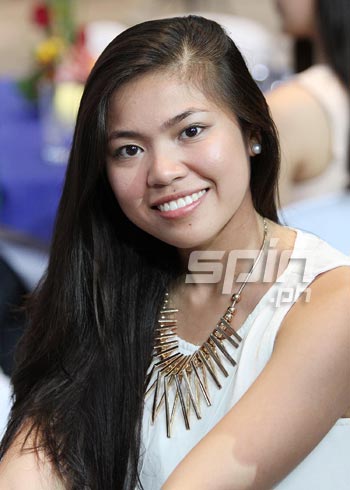 Angeline Capistrano, La Salle
Her parents thought their child would be a boy, so they began to call her Billie. The name has stuck for De La Salle University courtside reporter Angeline Capistrano.
Being a fan of the La Salle basketball team ever since she was young, Billie wanted to return the favor to the school by being the one who delivers the news about the team.
"I want to give back to DLSU," she said. "I want to influence by being their courtside reporter."
The misconception about La Sallians being `sosyal' had been negated by the outgoing 20-year old Organizational Communication major, who unabashedly admits her love for local movies.
"Naku, super mahilig ako sa mga Filipino movies," she said. "Ang mga favorite ko Dahil Mahal Na Mahal Kita, yung kay Claudine (Barreto) at Rico (Yan), Kung Ako Na Lang Sana yung bida doon si Aga (Muhlach) at Sharon (Cuneta) and syempre One More Chance."
The latest edition of Pinoy Big Brother, PBB Teens 4, is another 'guilty pleasure,' while Gerald Anderson – a product of PBB Teen edition – is her all-time crush.
Heidel Anne David, Adamson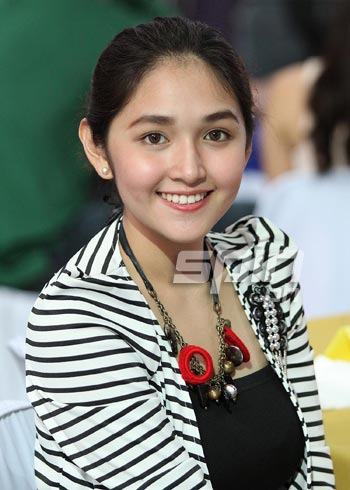 Apple is one of two courtside reporters to come from a non-UAAP member school (Miriam College), but is very proud to be associated with Adamson this season.
A fourth-year Communications student, she was a volleyball player in both grade school and high school before getting interested in basketball in 2006.
A cheerful lady with a charismatic smile, Apple wants to take her interest to a higher level, the reason why she gave courtside reporting a shot. She got the job right on her first try.
"Rather than just watching, I want to take it to the next level. I want to be as close as I can," said the self-confessed Kobe Bryant and Los Angeles Lakers fan.
Even if she's not from Adamson, the Falcons readily welcomed her and made her feel at ease at once, Apple said.
Despite her good looks, Apple admitted not having a boyfriend yet at 19 and considers herself as outgoing, adventurous, and the `barkada' clown.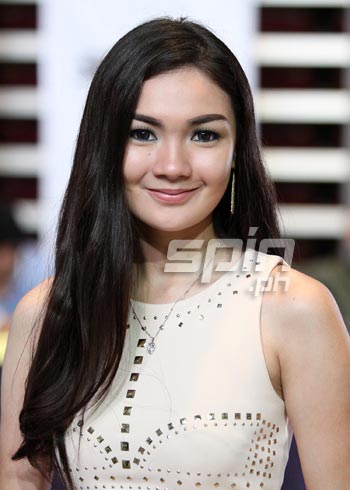 Judy Saril, FEU
At 18, Judy is the youngest among this year's batch of courtside reporters.
The fair-skinned lady was not really a basketball fan until she went to college and saw for herself how so much fun the sport is.
"From then on I got interested, and so this year I gave it a try," she said.
Judy expects her stint as courtside reporter to add to her knowledge and experience which she hopes to apply in her theater performances.
Active in school organizations as secretary of the FEU Institute of Tourism, she also plays badminton for recreation.
Judy said she's adaptable to any situation even if it meant reporting at courtside for another school outside of FEU.
"I would get the job but I'll be sad because I want to do it for my school," she said.
Rebecca Andrea Fabregas, UP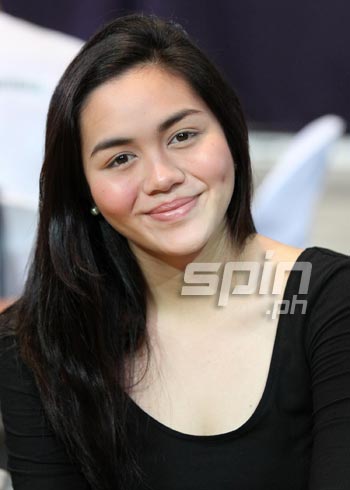 A Dyan Castillejo in the making, Bea not only does courtside reporting for University of the Philippines but also happens to be the captain of the Fighting Maroons' tennis team.
A junior jock of Magic 89.9, the sports-minded lady was encouraged by UAAP commentator and Magic disc jockey Boom Gonzales to give courtside reporting a try.
"Boom encouraged me to audition and so I tried it and I got in," said the fourth-year Speech Communications major from UP Diliman.
"If I were a boy I would be a basketball player," the avowed San Antonio Spurs and Tony Parker fan proudly said.
Bea dreams of playing at Wimbledon someday, but also longs to do reports about the NBA someday.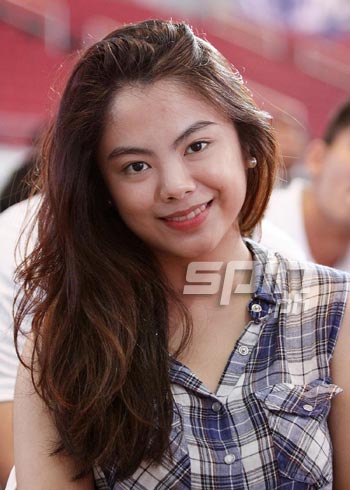 Maria Selina Dagdag, Ateneo
As Ateneo guns for a historic fifth straight UAAP men's championship, Selina is looking forward to becoming part of school history.
"I aim to be part of a legend," said the second-year AB Communications major. "I want to be part of history."
Dreaming to be a pre-school teacher when she was young, Selina joined the courtside reporting crew primarily to please her little cousins, nephews, and nieces.
Her stint as Ateneo courtside reporter has helped Selina handle stress better and learn to work with grace under pressure.
And despite the celebrity status that comes with the work, she still prefers to roam around the Katipunan campus as a regular student and focus more on her studies.
Katrina Alexandria Salao - UE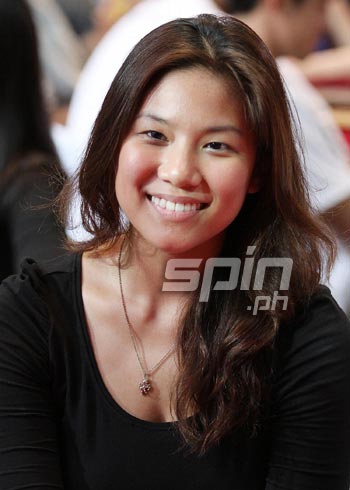 Her passion for telling stories is the major reason why she applied for a courtside reporter's job this season for University of the East.
Katz, out of University of the Philippines Diliman, projects a bubbly and active personality and yet always looks forward to doing life-changing reports.
"I'm not shallow," said the 22-year old fifth-year Journalism student. "I want to go to the war zone like Mindanao and deliver the news about the war."
Not doing courtside reports for alma mater UP is hard, but the Red Warriors made it easy for Katz to represent the multi-titled school.
"Of course the school spirit is always there," said Katz, who also dreams of becoming a Bb. Pilipinas Universe. "It's hard but the whole [UE] team is very welcoming, they're very nice even though I just came to their practice three to four times.
"So now even if I'm from UP, I am for UE."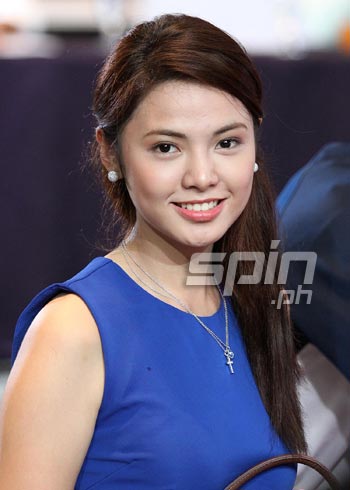 Muriel Adrienne Isidore Orais, NU
This charming lady landed the spot as National University's courtside reporter as she wants to explore the world outside print and commercial modeling.
"I want to learn something new and explore new things," said Muriel, a fourth-year Nursing student. "I want to learn a lot because I know it will help me grow and it will open opportunities.
"You just got to believe in yourself."
Even though she's not exactly an athletic person, she enjoys swimming and badminton during her free time.
At 20, with all the responsibilities she bears on her shoulders, the lovely Filipino-Chinese-Spanish lady wants to finish school and pass the board exams.