TO be the man, you got to beat the man.
And for Alfred Aroga, that man was Kiefer Ravena.
The Cameroonian center said that gave him motivation whenever National University fought Ateneo, especially in their championship season in 2014.
"I remember when I first got to the Philippines, I went to the arena and NU was playing against Ateneo and that was the first time for me to see a basketball game like that with a lot of fans, TV and everything," he told The Prospects Pod.
"I was observing Kiefer the whole time and he was professional-ready already by that time, with the way he was acting, the way he was warming up, the way he was playing. And I asked Luigi (Altamirano) who is that and he said (Ravena) is one of the best players in the country."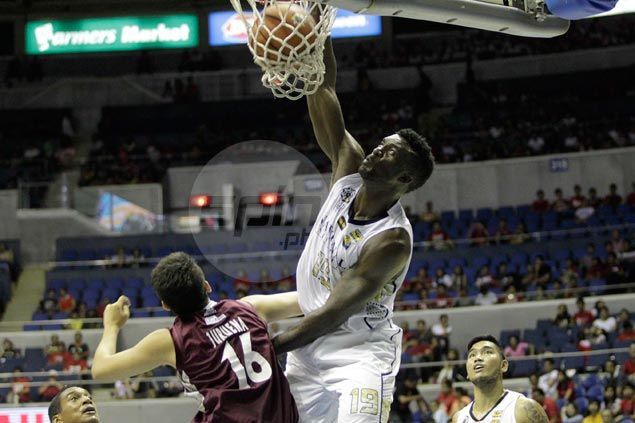 Continue reading below ↓
Recommended Videos
"So when they whipped the ass of NU, I told Luigi, 'Bro, every time I'm gonna play against Ateneo and Kiefer, they're gonna suffer.' I just told him that everytime I'm gonna play against Ateneo and Kiefer, they're gonna feel my presence."
Ravena surely felt Aroga's presence whenever the Blue Eagles and the Bulldogs fought as the latter owned the former's number in the UAAP Season 77 eliminations.
And it continued in the Final Four as Ateneo, owning the twice-to-beat advantage as the top-seed, took on NU, which outlasted UE, 51-49, in the fourth-seed playoff.
The Bulldogs took Game One, 78-74, but Aroga shared his nerves heading to the winner-take-all affair owing to forces looking to corrupt the game.
"I was confident that we're gonna win the first game. The second game, I was a bit nervous because I remember when I went out for dinner, I got approached. Even then, I was having text messages because they wanted me to not bring my A-game on the court. They wanted me to go easy on the game, like I'm gonna play like I'm sick and on the side, I'm gonna have something in return," he said.
Lucky for the 6-foot-6 beanpole, he found refuge in the house of coach Eric Altamirano.
"I was so nervous about that, I rushed to the house and I talked to coach and said, 'Coach, this is what happened.' I was so nervous and I couldn't even sleep. But I talked to coach and coach said, 'Hey, don't worry about it. I trust you 100-percent. I know you would never do that.'"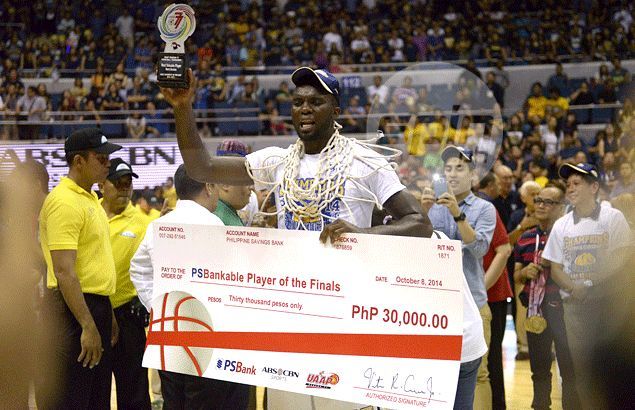 Aroga responded in a big way, tallying 14 points and 12 rebounds in Game Two.
More importantly, he sealed the 65-63 victory with an emphatic block on Ravena to advance to the finals.
"The block I had on Kiefer, for some reason I had this instinct that he would go exactly where he was going because I was following the big man and I had to push Troy (Rosario) for me to have more balance and go and block Kiefer," he said.
"So when I had that block, I was so happy. I was like finally, I got that guy. Playing against (Ravena), it was really a good test because you're this kind of player that we can't stop and we just slow down. So our mantra was let Kiefer do his game but the others, we gotta shut them down and that's what we did and that's how we won the game."
NU did complete that Cinderella run, ending the school's 60-year title drought and became the first No. 4 seed to capture the UAAP title after outlasting Far Eastern University.
Aroga, for his part, indeed became the man as he was named as that series' Finals MVP.
Spin fans unite at Spin Viber Community! Join the growing community now! Complete the experience by subscribing in the Spin Chatbot and download the Spin Game Sticker Pack.