ONE player of the Ateneo Blue Eagles has found himself at the center of a storm - and it has nothing to do with Typhoon Lando or basketball for that matter.
Ateneo sophomore John Apacible has been identified by multiple sources as the 'drunk driver' flashing a 'councilor' vanity plate who caused a commotion along timog Avenue in Quezon City around midnight of Sunday.
A video shared by our sister site Top Gear which has since gone viral showed a young man who the owner of the video, a certain Yan Bote, claimed was very drunk and had hit a driver of a delivery van and harassed other drivers.
The three-minute, 28-second video also saw the man challenging the video-taker to a fight before he left without being apprehended by responding policemen and traffic enforcers.
Along timog ave qc. Plate number ACA 7111. Lasing n lasing ung driver tpos nang gulpi ng driver ng delivery van at nanghampas ng dumadaang kotse tpos nanggigitgit ng mga sasakyan. 12 am nangyari kanina lng. D man lng hinuli ng mga pulis. Hinayaan p magdrive kahit lasing at may mga nagrereklamo dun.

Posted by Yan Bote on Saturday, October 17, 2015
The video has caused widespread anger on social media.
A check done by Top Gear editors on the identity of the allegedly drunken driver led them to believe the man is a player from a top university currently seeing action in the college basketball leagues.
[See Drunk driver in viral video not really a councilor, says several sources]
Given the lead, Spin.ph did its own checking through sources and confirmed that the man is really Apacible, a 6-3 forward who is in his second season with the Blue Eagles in the UAAP after a stint with Hope Christian in high school.
At least three players have identified Apacible as the one in the video. They have also identified him through the car he was driving during the commotion.
ADVERTISEMENT - CONTINUE READING BELOW ↓
This was later confirmed by Ateneo school officials who came out with a statement on the incident saying Apacible has apologized for his 'reprehensible behavior' during the incident.
At posting time, Ateneo coaches and school officials were in a meeting to discuss the incident after vowing 'appropriate and swift' action for what they described as Apacible's 'unacceptable behavior.'
Top Gear editors also said it was Apacible's girlfriend who apparently owns the 'councilor' vanity plate he was flashing before traffic enforcers during Sunday's incident.
Here's the copy of the Ateneo memo: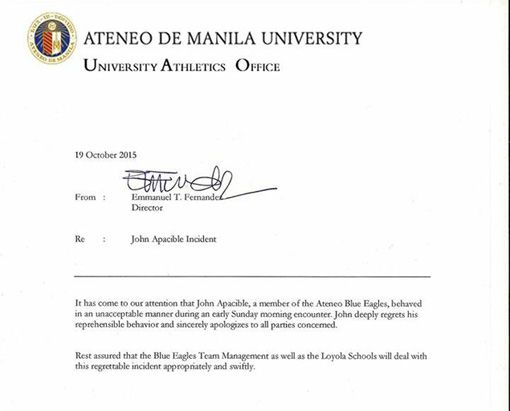 [See John Apacible earns tag as 'Mr Perfect.' Find out why]
[See High school stars Dolinguez, Apacible commit to Blue Eagles]