SHE is one of the key officials of Ateneo's basketball team for a decade now, yet even Debbie Tan isn't sure what her official designation is.
"That's the biggest mystery, I think. What exactly do I do?" said Tan smiling. "In fact, that's what (Ateneo) coach Tab (Baldwin) said before when he first came aboard. He said, 'For the first two months, I was trying to figure out, what does this woman do for the team?'"
Tan has been with the Blue Eagles for 10 years without an official designation, which was but right since her value to the team can't be captured by one title. She considers herself a co-manager with team manager Epok Quimpo in the lead role, but her job goes beyond managing.
Among other things, Tan serves as the bridge between the team and top patron Manny V. Pangilinan, coordinates closely with school officials, looks after the players' needs, arranges team-building sessions when necessary, and makes sure the players are doing well academically.
"Sabi nga ni coach, 'So, you're kinda more like the head of basketball operations,' and I go, 'Oh, that's a fancy title, coach,'" Tan, one of three female members of the Ateneo staff, told SPIN.ph in a wide-ranging interview. "So it's a little bit of everything."
She is also perfect for the role.
For one, the lady knows her basketball. Tan was a big Boston Celtics fan going back to the time when Bill Russell was the team's playing coach, loved the New York Knicks, and adored Los Angeles Lakers guard Magic Johnson.
After graduating from Ateneo with a degree in Interdisciplinary Studies in 1979, Tan's passion for basketball landed her a role with Mobiline after the PBA franchise was purchased by Piltel, the company which later came under the control of the group led by Pangilinan.
As Mobiline manager, she became the first woman since former senator Nikki Coseteng to serve in the PBA board.
"When Piltel bought the Mobiline franchise, I was working at Piltel at that time and they knew that I like basketball. They asked me to help out in the Mobiline team. At one point, I was managing the team and sat as the alternate governor in the PBA board," said Tan.
"When MVP took over, I continued for a while and at some point, MVP told me I really need to focus on my real job in the company because it was quite hectic," said Tan.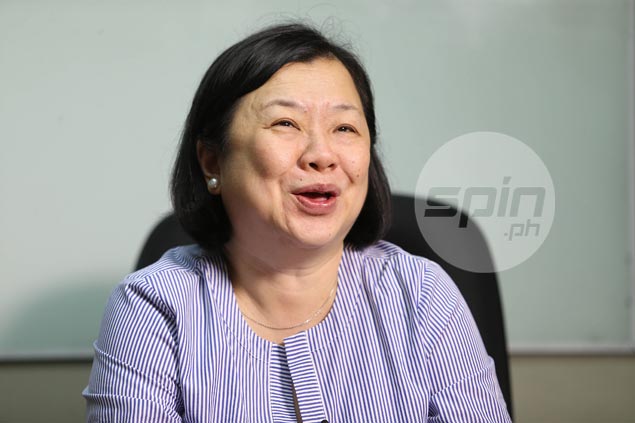 Tan didn't return to basketball until 2007, when she was asked by the MVP group to join the Ateneo team. She officially became part of the team in 2008 when one official migrated to Canada.
"The one coordinating the Ateneo team for MVP, he migrated to Canada. He said, 'Deb, lipat ko na sa iyo 'yung Ateneo. Ikaw na bahala. Someone has to take care of the team for MVP.' I was watching the games regularly then but more of a fan than anything else,'" said Tan.
Ten years later, Tan, 58, has seen the team celebrate six championships. She ranks the Blue Eagles' latest championship as the most memorable, right up there with the Season 73 title in 2010-11 when Ateneo completed a hat-trick with a team led by Ryan Buenafe and Nico Salva.
"I used to think that the Season 73 (title), the three-peat, was the most special, because that year, nobody expected us to win. The first two years, we had Rabeh (Al-Hussaini) and Nonoy (Baclao). That (Season 73) was the bridge year before Greg (Slaughter) came here. We knew we just had to hold on and find a way to win the title that third year. We won that year on defense and sheer determination.
"This one, I put it at par with that. Not to put previous batches down but the fact that coach Tab has this system and they all bought into it. As I said, they weren't perfect. They faltered, they failed at times, but they always came back to the system and they know that was what will get them through," Tan said.
Her role may appear glamorous to some, but Tan said it isn't as easy as it looks, especially since she still has a job in the corporate world with the PLDT group.
"It's hard. Some people tell me, 'You have such a great job. Can we be your assistant?' and I'm like, 'Sige, you try. You think this is an easy job to do?" said Tan.
"During the season, from Makati, I try to finish work earlier so that I can leave by 4 p.m., beat the traffic, be here in practice at six. If I can, I'm here every day, but at the very least, I'm here twice a day," said Tan.
Baldwin admitted he initially didn't feel the need for a mother figure in the team.
"I completely misunderstood her in the early days of my job. I didn't grasp what a mother of a team would be. And I didn't see the need for it," Baldwin said.
"I thought I was dealing with a bunch of men, we can organize ourselves like a bunch of men, and we are going to interact with each other like men. This is going to be a testosterone-driven environment. That's the way I like it, that's the way I feel comfortable, with no taint of feminism around to soften me or any of these guys."
Baldwin said he was dead wrong.
"And here I was with this mother of a person who is going to our practice and watch these boys, for what? I couldn't understand what she would see that I couldn't see. I was incredibly wrong," said the former Gilas Pilipinas coach.
"Her passion is a thread that runs through this team and has ran through this team for probably as long as I've been coaching almost, and that's a long time," Baldwin added.
Her love for the team and the players, Tan said, keeps her going. Her role with the Blue Eagles has also given her a renewed sense of purpose.
"I'm not married and I have no kids. In effect, I always think that maybe this is the reason why I don't have kids, because if I'm married, I would never be able to do this. I devote so much of my time here," she said.
Tan said the championships will always be special, but seeing the players finish their education has become so important to her that she makes sure to attend every single graduation ceremony of the players.
"I make it a point to attend every single graduation ceremony of my players because that ceremony is more important to me than any championship you win," said Tan. "The fact that you graduate is important to me. And I want them to know that."
Of all the Ateneo players who graduated, Ateneo center and Bacolod native Baclao stands out in Tan's mind.
"When Noy first arrived here, he didn't speak English well. He was very shy. He didn't want to recite in class kasi nahihiya siya because of his Bisaya accent," she said. "But he graduated and he was able to stand up and talk in front of people."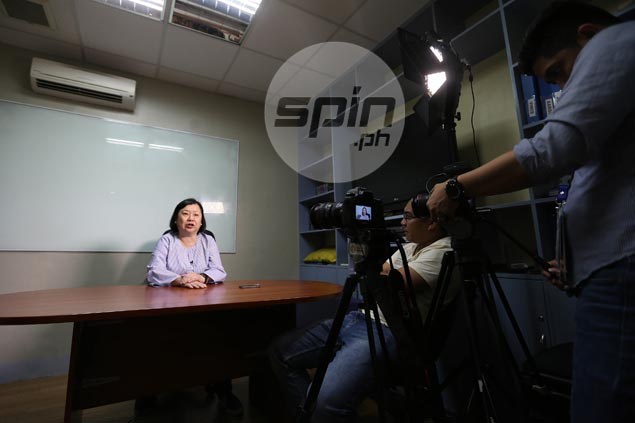 In the course of doing her job, Tan has developed a close bond with the players over the years, a few of the former players even becoming her godsons in their weddings.
"I stayed in touch with them, but I also tell them na I hope you understand that if you graduate, and you move to the PBA, I can't follow you na there. I follow them in terms of where they are but I can't watch anymore. My focus will always be the current crop of the Blue Eagles," said Tan.
But no matter what Tan says, each of those kids that turned into men in the course of their stint with the Blue Eagles will always have a special place in the heart of their 'mother hen.'
And she will never tire of caring for them.
"It is great to see 10 years of having sons, different ones, a lot of them have moved on," she said. "It seems like I can't quit. It's great. And it keeps me young. But it's nakakapagod.
"Every year, I also tell myself, I'm so tired, maybe I'm getting too old for this, maybe it's time to quit. But every year, there is a new batch of boys to love, a new batch of boys to take care of."
Recommended Videos