NOW, it can be told.
For a team that has embodied the "next man up" and "one game at a time" mentality all season long, Ateneo achieving the 16-0 sweep is truly a crowning achievement to its UAAP Season 82 conquest.
It's just that coach Tab Baldwin didn't want his wards to be weighed down by the immense pressure of completing a perfect season.
"The 16-0 season is really something that we dreamed about," he admitted after the 86-79 Game Two victory over University of Santo Tomas in the Finals on Thursday.
"We didn't talk a lot about it because we never wanted to set that as a goal. But I know that the players particularly dream about it and it is a dream season to go through unblemished, to be able to say to each one of those 16 games, no team was better than us. You have to guard against arrogance. You have to guard against overstating what is something that is pretty exceptional."
It was only the seventh time that a perfect season was achieved in the UAAP, and the first time that a team has gone 16-0 in a season in league history.
With this championship, Ateneo also completed a three-peat, replicating the string of success it garnered from 2008 to 2010.
Continue reading below ↓
Recommended Videos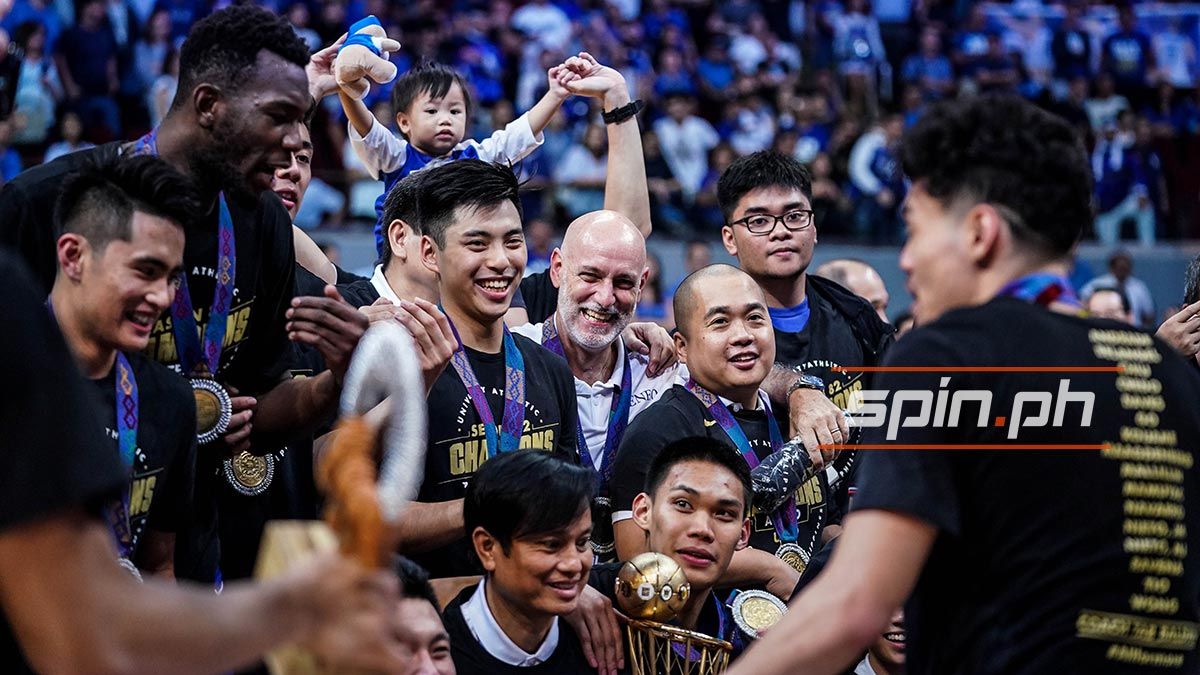 But as momentous as the achievement was, Baldwin cared more for how his players held themselves through this run of victories, not losing sight of their character as the wins continued to pile on.
"It's still a basketball game, it's still a basketball season, and these men that I work with every day, there's so much more than basketball players. They can make testimony themselves about what this season has meant to them, but I'll tell you this: It's made me a better person. And working with these guys every day, it makes me a better person because of the quality of their character, because of the work rate that they have. It humbles me," the American-Kiwi mentor admitted.
"Believe me, there's a lot of nights that I go home and feel bad about the demands I put on these guys and sometimes, the way I do it. I know I'm not always the nicest guy in the room. So it's very humbling when these men sacrifice their ego, they sacrifice their time.
But what they don't sacrifice is their love for the game. They lay it out there every day and I think this is the result of that."
And this, an immaculate 16-0 record, a championship, and a three-peat, are the results of those hardwork and sacrifice as the Blue Eagles make their case as one of the greatest teams the UAAP has ever seen.
Team captain Mike Nieto also sees that the proof is in the pudding, leaving it to the public as to where this Blue Eagles' accomplishments rank in the history books.
"Sila na ang magsabi kung kami ba talaga yung greatest team, 'di ba? We just have the record to show it and we just have the three medals to prove it," he said.
"If you can just see us work in Moro, everyday kahit day off, nandoon kami, pinapanood namin yung ginagawa ng kalaban. Siguro, we just exemplified to become the best versions of ourselves every day, day in and day out."