UAAP commissioner Andy Jao said the 25-minute delay that marred the endgame of the National University-Ateneo game in the UAAP Final Four was a decision arrived at by both schools during the tense, bizarre standoff after a power interruption struck the Smart Araneta Coliseum.
Several lights above the court of the Big Dome went off just after NU point guard Gelo Alolino drained two pressure-packed free throws to give the Bulldogs a 65-63 lead with 9.3 seconds to go.
After Ateneo coach Bo Perasol sued for time, referees had to confer with Jao on whether to push through with the game or not with some lights off.
"Of course, NU wanted to play and Ateneo didn't want to play until the lights came on because they couldn't see. But they have the right, both teams have the right," Jao told Spin.ph after the game.
[See NU Bulldogs back in UAAP Finals after four decades after bizarre end to Ateneo game]
After a long discussion, Jao suggested to wait for the proper lighting to return as a precaution while technical people from the Araneta Coliseum try to restore power in the venue.
"Siyempre, paguusapan yun (to play with not enough lights or not), kung papayag ba kayo maglaro, and things like that. Iyung isa okay naman maglaro, yung isa ayaw naman maglaro, so we just waited for proper lighting, so there's little discussion about that," he said.
Continue reading below ↓
Recommended Videos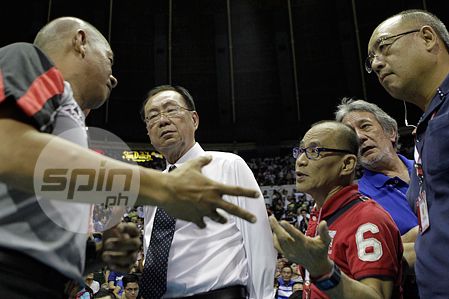 Big Dome management was also quick to issue a statement to explain the power interruption, saying it was "due to severe weather conditions outside. Circuits of the whole Cubao and Kamuning area were affected."
When power was completely restored, the two teams proceeded to play out the final nine seconds.
Ateneo star Kiefer Ravena drove hard for the potential game-tying basket, which was swatted away by NU center Alfred Aroga, allowing the Bulldogs to clinch the win and reach the UAAP Finals for the first time in 44 years.
Ateneo coach Bo Perasol refused to make the game delay as an excuse, though he did say his players may have gone cold before play resumed.
"Definitely, it really made a mark on us. Medyo nanlamig din, pero ganun talaga eh, we can't make that (power interruption) as an excuse," explained Perasol after Ateneo became just the second top-seeded team to lose to a No. 4 seed team since the UAAP Final Four format was introduced in 1994.
"Those are the breaks of the game."