BELEAGUERED University of Santo Tomas coach Aldin Ayo has tendered his resignation as Tigers coach on Friday.
The controversial mentor, who has been at the helm of the program for the past two seasons, announced his resignation while being the subject of an investigation for the Tigers' controversial bubble training in Sorgoson.
Ayo himself shared his resignation letter on Friday.
"I deeply apologize to all those who have been adversely affected by our activity and unnecessarily exposed to much condemnation especially the university," he wrote. "I take responsibility for my actions and shall face the appropriate sanctions."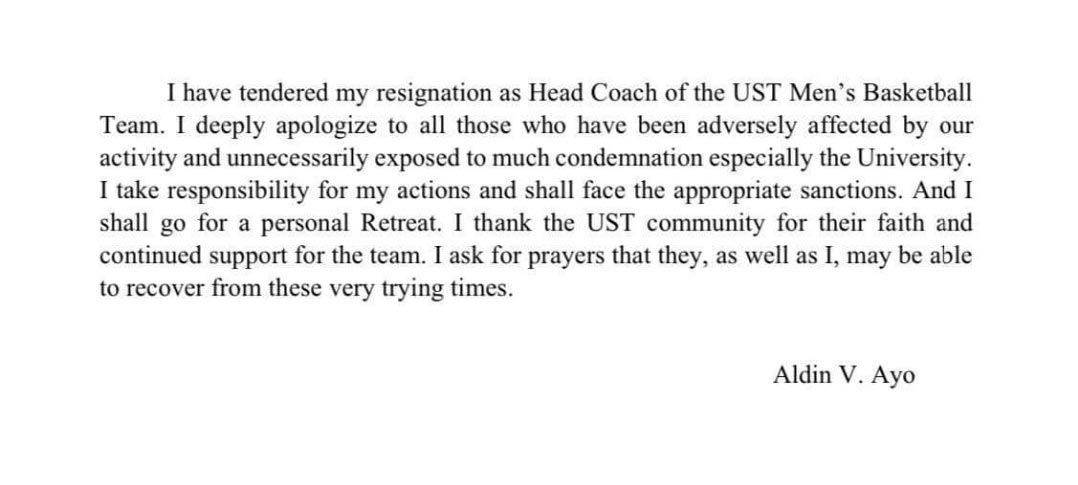 The Sorsogon-born mentor has been in the hot seat when the team's bubble training in his own gym in Capuy, Sorsogon since mid-June came to light following the shock axing of former team captain CJ Cansino.
Continue reading below ↓
Recommended Videos
Since then, UST has found itself at the center of the firestorm, with the government already stepping in to investigate the matter through the Department of Justice.
The UAAP Board of Managing Directors (BMD) has recommended to the Board of Trustees (BOT), made up of the school presidents, an investigation and possible sanctions on Ayo at the end of its Thursday afternoon meeting.
UST Institute of Physical Education and Athletics (IPEA) director Fr. Jannel Abogado, OP has already stepped down from his post, while five players led by Cansino and Rhenz Abando, have departed Espana following the controversy.
Ayo said he is taking a 'personal retreat' after the resignation.
Ayo, 42, has won championships for alma mater Letran in the NCAA and La Salle in the UAAP before he went to Espana in 2018.
His first year in UAAP Season 81, he led the Growling Tigers to a valiant sixth place finish with its 5-9 win-loss record as they showed immense promise behind CJ Cansino.
It all came together in UAAP Season 82, where UST turned heads and after an 8-6 card in the eliminations, ascended to the stepladder semis before settling for bridesmaid honors behind eventual champion Ateneo.
It's unclear if UST has already accepted the resignation, although Ayo expressed his gratitude to the university for welcoming him with open arms after his transfer from La Salle.
"I thank the UST community for their faith and continued support for the team. I ask for prayers that they, as well as I, may be able to recover from these very trying times," he wrote.
Spin fans unite at Spin Viber Community! Join the growing community now! Complete the experience by subscribing in the Spin Chatbot and download the Spin Game Sticker Pack.