College basketball is set for a major upgrade - both for the players and fans.
When the next UAAP season comes off the wraps next month, fans and players are set to enjoy a brand-new experience as the matches are played for the first time at the MOA Arena in Pasay City.
The 15,000-seat arena offers amenities like a giant scoreboard above center court, LED screens spread around the arena and spacious locker rooms for players and guests.
And there's good news for fans in the so-called nose-bleed seats: individual seating in the general admission section.
"They really made sure that if you come and watch the games, you'll get your money's worth not only in watching the games but the amenities too," said UAAP president Nilo Ocampo following a media tour of the facilities.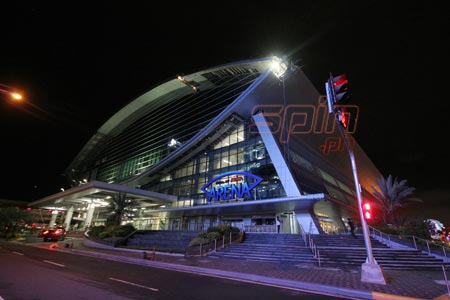 Prices will remain in the same range as in previous seasons, officials said. Tickets for seats to college games at the Araneta Coliseum were usually priced in the P300 range.
The league opens its 75th season on July 14 at the venue with NU facing University of the East at 2 p.m. followed by the match between University of Santo Tomas and Far Eastern University at 4 p.m.
Defending champion Ateneo gets a chance to sample the brand-new venue on July 15 against Adamson at 4 p.m. after De La Salle faces University of the Philippines at 2 p.m.
With Sy-owned NU the league host this year, majority of this season's games will be held at the MOA Arena but the league won't be completely abandoning the Araneta Coliseum, which will still host some matches.
Even the playing court looked impressive, with NU star Bobby Ray Parks gushing after their first practice in the facility on Wednesday: "It feels like an NBA arena."
NU, looking to draw support from its alumni, held an event on Wednesday at the MOA Arena where the school presented newly-crowned Filoil Flying V preseason tournament champions Bulldogs. Alumni and guests were also toured around the venue.