KIEFER Ravena is no ordinary teenager. Heck, he's no ordinary student-athlete, either. He happens to be one of the fastest-rising stars in college basketball, with UAAP and Southeast Asian Games titles to his name and a promising career in the pro league his for the taking.
A spartan regimen, good genes (his dad Bong is a former PBA star and mom Mozzy a former volleyball standout) and unbelievable discipline for someone his age – at 19, he already watches what he eats, set him apart on the court. But other than that, we're happy to find out he's just like you and me.
Here, follow us as we try to keep track of 'The Phenom' from sun up to sundown.
8 a.m. – He usually rises around this time and allots 45 minutes for bath time. Then he prepares his basketball practice gear: jersey (Kiefer has been wearing No. 15 since his La Salle Greenhillls days in grade school, for no other reason other than that it was the only one available at that time. He has been wearing it since. "Walang natirang number kung hindi 15. It's my lucky number. Been bringing it ever since," he says) and shoes (He gets four pairs of Nike shoes -- 2 basketball shoes, 2 casual shoes -- per month as endorser of the brand).
9:30 a.m. – He's not a big breakfast guy, so he spends most of meal time keeping abreast with the news. "Hindi ako masyado ma-breakfast na tao eh," he says. When he opens the morning paper, he goes straight to the sports section, of course. "Syempre gusto ko rin nakikita mga kapwa players ko," he says.
10 a.m. – He leaves their house in Marikina in a family-owned black Toyota Fortuner. Music fills the air during the short journey to Ateneo's Katipunan campus, his playlist mostly "chill songs tulad nila John Mayer, Jason Mraz, yung tipong feel-good vibe to start the day." Fifteen to 20 minutes is the usual travel time "pero minsan bad trip 'pag traffic kasi pag umaga kasabay mo sa pasukan ang grade school at high school," he says.
10:30 a.m. – Once he arrives in school, he heads straight to his first one-hour Communication class (He's a second-year BS Comtech Management student. He took up the course because "gusto ko sana mag communications para masanay ako sa hosting. Parang ganun rin naman ang ComTech pero may math and management subjects," he says.)
11:30 a.m. – One-hour lunch break. "I rarely eat pork. That's the only diet I have," he says. The rest of the noon break he usually spends bonding with friends at JSEC, the tambayan in the Jesuit school in Katipunan.
12:30 p.m. – He gets to his second subject: Economics 102. Kiefer says he usually sits at the back of the classroom "para marami magawa."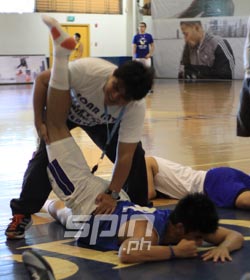 1:30 p.m. – He attends his last subject of the day: English 14. When he feels like it, Kiefer participates in discussions, "minsan lang 'pag in the mood ako mag-participate talaga."
2:30 p.m. to 4:30 p.m. – This is his "extra work period." On his own, he allots at least two hours to lift weights, do extra shooting, talk to the coaches, and bond with teammates at the Moro Lorenzo Sports Center. This is also the time when he gets a chance to talk to his father Bong (Talk 'N Text, where Bong is an assistant coach, usually holds practice in the same gym from 12 p.m. to 4 p.m.) and brother Thirdy (who's a member of the Ateneo Eaglets who train from 4 to 6 p.m.). "Masaya din kasi we don't have time for those things in the house, pero at least we make time for each other sa basketball court nga lang," says Kiefer, the eldest of three siblings.
4:30 p.m. – The start of regular training with the rest of the Eagles. They lift weights as a team. He follows a specific program that focuses more on his core muscles, which, Kiefer explains, have "one of the important functions ng katawan." "Pinapalakas ko yung core ko kasi sa UAAP physical talaga yung laro, maraming banggaan, so I have to stay ready na ma-absorb ko lahat yun." He still does normal weight training like bench press, but says that training nowadays is more scientific. He cites one type of revolutionary exercise: the theraband -- training with resistance bands that strengthen the glutes, hamstring, and quadriceps. "Very thankful kami na nabuhay kami sa generation ng basketball na kaya nang iwasan ang injury," he says. Then he goes to the therapy room on the first floor of the Moro Lorenzo Sports Center to submerge his feet on ice to keep him fresh before real practice on the court.
6 p.m. – The start of coach Norman Blacks' grueling two-hour practice where they do drills and simulate plays that have made four-peat champions out of the Eagles. "We work on our game," Kiefer says of the whole team. "Tulungan kami kasi in the end, hindi naman kami magkakalaban sa team, so pag nagpapagalingan kami, makakatulong talaga sa season."
8 p.m. – The entire team heads to dinner, which is provided by the school. Kiefer goes mostly for the fruits. "Mabubuhay ako kahit dinner ko fruits lang," says Kiefer, whose favorite fruits are rambutan, lychee, mangoes, grapes. "Kahit marami kainin, hindi nakaka-guilty, healthy pa rin."
9 p.m. – He reaches home and enjoys another meal, this time prepared by his mother, Mozzy. The rest of the time he spends bonding with his family by watching TV (His favorite TV series is Modern Family, while for movies, its Fast 5, Hall Pass, and No Strings Attached.) After that, it's time to do homework and enjoy a little "computer time" to check on his Facebook (He has 5,158 friends) and Twitter (30,543 followers) accounts.
12 midnight – Kiefer usually hits the sack at this time. If he goes beyond that, his body will tell him so. "Nagsa-shutdown katawan ko talaga pag ganitong oras. At sufficient amount of sleep naman kasi 8 ako nagigising the next day."
Ravena says rare are the times when he breaks that routine. "Yun talaga routine ko," says Kiefer, adding that "kailangan balanced yung time mo for everything."
Kiefer related a recent encounter he had with Alex Crisano at the Moro Lorenzo Gym. Crisano told the young gun: "You could be the next big thing. You just have to focus. If you want to go out (to party), go out after the season; if you want to drink, drink at home at least you're safe there."
Kiefer said he was touched by the eccentric Crisano's gesture. But it doesn't exactly mean the young lad needs to be reminded. For someone his age, Ravena is sure of what he wants and he knows how to get there.
"If you control yourself now na hindi ka na masyado umiinom, madadala mo yan sa pagtanda mo. As you all know I really want to have a fruitful basketball career — and life also. Ayaw kong sirain ang buhay ko dahil sa maliliit na bagay na ganun."