NOTHING infuriates sports fans more than giving them the B-word: 'bandwagon.'
The 'bandwagon fan' label has been bandied liberally in online forums, chat rooms, comments sections and social media. So before you jump on the bandwagon-ridiculing, err, bandwagon, it pays to know what the term actually means.
Used in a sports context, the Merriam-Webster Dictionary defines 'bandwagon' as 'a popular party, faction or cause that attracts growing support' or 'a current or fashionable trend.'
In contrast, 'pure' or 'true' sports fans support their favorite team during the course of a lifetime. It's akin to a marriage: One is supposed to stick to the team 'in sickness and in health, 'til death do us part,' at least until the team disbands, changes ownership or relocates.
They make an effort to follow the team, catch the games when they can, know the names of the players, coaches and even the guy who hands out the Gatorade. More than just wearing the colors and uniforms of the squads they support, these fans take pride in their team's history and its achievements which they would gladly share to their friends, foes and total strangers.
They also won't stand idly by when someone starts badmouthing their team and would even take things a little too personally, leading them to refute contrary claims in equally accusing fashion. With an "us against the world" mentality, they will not shirk from confrontations on behalf of their team. This passionate behavior should help explain why no sports fan worth his or her salt wants to be associated with bandwagoners.
Continue reading below ↓
Recommended Videos
Bandwagon fans behave in the same manner as the self-proclaimed loyalists. But like politicians in a change of administration, bandwagoners easily switch to a team having a successful run and claim to have been supporters of that team for a long time, or worse, supporters 'from a distance.' They are ridiculed for not being 'true fans' by many since they only root for a team based on how well it is performing, regardless of the sport or league.
To be clear, there's nothing wrong with having more fans, passionate supporters wearing the jersey of their team's stars. It adds to an already vibrant fan base, which makes following sports a lot more interesting.
But it becomes bothersome when they are nowhere to be found when the losses start piling up. When things go south, bandwagon fans are like rabbits who hop from one team to another, preferably a winner. The more a team wins, the more bandwagon fans it tends to attract.
Of course, it's natural that, as the adage goes, everyone loves a winner. Many casual fans are drawn to winning teams, especially when it features an exciting new star. Other fans tend to be followers of what's fashionable at the moment. Selecting a team is based on what's trendy, hip or cool. In Pinoy parlance: 'nakiki-uso.'
But there is a distinction worth noting, a thin line that separates a bandwagon fan from a real one. And hurling the B-word loosely to other fans, especially beginners, can only discourage the growth of the colorful sports fans community.
Take for example the Golden State Warriors who, five years ago, were under the basketball radar but have since become the 'sexy' team to root for. The Dubs fanbase has exponentially grown, and one can never tell the new fans from the bandwagoners so easily. Calling out a new fan about his or her team's history and being branded as 'bandwagon' is irresponsible for if you're a true sports fan, since it tends to put down some who are just learning to love the team or the sport.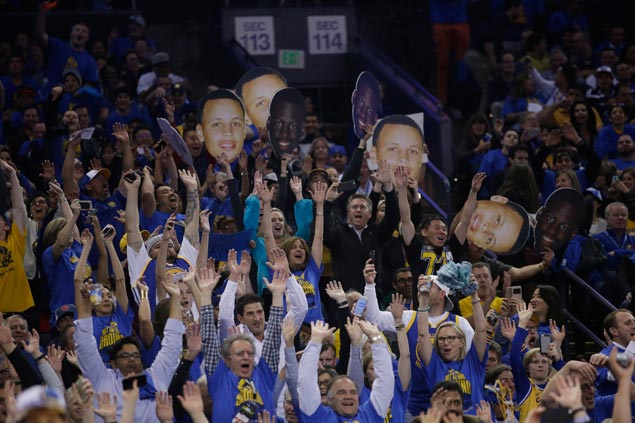 Here's a simple rule of thumb: Accept the fact that ALL fans start from somewhere. At one point, everyone started out as a new fan and it's possible you were once a bandwagon fan as well. It's likely that sports fans started rooting for winning teams in their youth (unless, of course, you're the underdog lover which is also typical among many Filipinos).
Fandom can also come from a family tradition (a long line of Ginebra fans in your clan, for example, or by an introduction of a friend, influence by people at school or the office or maybe through a favorite player). Some can be fans because they simply want to belong to the small group they look up to, and want to show they share the same interests. In this case, a bandwagon fan can develop an affinity for a team and like many relationships could evolve into a lifelong commitment.
But what then should one do to glaring examples of bandwagoners? How should a self-respecting sports fan put these pretenders in their place?
Like some Miami fans in Game Six of the 2013 NBA Finals, who stormed out of the arena with 28 seconds left with their team down by five against San Antonio, only to miss one of the most epic shots in sports history (read Ray Allen's three-pointer)?
Or those who transfer allegiances as easy as changing jerseys, like LeBron James fans who started out as Cavs supporters then later became Heat fans after 'The Decision' and revert back to the Cavs four years after as The King announced, "I'm Coming Home"? What to make of them?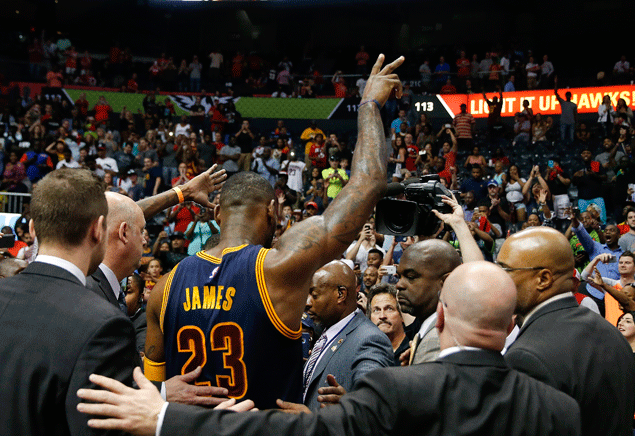 Start with how you look at the concept of loyalty on a personal level. Diehard fans have unquestioned and unswerving loyalty to their teams regardless of success or adversity. Case in point: if you're a self-confessed fan of the Los Angeles Lakers, do you still openly identify with the team when it's sporting a win-loss record of 11-44 and not 44-11? Or have you dumped the purple and gold because Kobe Bryant is already gone? Where does your loyalty really belong, to the player or to the team? Or is it really wrong to switch allegiance?
Here's an eye-opening fact: Fan loyalty is not always permanent.
According to Dan Wann, a psychologist at Murray State University, winning is only one of several factors that attracts fans. There is entertainment (does a team's performance provide me with enjoyment?), authenticity (are the coaches and players committed to the ideals of the game?), history/ tradition (can I relate the values I stand for to what the team represents?) and identity (can I bond with the team and the group that supports them?) Any change in these factors can threaten a fan's loyalty and justify a switch.
In the Philippine Basketball Association, some teams go through decades of campaigns without winning a conference crown or even none at all during its existence in the league but that hasn't stopped fans from cheering for underdog teams in a league ruled by traditional powerhouses. Perhaps because they remain entertained, or they can still identify with the team despite the losing record.
Then again, there is no law, moral or legal, to stop others from bolting. Loyalty carries a heavy burden, too. There is the frustration of losing, enduring heartbreaking defeats and the patience in the long wait for a title. It's not easy but when you reach the Promised Land it would only taste all the sweeter. But one cannot and should not be faulted when the wait has been overbearing that necessitates a switch.
Fact of the matter is, we are all fans here, even bandwagoners. It makes no sense to put each other down when sports has its way of exposing the fair-weather fans and handing them their due embarassment (see: Heat fans circa 2013).
And on a final note, if you're one of those stick-to-one types, carry on until you can bear it. Because, as this dose of vindication from one meme I found while researching this story: "Sticking with one team through hard times takes guts."