A WORLD record fitting for a country whose passion for basketball is unmatched.
Organizers behind the ambitious Philippine Basketball Marathon achieved what they set out to do as the country established a new world record for the longest non-stop basketball game held at the Meralco gym.
The 24 players who comprised the two teams - Team Bounce Back and Team Walang Iwanan – logged a little over 120 hours of continuous play by the time the game came to an end on Saturday morning, surpassing the old mark of 112 hours and 13 seconds established by the Missouri Athletic Club in St. Louis, Missouri last year.
Team Bounce Back won over Team Walang Iwanan, 16,783-16,732.
The winning total output, the losing total output, and the combined scores all surpassed the marks set in Missouri.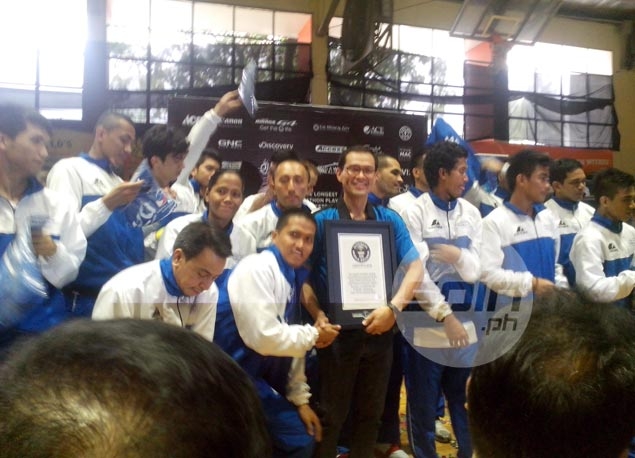 Continue reading below ↓
Recommended Videos
Jacque Ruby, chief operating officer of the organizing Discovery-ACCESS, said the official time recorded was 120 hours, one minute, and 7.8 seconds although it will still be subject to verification by adjudicator Turath Alsaraf, the Guinness director for records management.
"It's not yet official because the adjudicator will still review the time. He will give the official time," Ruby said.
Comprising the world record holders are Larry Macapanpan, Owen Mabaga, Robbie Dell Macatbag, John Ray Mappala, Sandy Cenal, Abraham Compuesto III, Evan Lazana, Carlo Ferdinand Vasquez, Helino Francisco Jr., Kerr Bangeles, Harold Lomtong, and Luis Jay Volante.
The rest include Santos Tominio, Justo Quita Jr., Hazel Foja, Robert Clark Bear, Paul Michael dela Pena, Adin Rome Santos, Renell Montecillo, Jopet Quiro, lady baller Maricar Convencido and American participants Tony Tatar, Chuck Williams, and Jeffrey Moore.
Emotions filled the air as participants cried when everything was over.
Since they began the task early Monday morning, the players had to endure strain, stress, and homesickness to achieve the feat and help make possible the noble goal of raising funds for the benefit of super-typhoon Yolanda.
There was a lot of cheering by the time both teams matched the old record at around 1 a.m. of Saturday, although the biggest celebration was reserved when the lung-busting feat was completed nine hours after.
The Filipino players saluted Tatar, Williams, and Moore by the time the old mark had been matched in obvious respect to the feat the three achieved with the old record holders.
Ruby said some of the players were already on the verge of giving up at that point due to exhaustion, but were prevailed upon to carry on.
"Buti na lang they continued because the adjudicator wasn't there at that time. Kung huminto na sila, baka na technical pa tayo," said Ruby.
The high-flying Cenal executed a dunk for Walang Iwanan's final basket while Bounce Back's Convencido scored on a layup before Ruby signalled the end of the match.
"We achieved this feat, and we're now going back to our normal lives," said Ruby.