ATENEO coach Tab Baldwin and Lyceum's Topex Robinson have something more in common aside from the perfect record their respective teams hold.
They genuinely like each other.
Robinson and Baldwin have been in constant communication for much of the season, to the point that the Blue Eagles and the Pirates even played against each other in order to prepare for their respective campaigns in UAAP and the NCAA.
After Lyceum gained an automatic finals berth following an 18-game sweep of the NCAA Season 93 elims, Robinson admitted that part of his personal preparations for the finals is to reach out to Baldwin and pick his brains on how to further improve his squad.
"I'm already knocking on Coach Tab's practices just to look at what they're doing. I wanna learn from him. I'm a young coach still, my cup is so much empty, and I'm still looking for opportunities to grow," said Robinson after the Pirates clinched a ticket to the finals last Thursday.
"Watching Ateneo play is really inspiring me also," he added.
The feeling, it turned out, is mutual.
Baldwin has only kind words for Robinson and his Lyceum squad, especially after the Pirates completed a tremendous feat in the NCAA that the Blue Eagles hope to replicate over at the UAAP.
Continue reading below ↓
Recommended Videos
Learning, as per Baldwin, isn't a one-way street and he believes he can learn a lot from Robinson, too.
"I would like to have a deeper relationship with him cause he's an outstanding coach and he's done a great job with that team," Baldwin said.
"He plays a style of basketball that we struggle with sometimes, that high-intensity pressure and I think there's a lot that I can learn from him," he added.
Aside from the Pirates' brand of play this season, Baldwin believes Robinson and his emphasis on character have made this Lyceum team special.
"He and I have chatted on a few occasions. I have a huge amount of respect for him and what he achieved and the way he does it," the veteran internationalist said.
"You know he really emphasizes character in his players and he wants them to be good people and he believes that basketball is a vehicle to improving your life. Really, that's the Ateneo way and that's what we believe as well. I think we share philosophically a lot of things."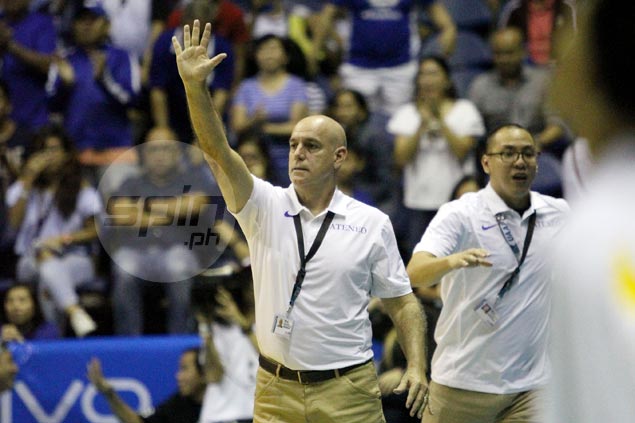 That mutual admiration, however, may leave Baldwin in a dilemma assuming defending champion San Beda emerges from the stepladder semifinals to challenge Lyceum in the finals.
Both Ateneo and San Beda, you see, are supported by basketball patron Manny V. Pangilinan.
Baldwin is very much aware of that.
"We haven't spent as much time together as maybe both of us would like to. And of course he's going up against our sister school in San Beda in the finals so we can't get too excited about their success. I wish both teams well," said Baldwin who said that he witnessed, and enjoyed, the classic Lyceum–San Beda match on television last Thursday.
"If that last game was any indication, I think it's gonna be an unbelievable finals."